Why Luxury Vinyl Tile Is The Best Flooring For Your Rental Property
August 03, 2020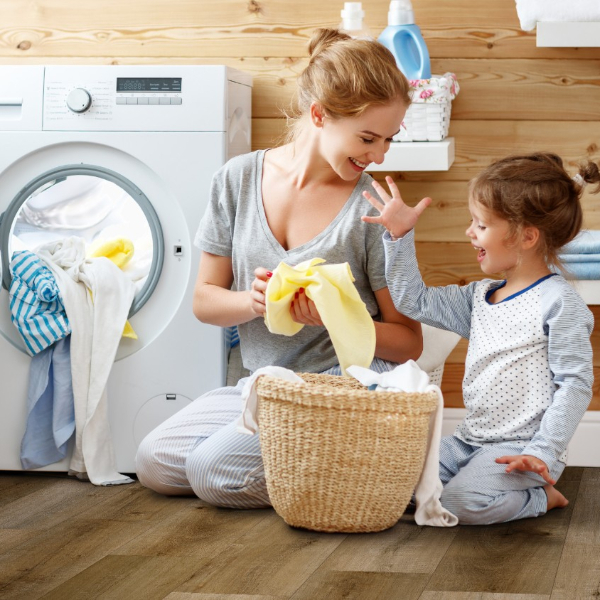 The goal of any rental property is to make a return on your investment, and how you update a property or build from the ground up may affect your bottom line, including the floors. As a landlord, you'll want to think about a few important features when deciphering which flooring type is best for your building. Selecting flooring for a rental is different than choosing for your own personal abode since rentals will see a lot more wear and tear over time. That's why luxury vinyl tile (LVT) comes out as the top flooring pick, especially when weighing those key factors like appearance, location, maintenance, durability, and installation. Plus, you'll get quality products that are meant to last and all at a more affordable price than their natural counterparts. We think by the end you'll be convinced to choose vinyl, so read along to learn more about why LVT works so well for rental properties.
Replicates Real Wood and Stone
When spending money on a rental, you want the results of your hard work to look attractive, too, so that it's appealing to a wider range of potential tenants. This means that the cheapest price for flooring isn't always best in the long run. Remember that renters are willing to pay a higher price for a higher-end, beautiful apartment or house. LVT is an affordable option for getting the look and feel of natural materials like real wood and stone without the high price tag. Installing this stylish flooring throughout the unit makes the space look larger in size and more modern (more on why below).
With luxury vinyl tile, the design options are nearly endless, so you'll find exactly what you need for your remodel or new build. Whether it's a wood or stone look, you'll find patterns inspired by the light and airy Scandinavian looks to the relaxed and beachy vibes to darker rustic moods and so much more.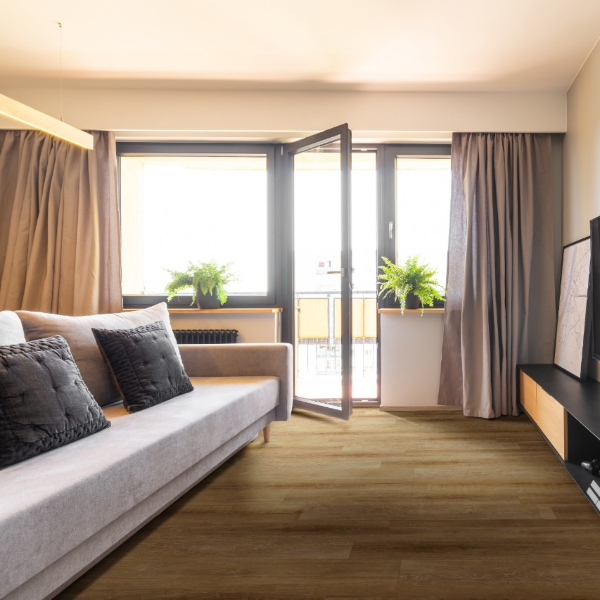 Works in Any Room Because of Water Resistance
Landlords can install LVT in any room because of its durability and legendary water resistance. One of the reasons why the stone-look tile or wood-look luxury vinyl planks can be run from kitchens and living rooms to bedrooms and bathrooms to hallways and elevator areas is because the material can handle spills, splashes, and moisture much better than other flooring materials like carpet or wood. That's due to many LVT options offering waterproofing from the top to the bottom of the tile.
Offers Resiliency Against Potential Damage
Flooring has to withstand a lot in its lifetime, whether it's from countless moves to high foot traffic to daily messes from pets and kids. When you have tenants, you want your materials to look great past their lease, and with luxury vinyl tile or vinyl plank flooring, you can expect it to last anywhere from five to 20 years later or even longer depending on how durable the wear layer is. This clear layer protects not only the design of your wood or stone styles, but also it protects against wear and tear like dents, scratches, and other potential damage.
Provides Simple Maintenance for All
One of the biggest luxury vinyl tile benefits is that it's a low-maintenance product that's easy to clean and requires minimal effort, which is a big plus for both tenants and landlords. There's no need to wax, oil, or reseal LVT ever as it could damage the floors. Regular sweeping or vacuuming will remove any loose dirt or debris, while a weekly washing with a damp cloth or well-wrung mop will remove any marks on the floor. Of course, as with any flooring, spills or food should be picked up and cleaned immediately. If a stain remover is required, then ensure that it's safe for your specific vinyl, and wipe down the floors with clean water.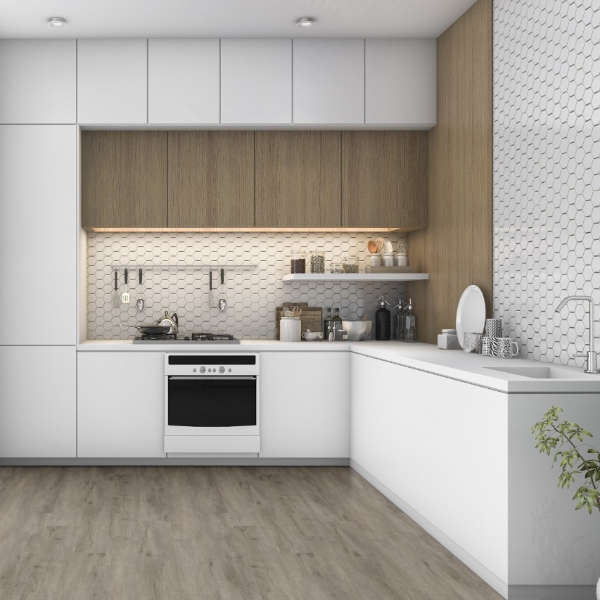 Even if you make vinyl flooring care and maintenance recommendations to a messy family, busy employee, or crew of college students, it's possible that your tenants may not be dealing with their messes right away. But, with easily maintainable floors, you won't have to replace the entire floor often, and it's this cost-savings that can add up big over time. If something does get damaged, it may be possible to replace just an individual tile or plank or a section of flooring instead of the entire room. That's a huge plus since it's easier to replace flooring in-between tenants unless you require them to inconveniently move all of their furniture during the new installation.
Features Flexible Installation Methods
Of course, the type of LVT you choose, whether it's glue-down or floating-click LVT, may depend on the area. Glue-down luxury vinyl is better suited for larger spaces, high traffic areas, and stairs, and it gets glued down directly onto a wood or concrete subfloor. However, it is more difficult to install, so a professional may need to complete the job, and may not provide the same waterproofness as floating-click luxury vinyl. This type of LVT can be installed in various areas and clicks together and floats over the existing subfloor. An even bigger plus is that the floating-click type can be installed right over most existing hard surfaces with little to no preparation, so this may save you some time and money on demolition.
The Best Choice for Rentals
Many landlords look for affordable features that tenants will love, and luxury vinyl is one feature renters prefer. It'll help your building or abode stand out from the rest since the stylish flooring updates and elevates the space all while being easy breezy to keep clean. Plus, the low-maintenance fixes and flexible installations may mean more money in your pocket. Installing LVT instead of carpet or another material could increase the value of your property and therefore your rental income, and it's definitely an excellent choice for long-term investments because it shouldn't need to be replaced every couple of years. Just remember that your floors serve as the base of your interior design, so select wisely.
More on Luxury Vinyl Tile
Which Direction Should I Lay My Luxury Vinyl Planks?
Can You Use Waterproof Vinyl Flooring On Shower Walls?