10 Frequently Asked Questions About Quartz Countertops
November 13, 2019
Quartz continues to takeover as the countertop of choice because of its beauty, durability, and low maintenance. If you're remodeling your kitchen or bathroom, then you may also be considering this engineered stone as one of your options. But, you may be curious to know more about what exactly makes quartz countertops so special. Check out this no-nonsense guide featuring the top 10 frequently asked questions about quartz.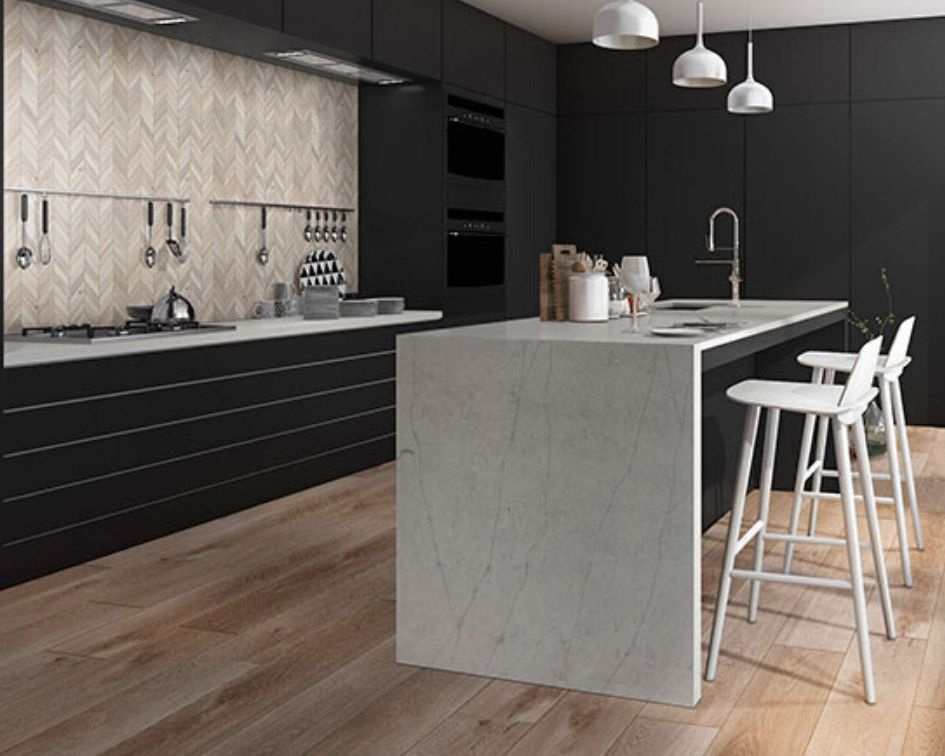 1. What is Breton technology?
Bretonstone is a patented technology used by many quartz manufacturers all over the world. It features an exclusive vibrocompression system that compresses the more than 94 percent quartz in weight with resin in a compact arrangement. This technology results in large quartz slabs that are strong, beautiful, and safe. Plus, the ability to couple slabs together creates countertops that feature an increase in thickness.
2. Why would one choose marble-look quartz instead of real marble?
Choosing quartz that looks like marble over the natural stone comes with many benefits. Not only does it offer similar elegance and high-end luxury with beautiful white surfaces and glorious veining, but also it doesn't require nearly the same amount of maintenance marble does. Quartz is extremely hard unlike softer marble, so you won't have to worry much about things like etching, scratching, staining, or water spots.
3. Do quartz countertops chip or scratch easily?
No. These countertops are extremely durable materials that, with normal wear and tear, should not crack or scratch easily. However, edges can be more susceptible to chipping if hit with a hard blow, but the damage is usually repairable. When it comes to scratches, know that your sturdy quartz countertop is highly scratch-resistant, but if it does get scratched, you should be able to buff it out. Keep your counters protected on the daily by using a cutting board and hot pads underneath any hot items. It's always best to check with your manufacturer about repairing a chip or a scratch.
4. Are prefabricated quartz countertops lesser quality than regular quartz?
No. Prefabricated quartz countertops are excellent options for beautiful counters needed in a hurry. They are already precut to certain sizes with three edges finished and a 6-inch backsplash for the edge that sits against the wall. You can choose from a wide range of traditional to contemporary quartz countertop colors, unique designs, and several thicknesses. Plus, they're budget-friendly options since they don't cost as much as custom countertops. If they're in stock, then they can be installed in just a few days, not weeks or months.
5. How often should one seal their quartz countertop?
Quartz is one of the most low-maintenance countertops available, and a big benefit is that they never need to be sealed. In fact, doing so could damage the surface. On the other hand, with any natural stone, they will need to be resealed every few years to as little as every few months. This is something you will never need to worry about or keep track of when you've got quartz countertops.
6. What looks are most popular in quartz?
Quartz comes in many colors and patterns, but one of the most popular picks is marble-look quartz. MSI offers more than 47 realistic marble-like options alone, each with its own unique background and veining. From hot whites with gray veining to midnight black with white veining, these light and bright to dark and dramatic quartz options are right on trend. Another popular choice is gray quartz. It's a great way to modernize your home and still get a chic look.
7. Up to what temperature can quartz countertops withstand?
While quartz is resistant to heat, it can only withstand temperatures of up to 150 degrees. Once the temperature gets higher than that threshold, it could damage your quartz. That's because the resin can burn and cause permanent damage to your surface. To help reduce the risk of burn marks, make sure to always use a metal trivet or hot pad underneath any hot pots, pans, or small appliances and never place them directly onto your quartz.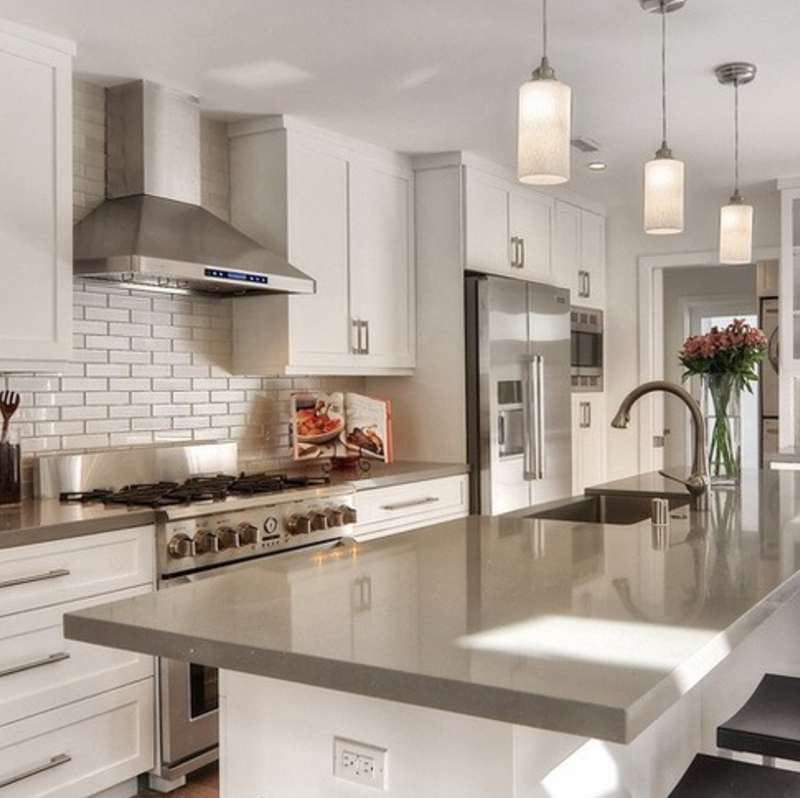 Photo Credit: Houzz
8. Are quartz countertops only available in a polished finish?
No. Today's quartz countertops come with many more options, including finishes. While polished used to be the only choice available, there's more to choose from besides the glossy finish. A full selection includes a honed finish for a softer matte look, a sandblasted finish for a slightly rough finish, and an embossed finish for a slightly leathered look and soft feel.
9. Can quartz only be used for countertops?
No. Quartz can be used for much more than just countertop applications. You can give your space a luxurious look using the man-made stone as a beautiful backsplash, fabulous flooring, or stunning shower surrounds. The large, solid slabs create a minimalist look that is ideal for contemporary to transitional designs.
10. Is quartz a food-safe surface? Okay for rolling out dough?
Yes. Since quartz is a mixture of the natural stone and resin, it becomes a non-porous surface, so you won't have to worry about bacteria, mold, or other nasty germs growing on your countertop. It definitely serves as a great baking surface, so you can use it to roll out your dough for some tasty cookies or other sweet treats. Daily cleaning only requires a soft sponge and some warm water, but if some dried leftovers need a little extra cleaning power, then a bit of gentle dish soap should do the trick.
Now that you know more about quartz, you probably feel more confident in choosing the man-made stone. Not only is it beautiful with many stone-like looks, but the non-porous surface also offers a lot of great benefits like scratch-resistance and never needing to be sealed. Plus, quick turnarounds or budget-savvy projects can be easily met with prefabricated quartz. If you still have questions, be sure to contact your local manufacturer and ask about taking some samples home so that you can see how a marble-look quartz counter works with your décor.
Learn More About Quartz Countertops
Quartz Countertops: Through-Body Vs. Non-Through Body
Natural Stone Looks with Q Quartz Countertops
Solid Quartz Countertop Colors are Anything but Ordinary!
How to Choose the Right Quartz Countertop