Quartz Countertops: Through-Body Vs. Non-Through-Body
October 26, 2019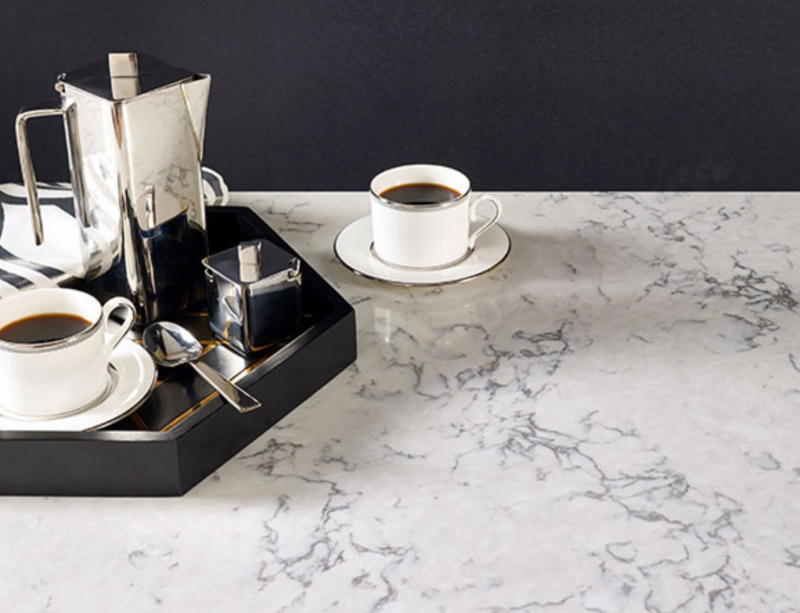 Quartz is known for being a durable countertop, but what many don't realize is that it's a luxury surface with a price that reflects it. That means when a lower-priced quartz is available, it may actually come at a cost to the homeowner because corners are typically cut in order to achieve a lower price point. Some examples of low-quality product features include less quartz and higher levels of resin, thinner slabs, and surface-only coloration, which ultimately compromises the integrity of the countertops. In this guide, we'll go over the importance of quartz coloring, why through-body quartz is superior to non-through-body quartz, and what to look for when shopping for your new quartz countertops.
Why Quartz Coloring Matters
There's no doubt that more people around the world have more accessibility to popular quartz because of an increase in manufacturers. That's because they're trying to meet the demand for this extremely durable, low-maintenance product that's hailed for its wide range of colors and patterns and no need to ever be sealed.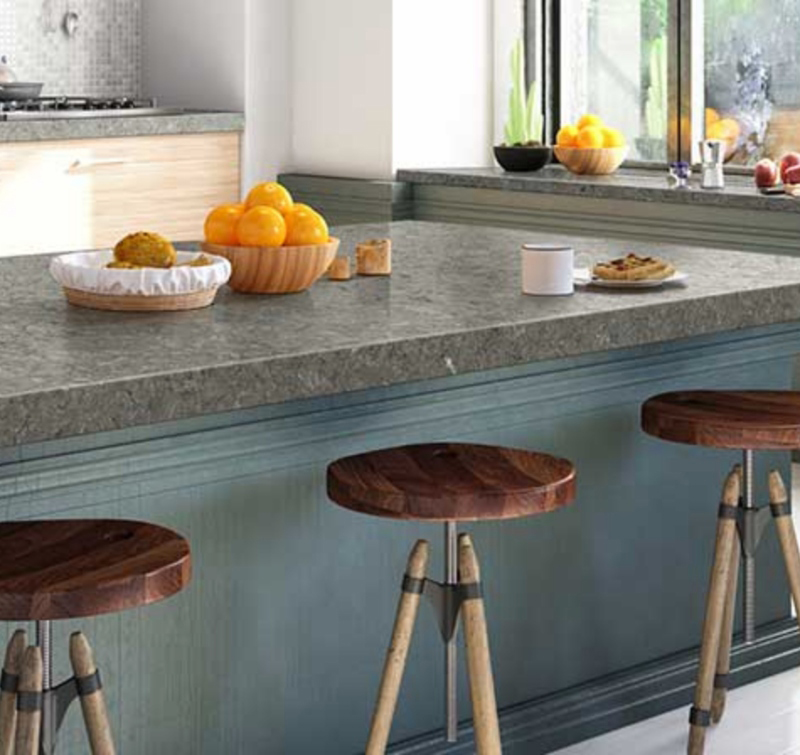 Because it's a man-made product with pigments added to the crushed quartz and resin mixture, manufacturers are able to craft anything from neutral or bright solids to stunning prints like marble look quartz that mimics its natural counterpart. This engineered process gives companies more control over exactly how your countertop will look as opposed to the wildly inconsistent prints and patterns brought on by nature. However, know that manufacturers' formulations and methods may vary and result in the production of different looks, colors, finishes, and prices.
This color consistency will also help you avoid surprises when your quartz is being permanently installed, and it makes it easier to match up colorations and patterns when seaming two or more slabs together. And in terms of this coloring, you'll see exactly why choosing a high-quality, through-body quartz is key for several reasons.
Through-Body vs. Non-Through-Body
Through-body quartz means that the coloring and veining both run throughout the entire countertop, while non-through-body quartz will only have the coloring and veining on top of the surface. Even though quartz is extremely durable, not quite as strong as a diamond but tougher than granite, your countertops can still chip. Having through-body quartz means that if a chip along an edge or elsewhere does occur, then the newly exposed surface of your product will still maintain the same coloring and pattern. But, with a non-through-body countertop, a chip will be highly noticeable, especially with any colored countertop or an area that features any type of speckles or veining.
Not only is it noticeable on places where chips have occurred, but it's also clear as day on countertop edges and exposed undersides. If you have an undermounted sink or a waterfall edge, be aware that non-through-body quartz will likely leave your countertop looking unfinished or incomplete because you're not seeing the coloring on all sides. Beware that your surface will look totally different if there is an exposed backside on your waterfall edge. The whole point of this edging is to have a continuous look that flows from one side to the other, so selecting a through-body quartz counter is even more important with a waterfall edge. Unfortunately, a lot of homeowners don't realize the difference until after their contemporary quartz has already been installed.
A chip isn't the only thing that could put your quartz at risk. Although the man-made stone does an excellent job resisting scratches, it doesn't mean they don't happen. This is another way non-through-body quartz may become exposed, depending on how deep the scratch is, and ruins the look of your new counters. But with through-body quartz, you wouldn't have to worry about a scratch showing another color through to the surface.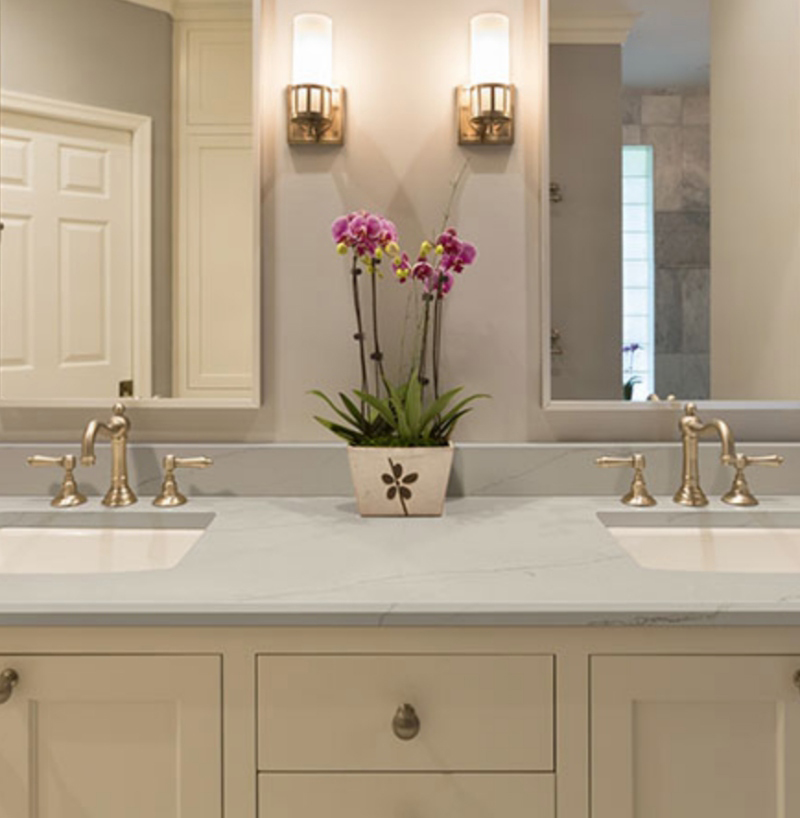 Other Quartz Considerations
Since scratches can be hard to fix, especially on solid colors that are dark in tone, it's crucial to take excellent care of your quartz. Make sure to immediately clean up any dirt or crumbs that could potentially scratch your countertop. Always use a cutting board to avoid any cuts from sharp objects, and avoid dragging any heavy items like a ceramic pot or cast iron pan because this could damage your surface. Since your countertops are comprised of approximately 93 percent natural stone quartz and 7 percent petroleum-based resin and pigments, they will react with certain chemicals because of the resin, so never use any regular cleaning products or abrasive scouring pads.
What to Watch Out For
Before you visit your local store or showroom, it's important that you know what to look out for before potentially being swayed by a sales representative or falling in love with those gorgeous speckles or sophisticated veining. Of course you should first check out colors that work with your brand-new or renovated kitchen, so when you've selected a few quartz samples that you feel excited about, it's time to carefully examine those edges.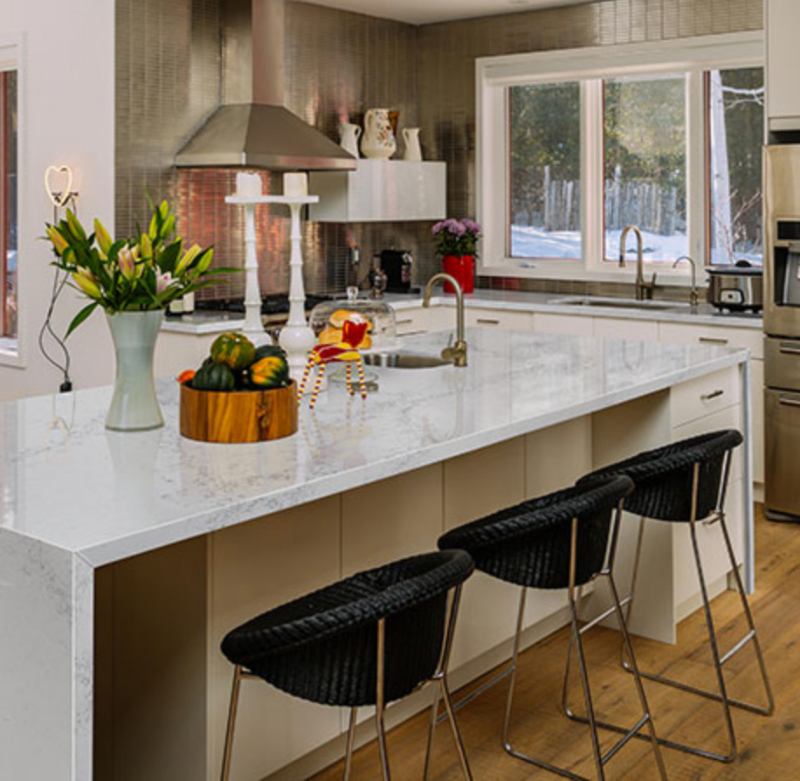 If you notice that the coloring on the edge starts to fade away or even disappear approximately halfway down the edge, then beware that this is non-through-body quartz and put the sample down! Through-body coloring will never suddenly stop like this along an edge because it continues throughout the entire countertop slab.
Because of its brilliant beauty, extreme durability, and simple maintenance, quartz has become the top choice over long-reigning natural stone choices like granite for quite some time now. But, not all quartz is created equally. The ugly truth is that any type of cost-cutting tactic is a bad idea on behalf of the manufacturer, but homeowners may not know exactly what to look for when deciphering the quality of products. That's why you need to know what through-body versus non-through-body quartz looks like before ordering your countertop. Having the coloring and pattern throughout the slab is one of the simplest features that will help keep your quartz looking like new for years on end, even if a few bumps happen over time. To find out more about the benefits of through-body quartz, watch Q Premium Natural Quartz Through-Body Veining.
Learn More About Quartz Countertops
10 Frequently Asked Questions About Quartz Countertops
Natural Stone Looks with Q Quartz Countertops
Solid Quartz Countertop Colors are Anything but Ordinary!
How to Choose the Right Quartz Countertop