Lighten Up With Blonde Luxury Vinyl Tile
August 02, 2019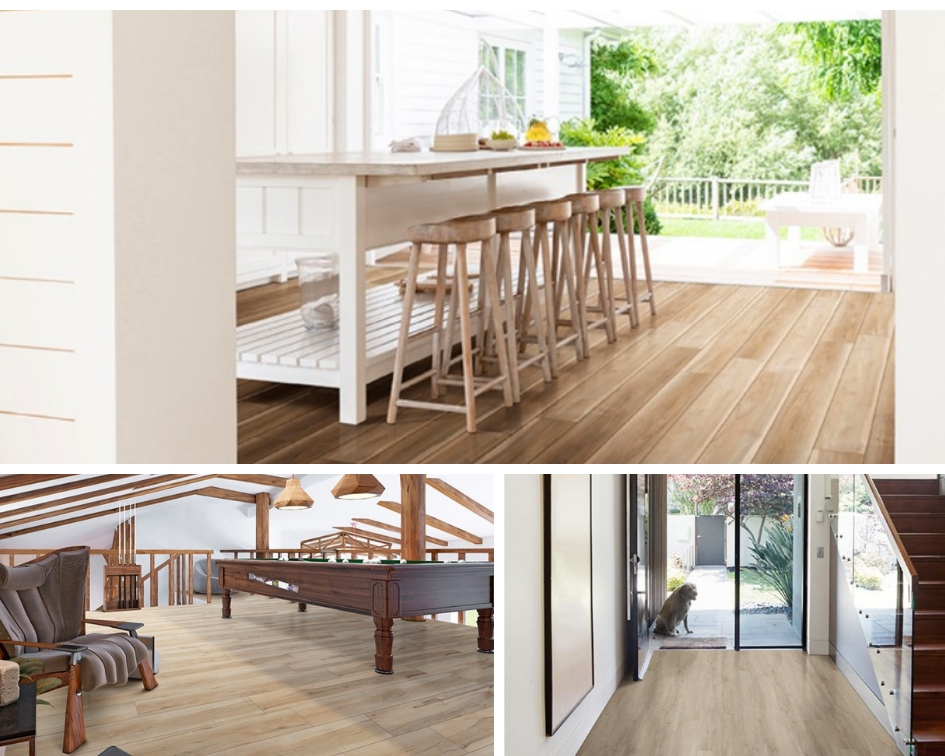 They say blondes have more fun, so why not carry the merry into the home, too? Blonde flooring is one of the hottest trends and easiest ways to freshen up the whole house. Luxury vinyl tile comes in a wide range of eco-friendly faux wood looks, including blonde color choices that work with any style. LVT has the light look of birch wood but with easier installation and care than the real thing. No matter if you are a design pro or a DIY novice, we think you will do a double take for these modern tiles! Check out our favorite picks for how to lighten up your space with these luxury blonde bombshells!
Akadia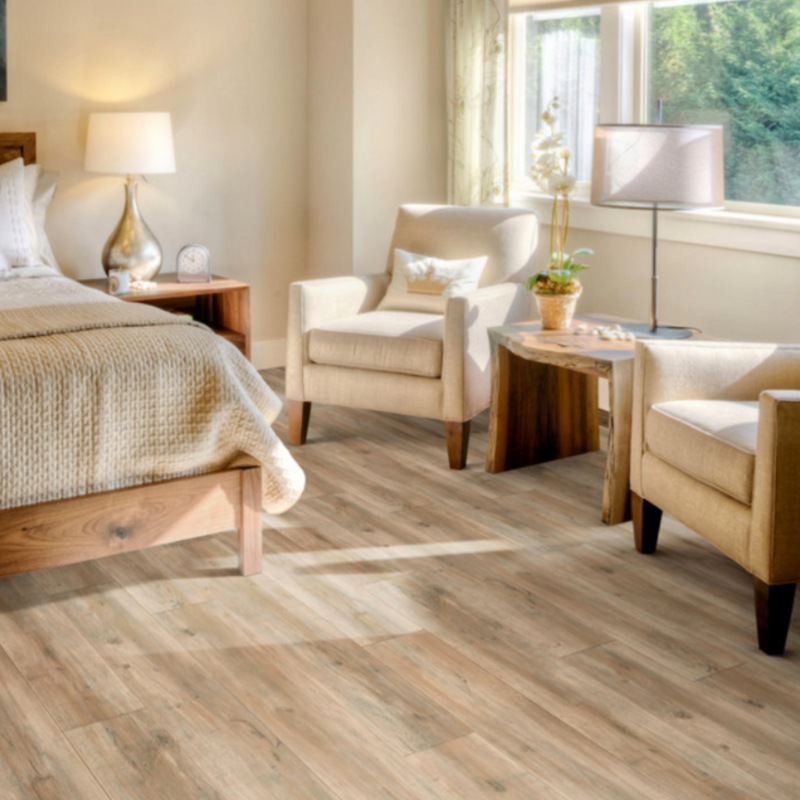 Recreate this look with MSI's Akadia (Photo Credit: Houzz)
Akadia from MSI's Everlife Rigid Core Collection is one of the lightest blondes available with its creamy beige tones and dainty brown grains. The waterproof wood-look beauty is available in 7"x48" and 9"x60" planks. It comes to life with its custom designed beveled edge for an even more authentic wood look, and its industry-leading wear layer and pre-attached backing make it super durable and comfortable. LVT is the perfect product alternative to carpeted rooms. Bedroom retreats become more calming and relaxing as a result of the realistic designs, warm wood look, and less dust.
Bayhill Blonde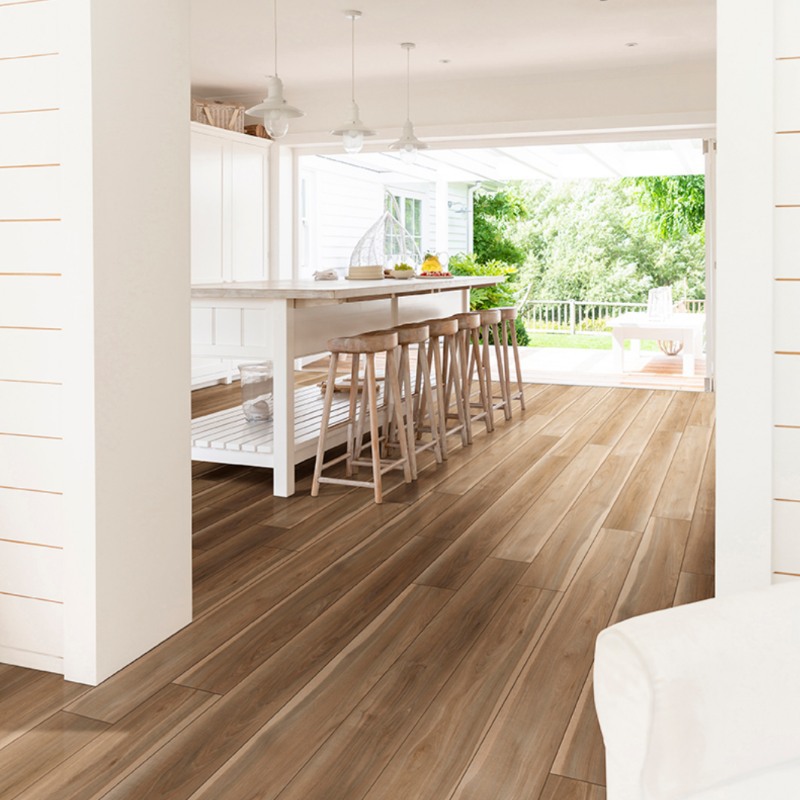 Featured: Bayhill Blonde
Bayhill Blonde from MSI's Everlife Rigid Core Collection is available in light brown cashew tones with lighter highlights for striking streaks throughout. The warm wood-look flooring features subtle knots and grains, a 20-mil commercial-grade wear layer, and a pre-attached backing for extra comfort. The 100-percent waterproof product is perfect for wet areas like kitchens. This cooking space feels coastal cool, and all of the light wood hues enhance the Scandi-style inspo.
Sandino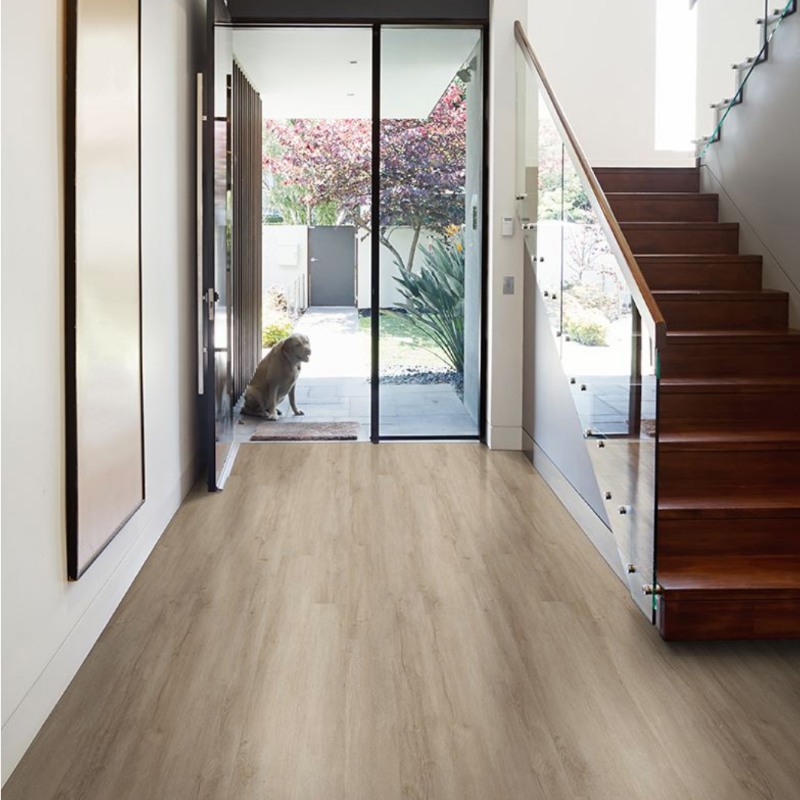 Featured: Sandino
Sandino from MSI's Everlife Rigid Core Collection also showcases a graceful cashew color with realistic knots and grains in a light tone. The authentic vinyl tile that looks like wood comes in 7"x48" planks, and the pre-attached backing adds comfort. The exciting blonde flooring fashions an excellent first impression for this modern entryway, and its durable wear layer holds up to the daily use of those coming and going, including beloved pets being taken out for a walk!
Twilight Oak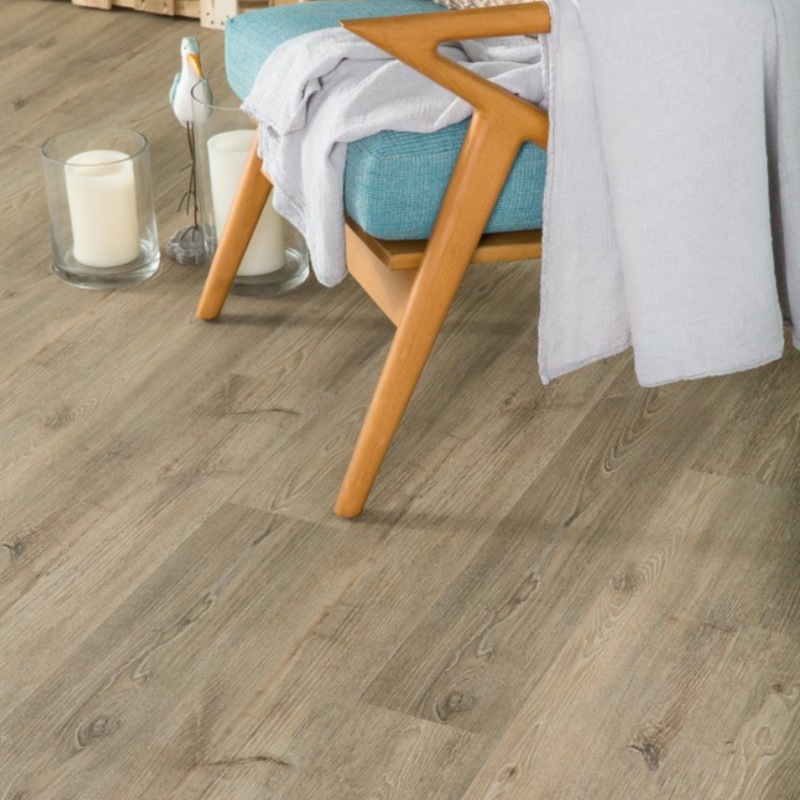 Featured: Twilight Oak
Twilight Oak from the Glenridge Series of MSI's DryBack Line is an ash blonde with soft gray undertones. The white overlay and subtle knots and grains give it a weathered-wood look that rivals the real thing. The glue-down LVT flooring comes in 6"x48" and 7"x48" planks and, with its 12mil wear layer, is a practical choice for busy families. It completely transforms any space into a more luxurious, tranquil area, from beautiful bathrooms to loungey living rooms.
Now is the best time to go blonde. Trust us, you will not regret it! These LVT looks really do create a lighter, brighter, and happier home, and it does not take much to keep them that way. From bedrooms and bonus rooms to kitchens and entryways, any space will look absolutely fabulous when furnished in one of these top blonde vinyl plank flooring picks.
More Information on LVT Flooring
Does Luxury Vinyl Flooring Go Well with a Granite Countertop?
What Most People Don't Realize About Luxury Vinyl Flooring
How to Clean Your Luxury Vinyl Flooring to Keep It Looking New
Is Luxury Vinyl Flooring in the Bathroom a Good Idea?
Considering Installing Luxury Vinyl Flooring? Read This First!
Wood Look Game Changers: Introducing Everlife Luxury Vinyl Flooring