Forget Paint! Add Color And Texture To Your Walls With Stacked Stone!
March 23, 2019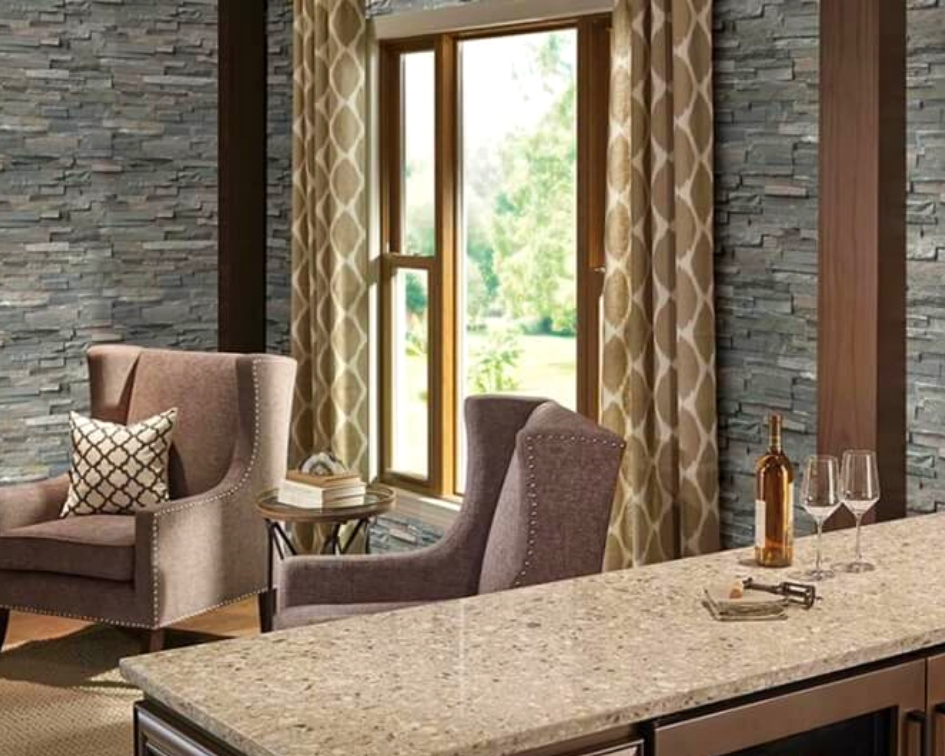 Painted accent walls are so…yesterday! When you want to add character, dimension, personality, and texture to your space, add stacked stone instead of paint. Natural stacked stone ledger panels from MSI is easy to install, and it is available in a wide range of colors, textures, and styles. As a bonus, unlike paint, it is durable, resistant to scuffs, stains, fading, and other signs of wear.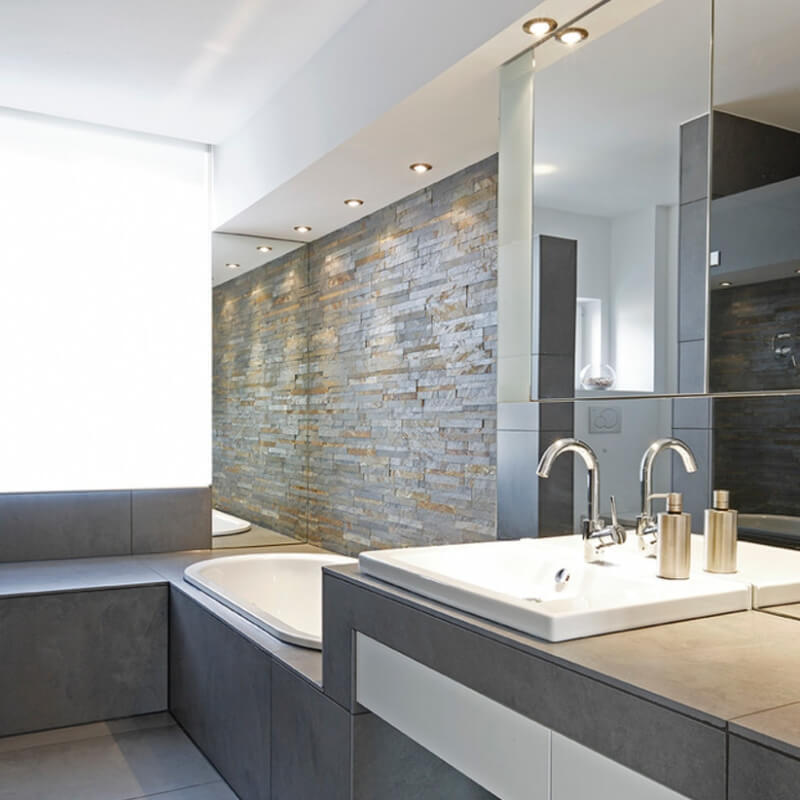 Recreate this look with MSI's Rockmount Stacked Stone Panel Collection (Photo Credit: Houzz)
Rockmount Stacked Stone collection features over 60 colors to choose from. If you love the Old World charm of split face stone panels or if you prefer a more contemporary honed finish, we've got you covered. From crisp, sophisticated gray and charcoal tones that ground a room to icy whites and creamy tones that make a room more airy to the rich browns and amber hues that welcome you like a warm hug—we've got just the right combination of color and design to complement your style.
Let's explore some of our favorite stacked stone looks.
Black in a bathroom? Yes, when it is our Glacial Black stacked stone veneer. This sophisticated bathroom offers a sun-soaked zen-like appeal. The lightly colored tile floors and cabinetry, along with dark countertops, and lush greenery outdoors yearns for a rustic texture to complement the space. Of course, that could be a simple painted wall, but in bathrooms, natural stone or tile is often wise to help prevent the buildup of mold and mildew in the drywall. Our Glacial Black stacked stone ledger panels are crafted from natural charcoal-hued marble that's rich with gray and silvery veins. This is an accent wall that will never need painting and will only become more beautiful with time.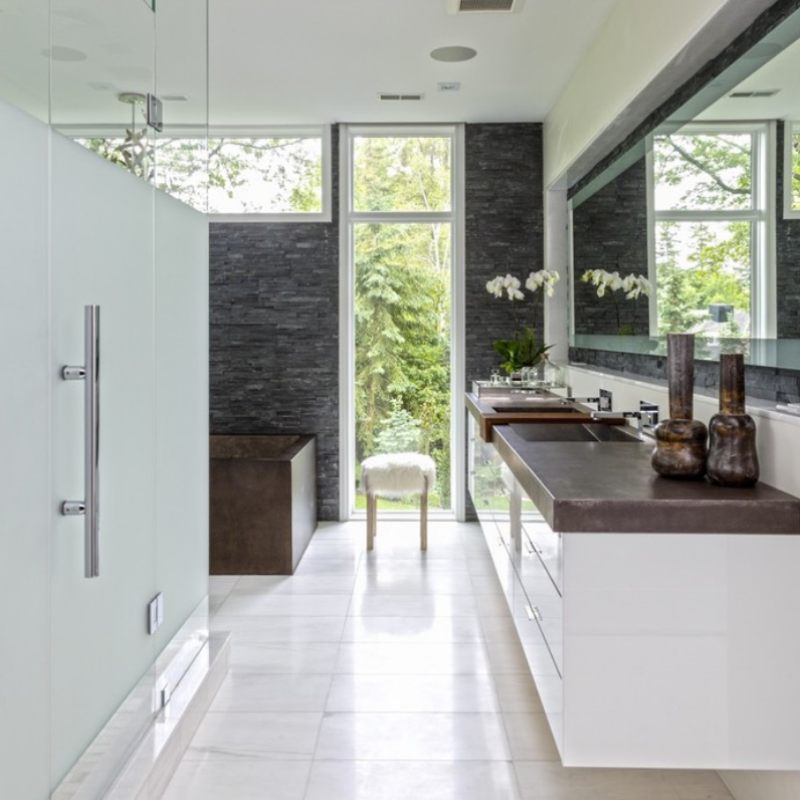 Recreate this look with MSI's Glacial Black Stacked Stone Panels (Photo Credit: Houzz)
Do you prefer a warmer, more romantic glow in your bathroom? Take a look at this luxurious master bathroom that effortlessly brings the outdoors indoors. The main feature in the room is the accent wall crafted from our Fossil Rustic stacked stone. The entire space is filled with natural hues including creams, golds, peaches, and rich browns. Let's be honest, the millwork in this bathroom with the wood slats on the ceiling and the exquisite cabinetry blends beautifully with the rustic natural sandstone ledger panels.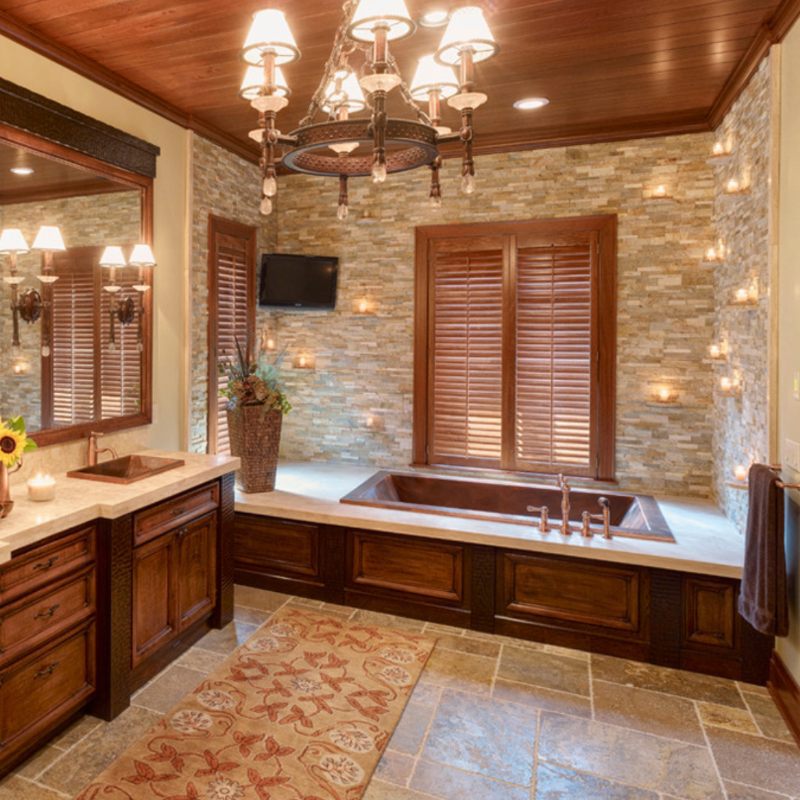 Recreate this look with MSI's Fossil Rustic Sandstone Ledger Panels (Photo Credit: Houzz)
If you want your seating area to rock a sophisticated yet rustic vibe, our Golden White stacked stone ledger panels are an excellent choice. This lounge artfully combines the rustic quartzite split face wall tile with the contemporary look of the floating stairs. Relax, enjoy a drink, and have a great conversation with your friends. We bet the hot topic will be the stunning stacked stone wall. Let's not forget how stained and chipped painted hallways and stairways become over the years—this resilient natural stone is timeless in both design and durability.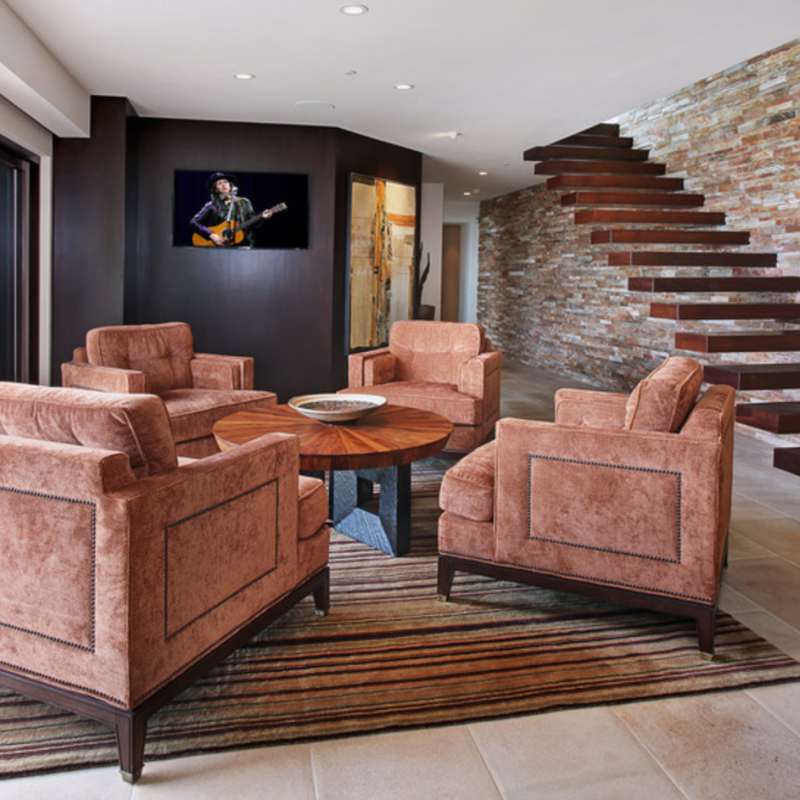 Recreate this look with MSI's Golden White Stacked Stone Panels (Photo Credit: Houzz)
Every now and then our homes need a refresh… especially the painted walls. Hot colors in design change from year to year but earth tones are timeless. If you are thinking about repainting one of your rooms, consider a design that uses one of our gorgeous stacked stone ledger panel styles. After all, what could possibly be more timeless than natural stone?