Beyond Bullnose: Exploring Granite Countertop Edges
March 11, 2019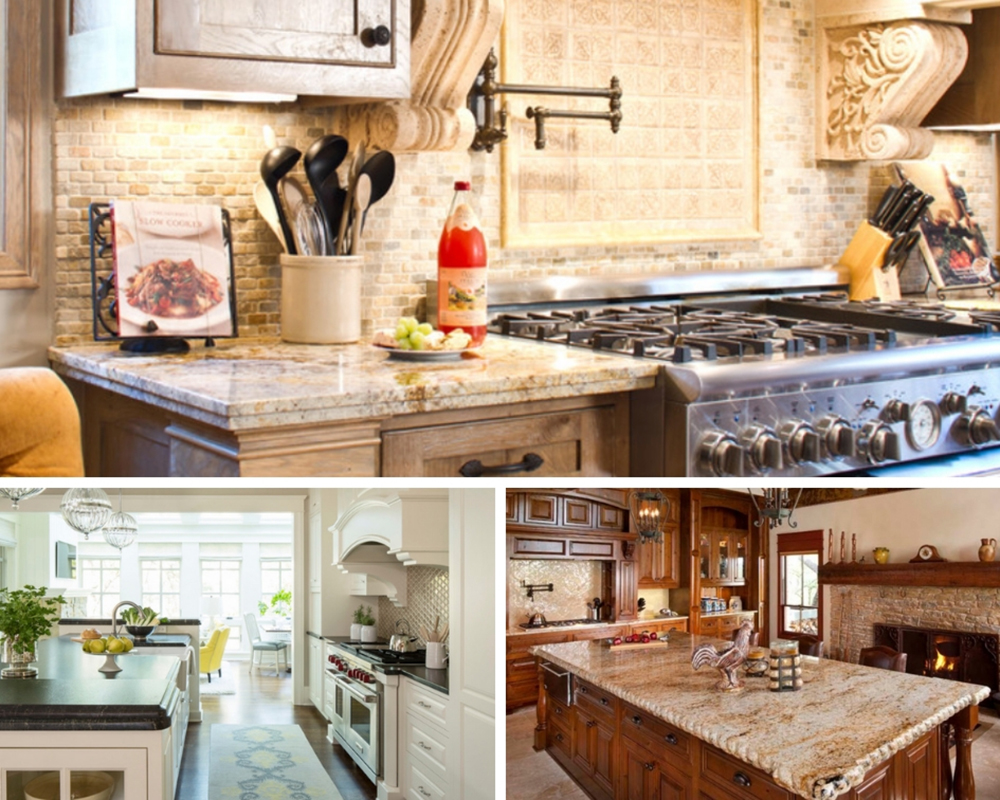 Not surprisingly, granite remains one of the most popular premium surfaces selected for kitchen countertops. The natural stone offers beauty and durability, and because Mother Nature creates one-of-a-kind looks, you probably will spend some time picking the perfect slab. However, what many don't realize is that choosing the right countertop edge can be just as important as the color or pattern in your granite countertop. This detail is not something that should be thought of last minute or even during the installation process since it is a feature you will see and feel several times a day.
Whether your space is simple or elaborate, the edge you choose can fit in with your style like a missing puzzle piece or look completely out of place. There are some edging options available beyond the familiar Bullnose, so something besides the rounded edge may bring out your stone's beauty even more and also function better for your lifestyle. Here are some things to consider about countertop edges for your stunning granite slab.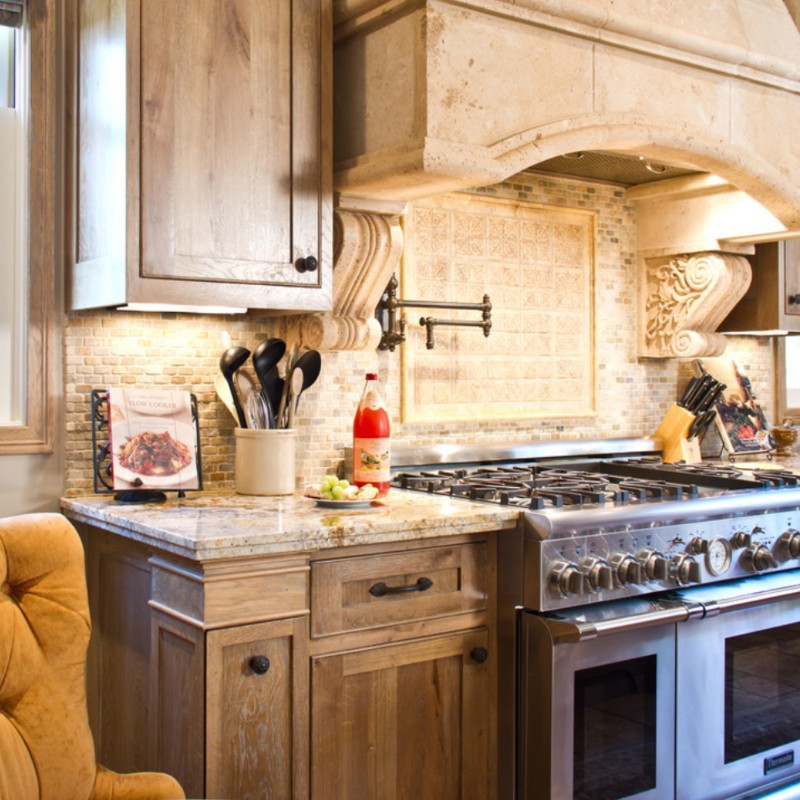 Create a similar look with MSI's Alpine White (Photo Credit: Houzz)
Budget Accordingly
With renovations, it can be very easy to go over budget. To help keep you in your targeted range, you should factor in the edging price with the total cost of your granite. Different edge options have different prices, and it varies depending on the intricacy and complexity of the countertop edge. The more detail desired, the higher the cost. However, some manufacturers might offer a few simple edges for free, so be sure to discuss this while choosing from the many granite colors they offer.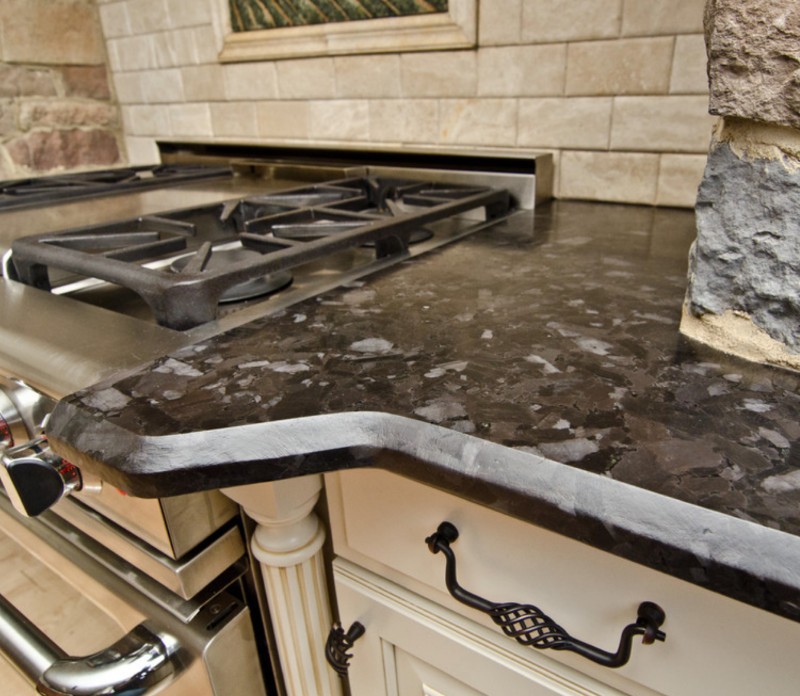 Get a similar look with MSI"s Antique Brown (Photo Credit: Houzz)
Identify Your Style
For some, it may be easy to quickly identify which profiles correlate with your style. Straight or Quarter Beveled Edges are perfect for modern and contemporary cooking spaces because of their clean lines. More intricate edges like Cove Bullnose, Cove Ogee, or Cove DuPont will complement traditional or classic design styles. Or, you can go against the rules and choose a style that's opposite of your overall kitchen style. For instance, a classic kitchen might include a Straight Edge profile instead of something more ornate.
Consider the Finish
One of the decisions you probably already made is the finish for your granite countertop. Whether you picked polished, brushed, honed, or leathered, the selected surface finish also affects the finished look of your stone. The treatment and edge should complement the traditional to modern style you are planning. For instance, popular picks for contemporary spaces include dark granite in a leathered finish, so you probably would want something simpler like a Square Edge instead of the very formal and regal-looking DuPont Edge with its sharp, straight drop that moves into a curve similar to the Bullnose.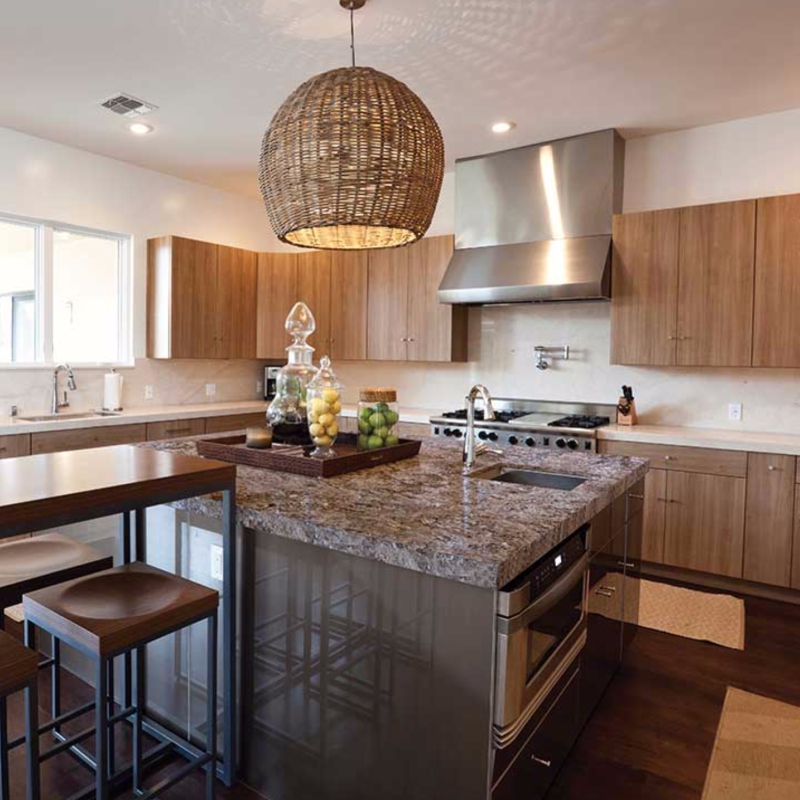 Featured: Nilo River
Thin vs. Thick
Most countertops are 3-cm thick, but there is a way to get a thicker look without needing a thicker slab and requiring a significantly higher price. A laminated edge goes through a process where the second layer of stone is cemented to the granite counter to appear 6-cm thick, and it opens up the possibilities for combining different edges and details. It is also another way to achieve a very modern, chunky look with a Laminated Flat Edge.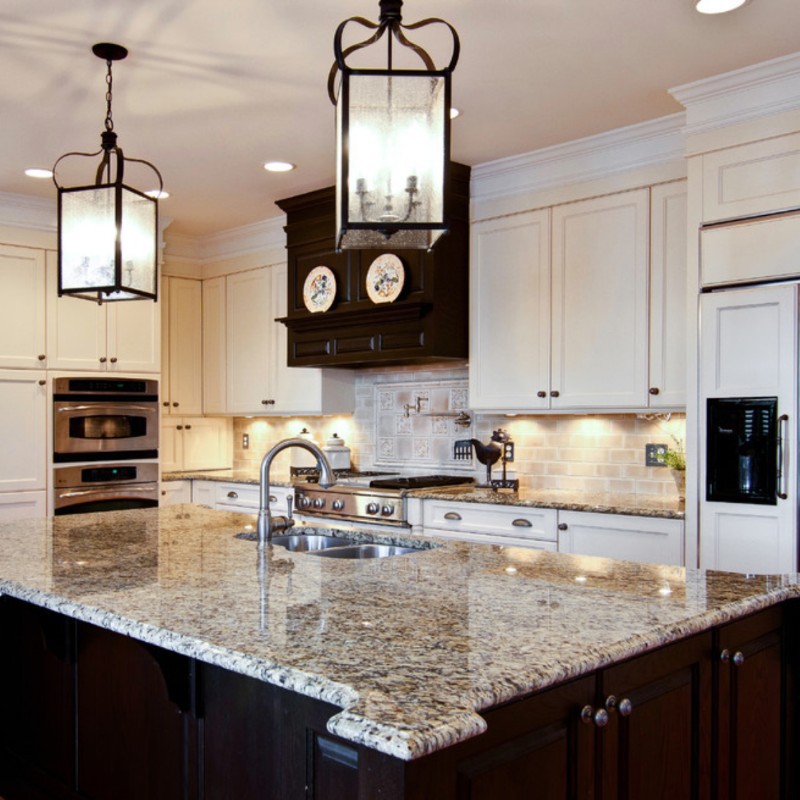 Get this look with MSI"s New Venetian Gold (Photo Credit: Houzz)
Lifestyle and Functionality
Your lifestyle needs are an important factor in the countertop buying process. Some granite countertop edges have sharp edges and corners, while others, including Quarter Round, Half Bullnose, and Full Bullnose have simple, rounded edges and corners. The latter may be better suited for families with small children since anything sharp can quickly become a safety issue. Another benefit of rounded profiles is that they tend to last longer. Kids around sharp edges may not be your only worry though. Before you make any decisions, check your kitchen area to make sure furniture, such as bar stools, for example, will not lean up against the counter since sharp edges might scratch them.
Also, certain edge profiles provide more than just serving their decorative purposes. They can be functional in terms of catching spills and directing how they will flow. Spills may slide right off a counter with straight lines and directly onto the floor. However, a Marine Edge is designed more for work surfaces, but its raised edge means spills have nowhere to go. Also, the Ogee Edge with its dramatic curve may also help keep liquids from overflowing. But, keep in mind that any edge with more intricate details will take more work come clean up time, and overall maintenance will increase since dirt and dust can collect in the complex edge profiles.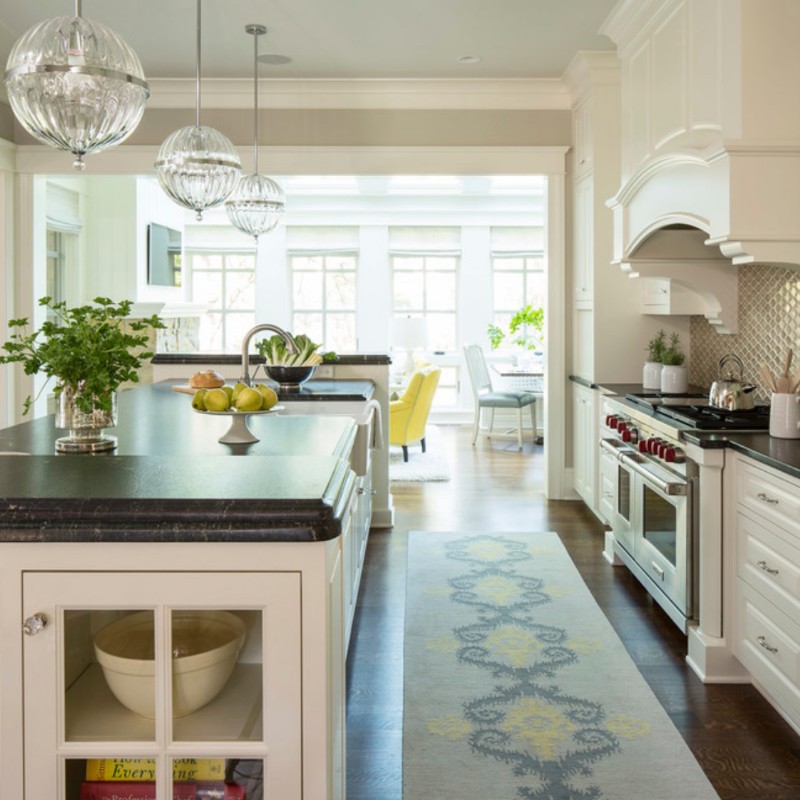 Get a similar look with MSI's Silver Waves (Photo Credit: Houzz)
Beyond the Countertop
The Waterfall Edge is a popular kitchen countertop edge that goes beyond the work surface. The countertop falls over the top onto one or both sides and is commonly used with thick countertop slabs. But, unlike the expected pattern of quartz, granite will probably show more seams since the stone is unique in pattern and will be more difficult to match the pieces.
Edge treatments can also extend beyond the countertop with the backsplash. The standard 4-inch backsplash can also get a makeover with the addition of a detailed edge that will tie everything together.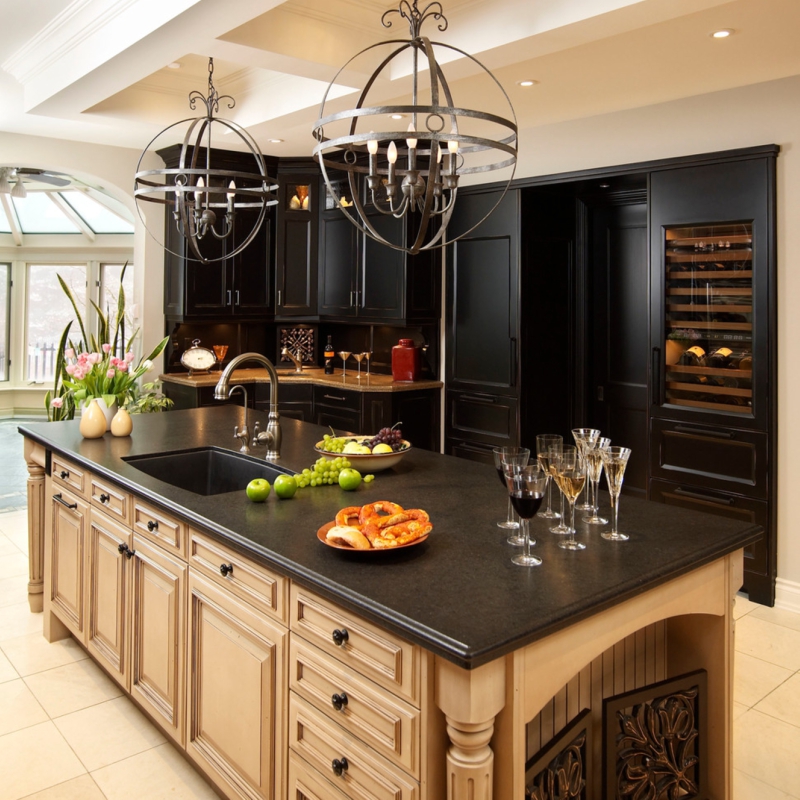 Create a similar look with MSI's Black Pearl (Photo Credit: Houzz)
Mix and Match
If you find yourself falling for more than one countertop edge, then try mixing and matching your favorites instead of fretting about your decision. This works especially well with kitchens with center islands. Often, you can feature a more decorative or dramatic edge on the kitchen island and add a simpler edge to the surrounding counters to help bring balance to the design and keep the focus on the center spectacle.
Remember that choosing your countertop edge can be as important as which granite counters you pick to give your kitchen the update it needs. You can stick with the same style or break the rules and feature something different. But, be sure to keep important factors like budget, lifestyle, and maintenance in mind, and you will decide on the countertop edge that suits your needs and design aesthetic best.
Read More about Granite Countertops
The Straight Skinny on Sealing Your Granite Countertops | Blog
How to Prevent Etching on Granite Counters
High-Style Granite Countertop and Luxury Vinyl Flooring Pairings
Comparing Polished, Honed & Leathered Granite Countertop Finishes
READ MORE ABOUT GRANITE COUNTERTOPS
Baker's Dozen: 13 Unique Colors And Designs Of Granite Countertops
Black Granite Countertops Make A Powerful Statement
Black Granite Countertops: the Royal Appeal