The Prettiest Porcelain Tiles For The Laundry Room
February 14, 2019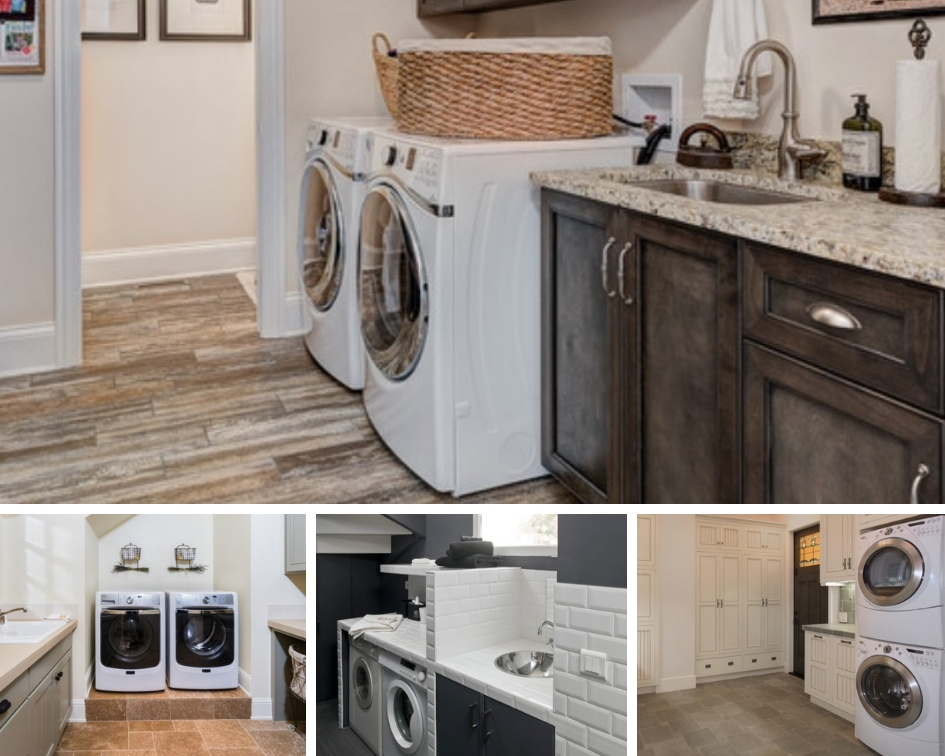 Laundry may not be anyone's favorite pastime, but there's no escaping it — and if you have children, the chore is never-ending. Let's face it, you're going to spend a lot of time in your laundry room, so why not make it a pleasant place to be? The right tile can make the laundry room much more cheerful, clean, and functional.
Chances are, you grew up with the washer and dryer tucked into a dark, dingy corner of the basement or in a tiny alcove off the garage. However, today's homeowners are enjoying the benefits of locating the laundry room in a convenient location, such as a mud room, a dedicated space beside the kitchen, or even on the second floor near the bedrooms. No more hauling a laundry basket up and down a narrow, dark staircase!
Just like the kitchen, built-in cabinetry and shelving, as well as a beautiful countertop, will improve laundry efficiency. A sink is handy for items that need hand-washing or for other cleanup needs, and a backsplash will protect the walls. Don't neglect the lighting; choose fixtures that are as attractive as they are functional.
And, when it comes to the flooring and wall covering, you can't do any better than modern porcelain tile.
Not only are porcelain tiles crack- and scratch-resistant, but it's also great for areas that may be exposed to water — there's always a chance of accidental water leaks and spills. Tile flooring comes in an infinite number of colors, textures, and patterns including tile that looks like wood, travertine, cement, and more.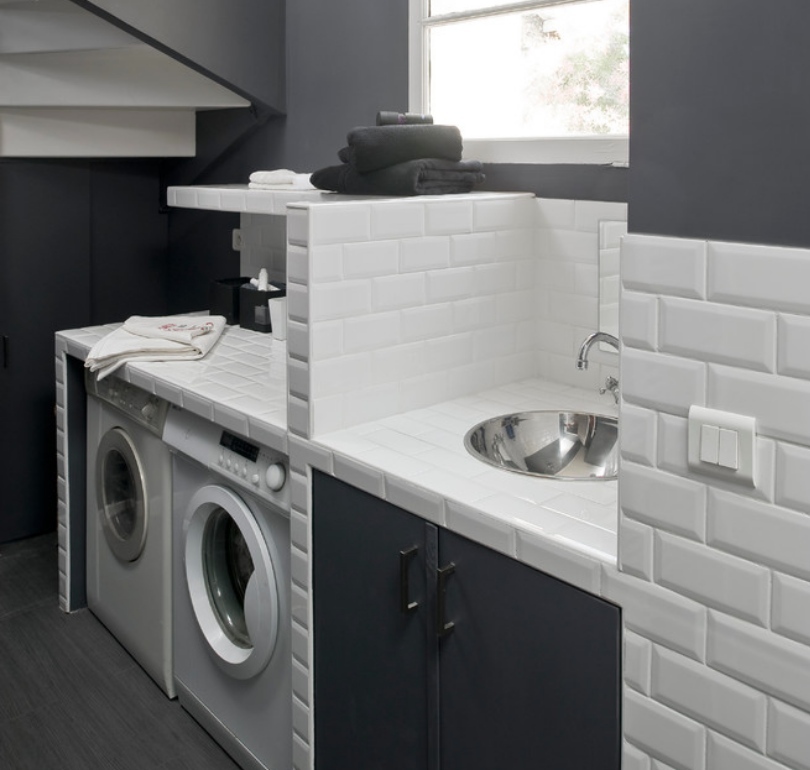 Create a similar look MSI's Domino White Glossy Subway Tile (Photo Credit: Houzz)
Domino White Glossy Subway Tile
The laundry room is a place we associate with freshness and purity, and there's no better way to achieve that look than with glossy white porcelain subway tile. Domino White adds visual interest with 3D beveled edges, proving that bright white tile countertops and backsplashes can be stylish as well as easy to keep clean.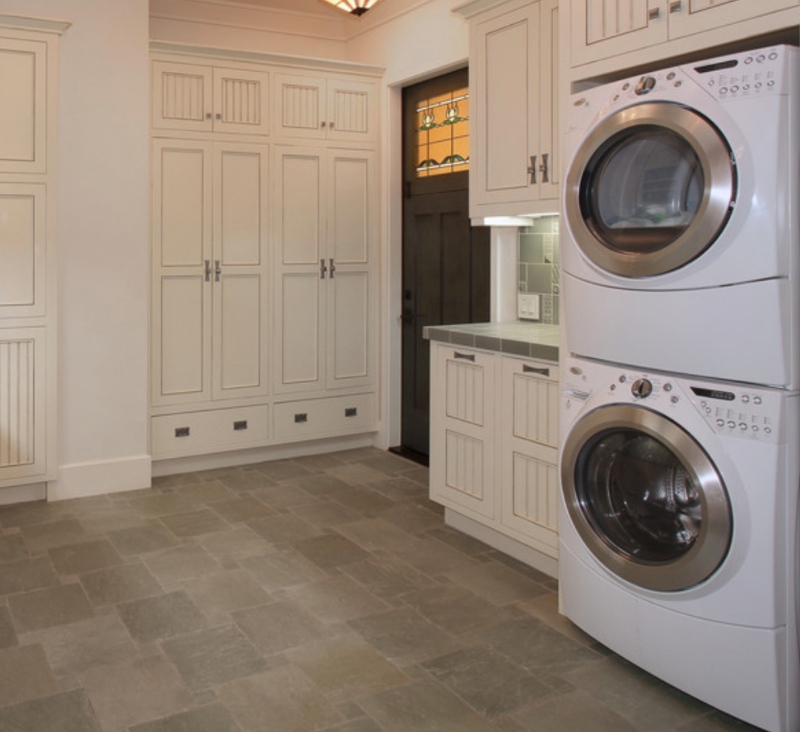 Recreate this look with MSI's Capella Silt Porcelain Tile (Photo Credit: Houzz)
Capella Silt Porcelain Tile
No matter how new or well-maintained your appliances are, in a laundry room there's always a chance of an accidental flood. That's why it's so important to choose flooring that's waterproof, especially if your laundry room is on a second floor. Capella Silt porcelain tiles have the look of terracotta tile, along with realistic variations.
Featured: Brickstone Taupe Porcelain Tile
Brickstone Taupe Porcelain Tile
There's no reason that your laundry room must be a stark, utilitarian space. It also need not be a single-use room; combining it with a mudroom gives your family a place to take off shoes and coats and wash up before entering the house. Brickstone Taupe porcelain tiles provide the rustic warmth of aged brick without any worries about muddy feet and paws.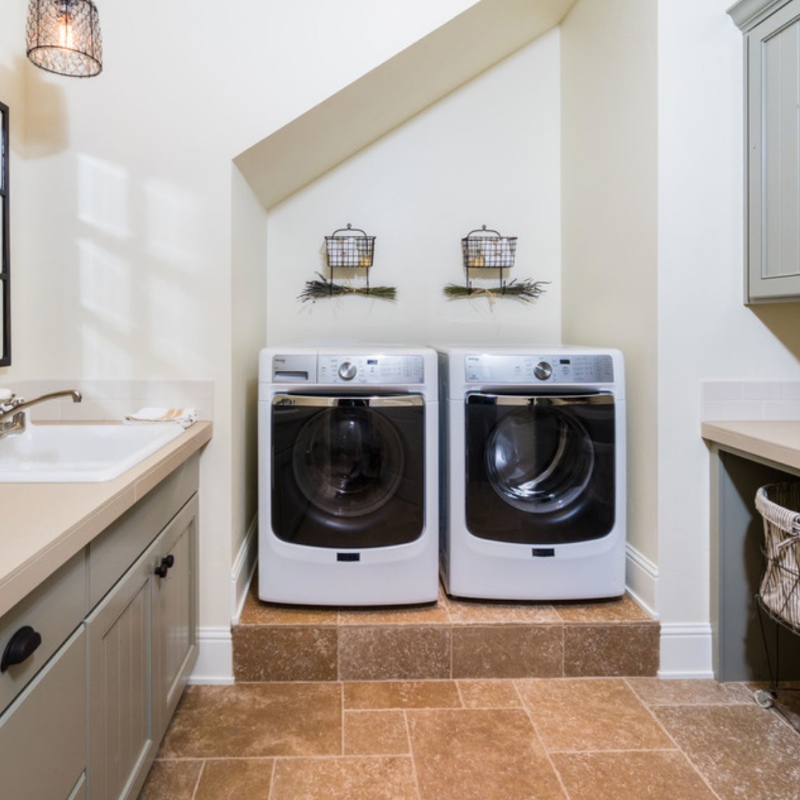 Create a similar look with MSI's Travertino Walnut Porcelain Tile (Photo Credit: Houzz)
Travertino Walnut Porcelain Tile
A natural stone tile floor gives every room in the house more personality and character. With Travertino Walnut porcelain tiles, you can match the laundry room with other spaces in the home, such as a kitchen or family room. The combination of warm beige, cream, and tan complements any style of décor, and matching bullnose tiles are available to create perfect transitions.
Gone are the days when the laundry room was a boring space that homeowners hid behind closed doors. With the addition of cabinetry, countertops, and stylish wall and floor coverings, you can easily create a room you'll want to show off. With a laundry room like this, you might almost look forward to doing the laundry.
READ MORE ABOUT THE BENEFITS OF PORCELAIN TILE
The Many Looks Of Porcelain Tile
The Pros And Cons Of Porcelain Floor Tiles
The Redwood Series: Naturally Respectful Porcelain Wood Tiles
These Cement Porcelain Tiles Will Change Your Mind About Cement Flooring