How To Care For Different Travertine Tile Finishes
November 21, 2018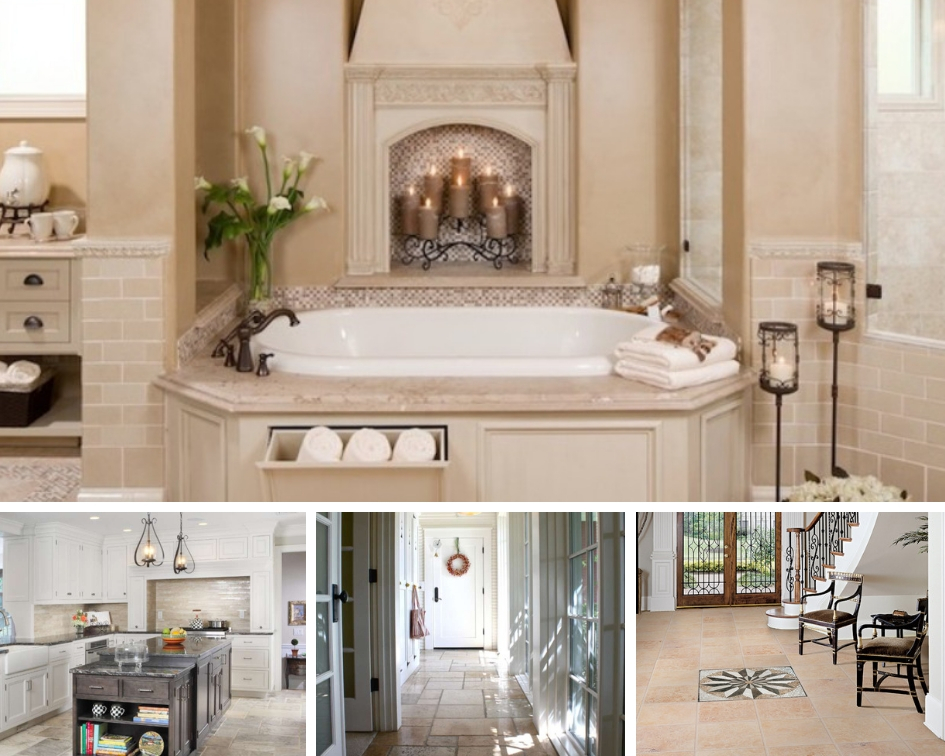 Travertine tile is known worldwide as a gorgeous and durable natural stone. That's why it has been a favorite of architects and designers for generations. Travertine flooring can be used in a variety of applications, both indoors and outdoors. On top of that, it is even suitable for high traffic entry ways, foyers, and patios, and high moisture areas like kitchens and bathrooms.
It is no wonder that travertine is one of the favorite natural stone tiles for the home; its warm earthy tones and variety of available finishes make it an enduring symbol of elegance and style. Whatever travertine you fall in love with, it's sure to add beauty to your design. However, when designing your space and choosing the right travertine tile or travertine paver for the project, it is important to understand the finishes available, as well as the best way to keep them looking their best.
The reason that the different travertine finishes require different types of cleaning and maintenance is because each finish alters the porosity of the travertine. For example, some of the finish types can become water-logged if too much cleaning solution or water is used, while others can lose their beautiful finish if acidic cleansers are used. Let us give you the details on each type of finish and best care practices for keeping your travertine looking like new.
Polished travertine tiles have a smooth, level finish, and a shiny appearance. This may be the easiest of all of the travertine flooring to keep clean. Even so, because travertine is a porous stone, it is important that all of the finishes are sealed with a penetrating sealer to keep them looking great and stain free. For cleaning, first sweep up any loose debris, and then use a mop with just water. If you need deeper cleaning, use a travertine-friendly cleaner, and then dry the premium surface completely with a clean towel.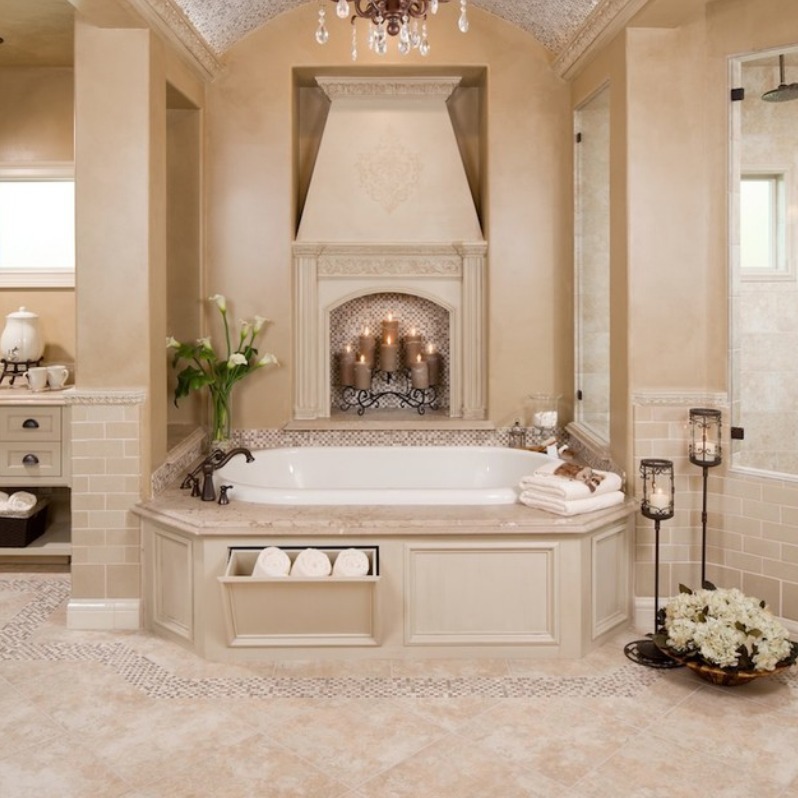 Recreate this look with MSI's Durango Cream Travertine (Photo Credit: Houzz)
Honed travertine tiles also feature a perfectly smooth and level finish, but they are less shiny than polished travertine. The matte finish of honed travertine makes it a bit more porous than polished tiles, so removing dirt and debris quickly is important. To clean honed-finished travertine, use a dust mop to remove any grit, pet hair, or dirt, and then use a neutral pH 7 cleanser and water. After mopping, dry the floor to maintain the finish.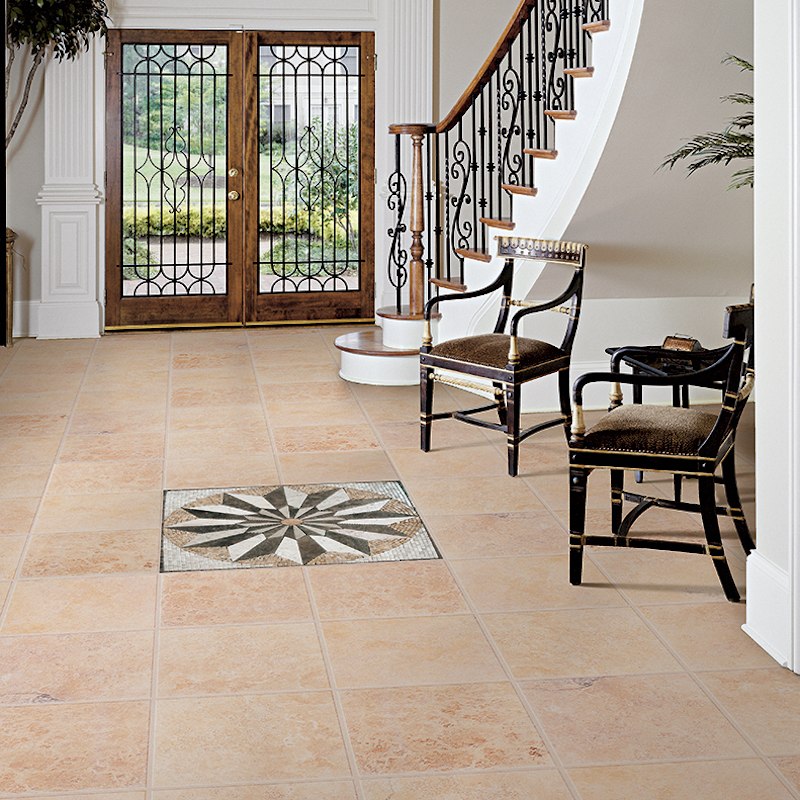 Featured: Angelica Gold Travertine
Unfilled travertine floors contain characteristic little divots that can trap dirt, grit, and other debris. Before mopping this floor, it is imperative that you remove as much of the grit as possible with a vacuum. This finish is more porous than the others, and care needs to be taken when you mop. Use as little water as possible, and dry the surface well. If the unfilled travertine covers a large area, mop and dry small sections before you move on, in order to prevent excess water from penetrating the tiles.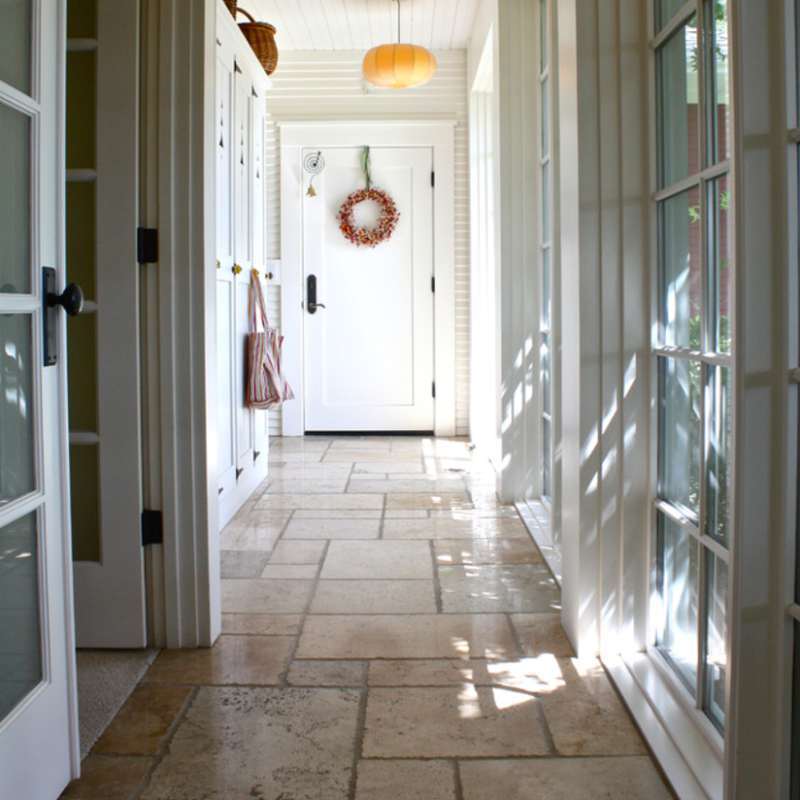 Recreate this look with MSI's Tuscany Chateaux Travertine (Photo Credit: Houzz)
Kitchens are a great place to use travertine, but to ensure they stay looking great and stain free, you'll need to apply a penetrating sealer regularly. How regularly? Well, that depends on the traffic in your kitchen, and how often you deep clean your floor. Kitchens are also an area where grout can tend to become discolored. To prevent this, avoid using any type of a commercial abrasive cleanser on your travertine; instead, use equal parts baking soda and water, and scrub with a toothbrush to avoid damaging the tiles.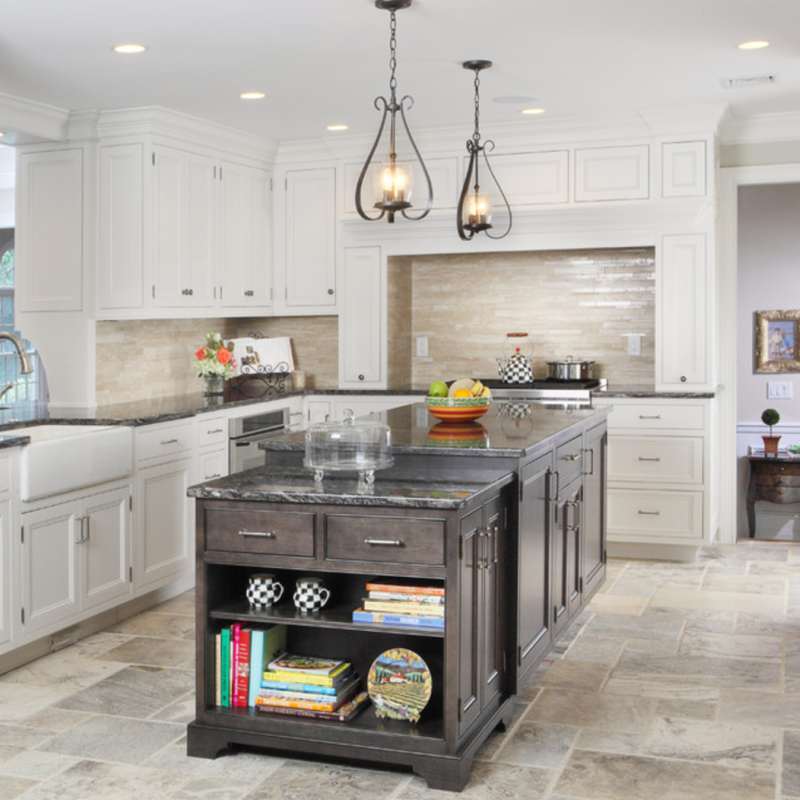 Recreate this look with MSI's Silver Shadow Travertine (Photo Credit: Houzz)
Travertine is a stunning natural stone that has been used for centuries in high traffic areas. One of its appeals is that it ages and develops more character over the years. If you want to keep your travertine floors looking just like the day they are installed, follow sealing guidelines carefully, and remove dirt and spills as they occur.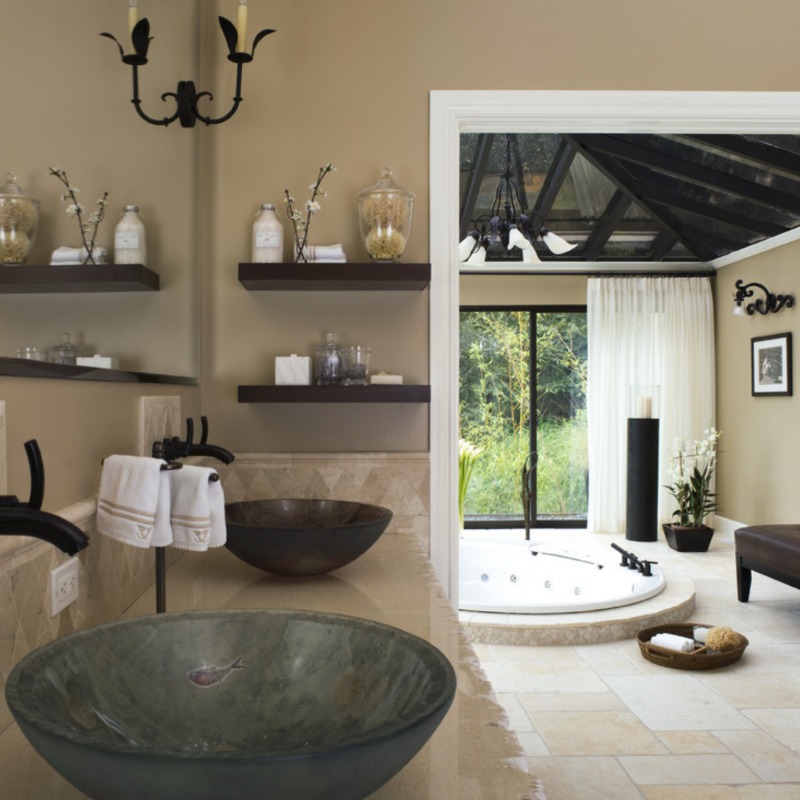 Recreate this look with MSI's Ivory Onyx Travertine (Photo Credit: Houzz)