Perk Up Your Bathroom With Fresh Ceramic Tile
October 23, 2018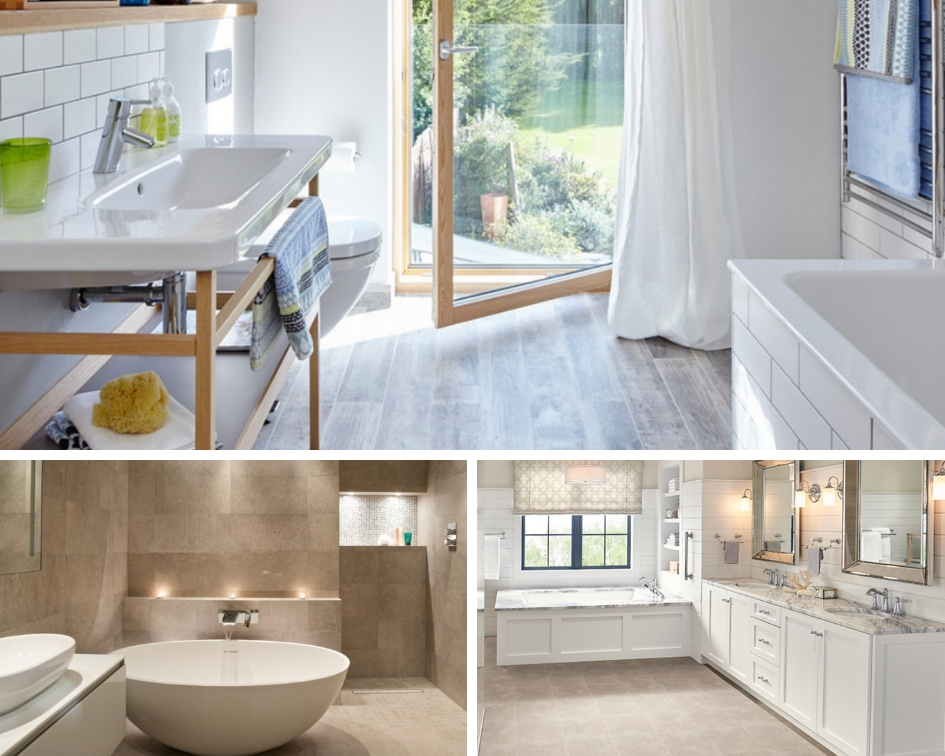 Now that fall has finally arrived, the holidays seem to be just around the corner. This is a time of year that many of us consider making some quick renovations to enliven our homes before the entertaining begins. Time might be short, but fortunately, you can make small changes within a space that really make a big impact. In the living room, you can update your style with a new throw rug and pillows; and in the dining room, you can add a punch of texture and color with some wallpaper. As for the bathroom, nothing makes a quicker impact than swapping out tired and dated tiles for beautiful new ceramic tile.
Take a deep breath, because yes, you can make a small, budget-friendly makeover this fall in your bathroom! Whether you want to update your master suite into a spa-worthy destination or breathe a bit of life into your guest bathroom, ceramic tiles are a cost-friendly—and time-friendly—way to bring your style forward. Time is short, so let's bring on the inspiration!
If you are redoing a small bathroom, consider using wood-look planks. First, however, it is important to understand the secrets of how to tile a small bathroom to make the space appear larger. In this light and airy bathroom, our Sonoma Driftwood wood-look planks were laid in a way that elongates the room, drawing the eye toward the gorgeous view outside. If the ceramic tile flooring had been laid crosswise, it would have made the room appear even smaller than it actually is.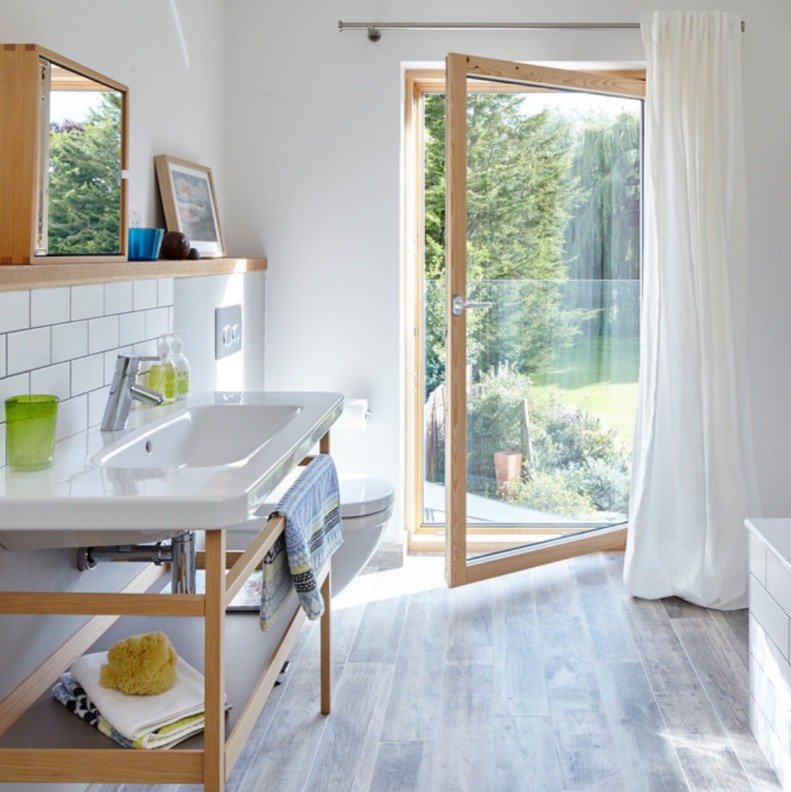 Get this look with MSI's Sonoma Driftwood Wood Look Tile (Photo Credit: Houzz)
At the other end of the size spectrum, swapping out flooring for high-quality ceramic tile in a neutral tone can give a master suite a high-end designer look. Versatile in tone and pattern, our Beige Tempest ceramic tile was the perfect choice for this expansive bathroom. Plus, if the homeowner wants to change the wall color or backsplash in the future, this neutral tile will prove to be a timeless choice.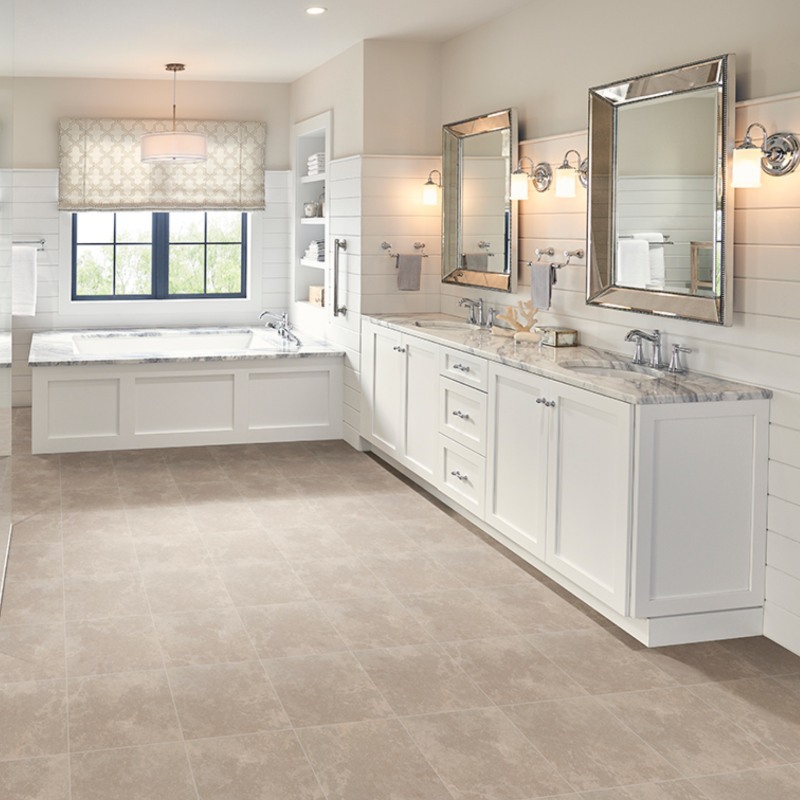 Get this look with MSI's Beige Tempest Ceramic Tile (Photo Credit: Houzz)
Swapping out just the floor tile can change the entire look of a bathroom. As much as you might want to jump into changing out the vanity, bathtub, and backsplash, just pause and look how beautiful this bathroom is with Turin Nero ceramic tiles. Simple accessories, recycled furnishings…all are given new life against the backdrop of this elegant floor tile. Again, for this smaller bathroom, the wood-look planks were run to highlight the length of the room, making it feel more expansive.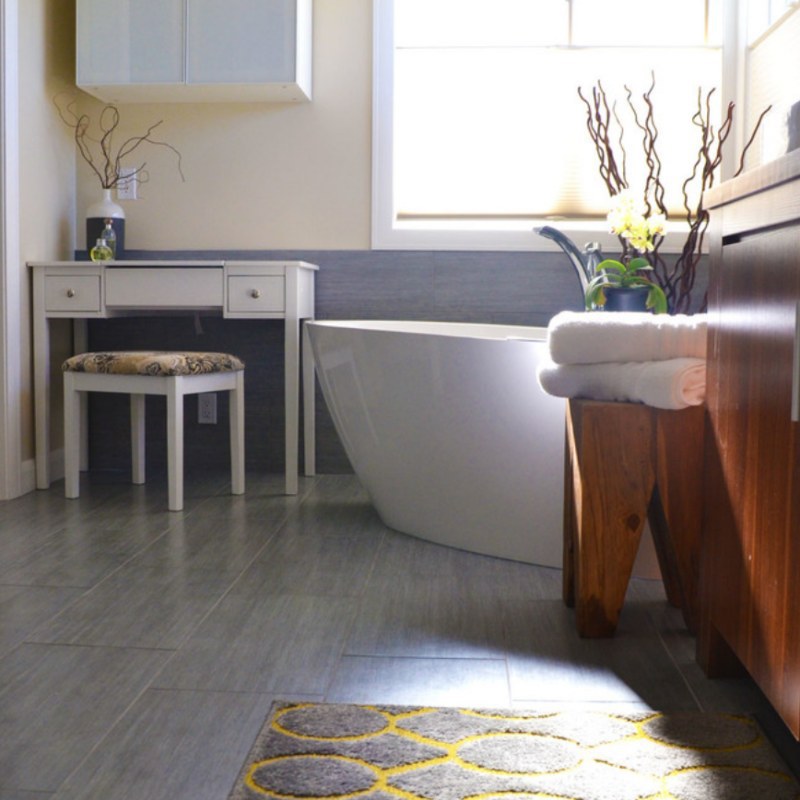 Get this look with MSI's Turin Nero Wood Look Tile (Photo Credit: Houzz)
Are you looking for something more architectural and awe-inspiring? Our 3-D wall tile, Adella Viso might be just the ticket for you. Without even updating the floor, you can choose a beautiful ceramic tile to highlight and refresh just one area. This textured white ceramic tile infuses this bathtub-shower combo a high-end feel that reenergizes this modern master bathroom.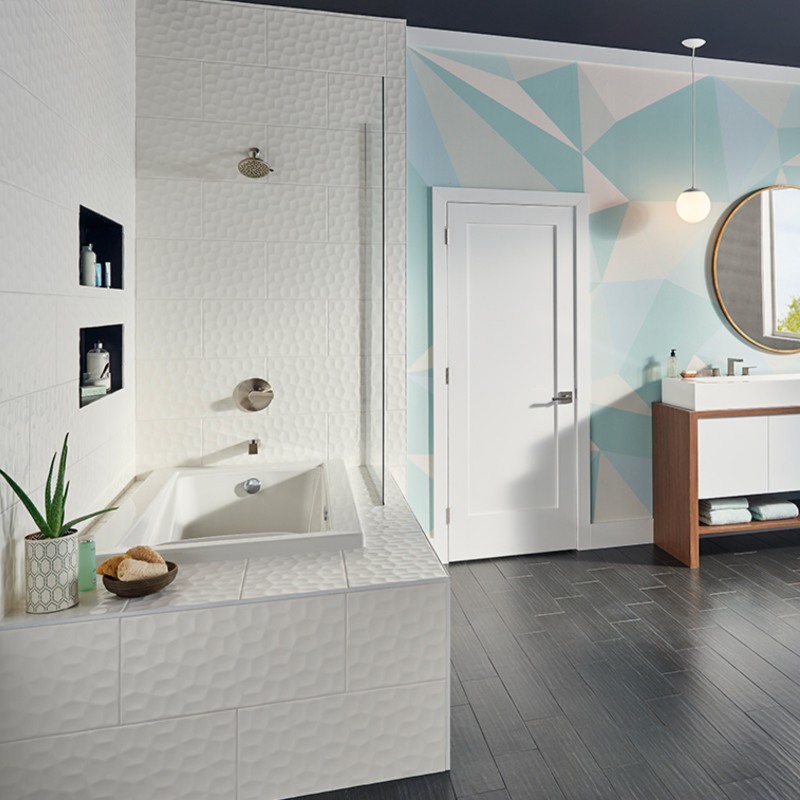 Featured: Adella Viso White 12x24 Satin Wall Tile
If you want to go all in, consider using the same tile on the floors and walls. This design move effortlessly creates a high-end designer look. For example, this gorgeous spa-like bathroom primarily uses the beautiful 12x24 Natural Tempest ceramic tile, with the matching 2x2 tile serving as the shower floor. With such a warm and inviting design, soaking in the freestanding tub at the end of the day will make you appreciate the undeniable style of your master suite.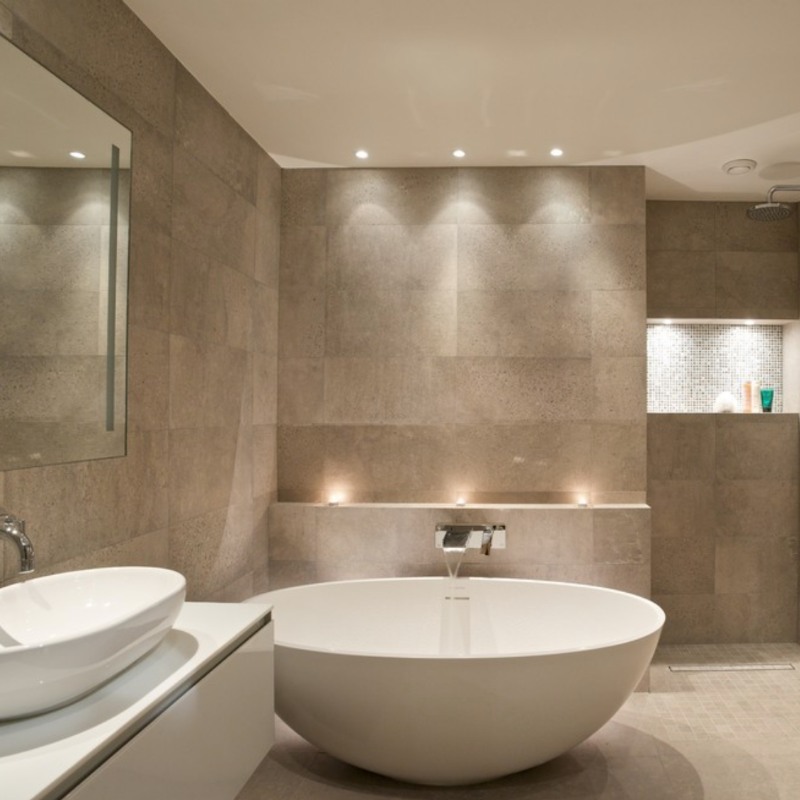 Get this look with MSI's Natural Tempest Ceramic Tile (Photo Credit: Houzz)
Hopefully, you've seen how versatile ceramic tile is, and how the right tile—laid in the right configuration—can make a quick impact in a bathroom. If you are considering a quick update or dramatic remodel of any room in your home, why not browse through our products? Better yet, use our visualizer tools to help you pick the right products to complement your personal style!
MORE BATHROOM IDEAS
Tile Style: Beautiful Bathroom Designs Featuring Ceramic Tile
Tips From The Trade: Should You Use Stacked Stone In The Bathroom?
The Truth About Marble In The Bathroom
Tile Style: Which Size Porcelain Tile Is Best for Small Bathrooms
7 Bathrooms Featuring Show-Stopping Travertine Tile
Why We're Seeing More Quartz Countertops In The Bathroom