7 Bathrooms Featuring Show-Stopping Travertine Tile
October 05, 2018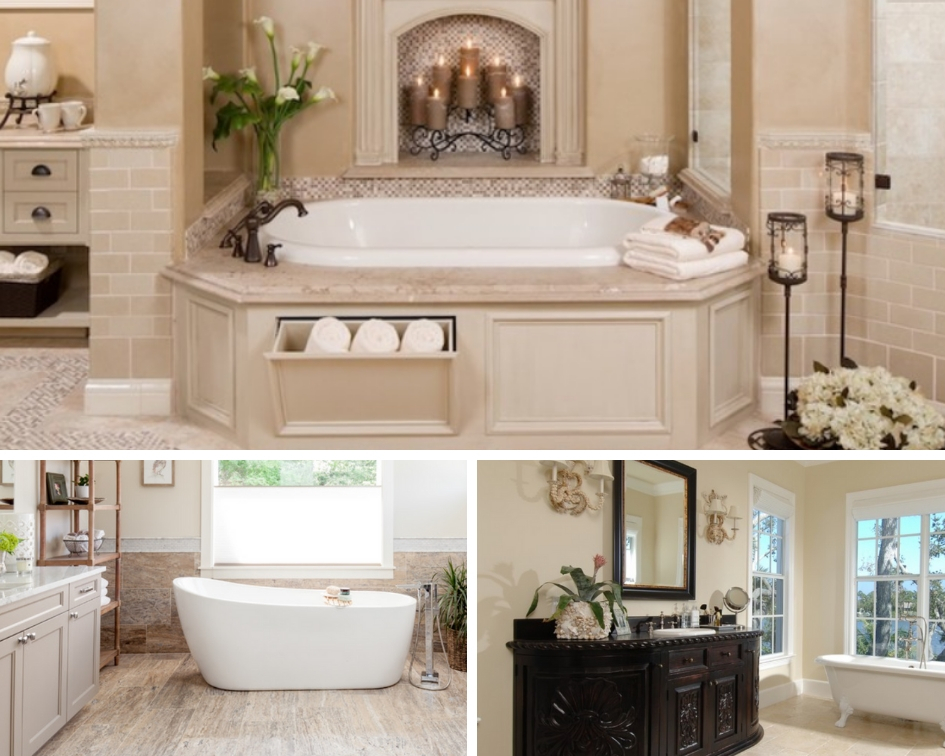 There is nothing quite like a long, hot shower or soak in the bathtub at the end of the day, and this is especially true if you have a beautiful bathroom that evokes luxury and relaxation. But if your bath needs an update, creating a tranquil spa-like retreat with natural stone doesn't have to be a dream; you can achieve the bathroom you desire with one of the most handsome natural stones available today—travertine tile.
Since Roman times, travertine pavers and tiles have been used in opulent homes, palaces, and monuments. Today, there are a number of travertine color options available to homeowners, so you are sure to find one that captures your personal style. MSI carries travertine tiles in a variety of finishes, thicknesses, and colors—and even offers vein cut options. Our featured bathrooms below will show you why travertine could easily become the most popular natural stone for the bathroom, and why you should give it a closer look!
Travertine is available in both vein cut and cross cut options. A cross cut travertine tile highlights the beautiful waves and inflections inherent to this gorgeous natural stone. On the other hand, vein cut travertine tile brings the striations or layers to the forefront.
In this charming guest bathroom, our Walnut Vein Cut travertine flooring tile was used to infuse movement and texture into the space. From traditional to modern—and everything in between—the naturally warm hues of these travertine floors complement other elements in the design beautifully, such as the neutral-hued glass mosaic tub surround and warm wood vanity and mirror frame.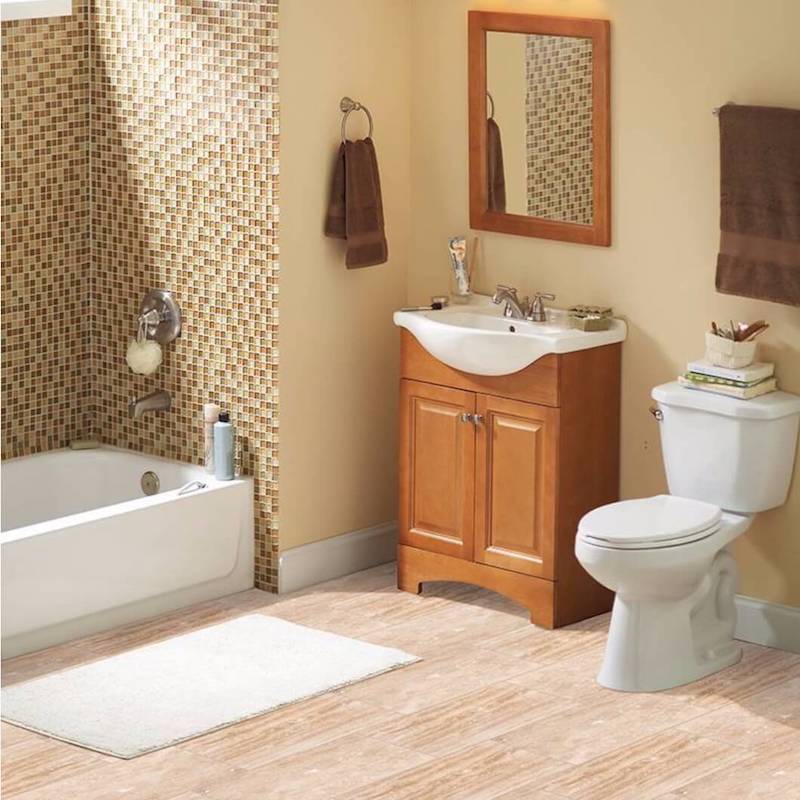 Featured: Walnut Vein Cut Travertine
If cooler shades are more in line with your design aesthetic, our Silver Vein Cut Travertine is a stunning combination of cool silver and gray, with hints of warm beige. This vein cut travertine tile is less linear in nature than previous one, but still shows the layers of color and texture in this tile. The soothing and subtle tones of this master bath are complemented perfectly by the textures and hues of the travertine floor. With tastefully chosen elements in harmony, the travertine sets a peaceful tone within the space, and creates a timeless design for you to enjoy for years to come.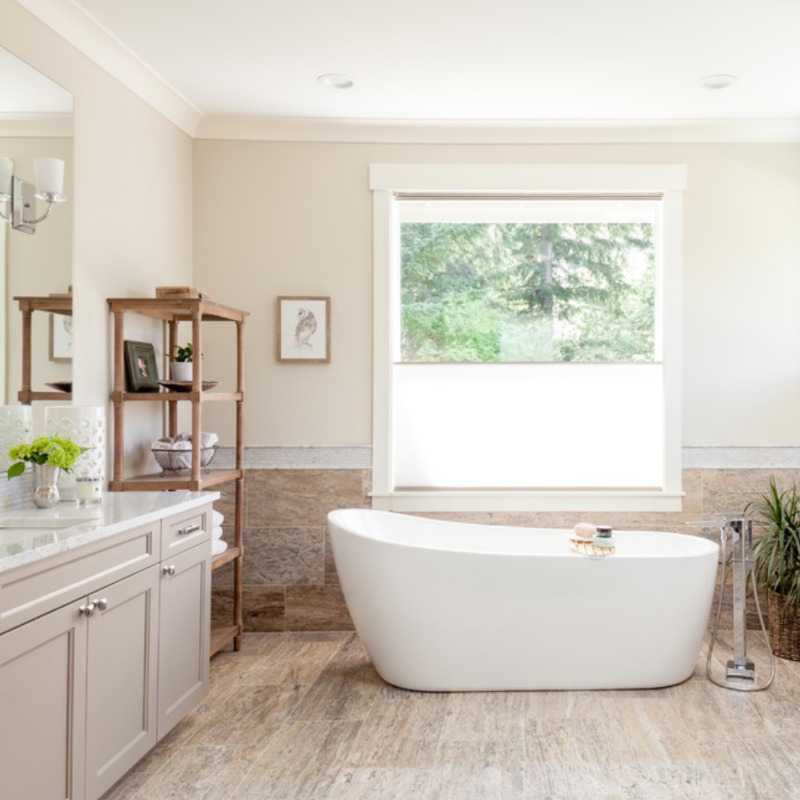 Get this look with MSI's Silver Vein Cut Travertine (Photo Credit: Houzz)
If you prefer a bathroom tile with less linear movement, our character-rich Tuscany Walnut Travertine tile may be the answer for you. Reminiscent of the traditional look you might expect to see in an Italian home, the floor's swirls of creamy beige and hints of walnut make this envy-worthy master bathroom a warm respite at the end of the day. Featured in this expansive bathroom as both the travertine floor tile and the wall tile in the magnificent walk-in shower, this tile is offered in a number of sizes and finishes, making both design and installation a breeze.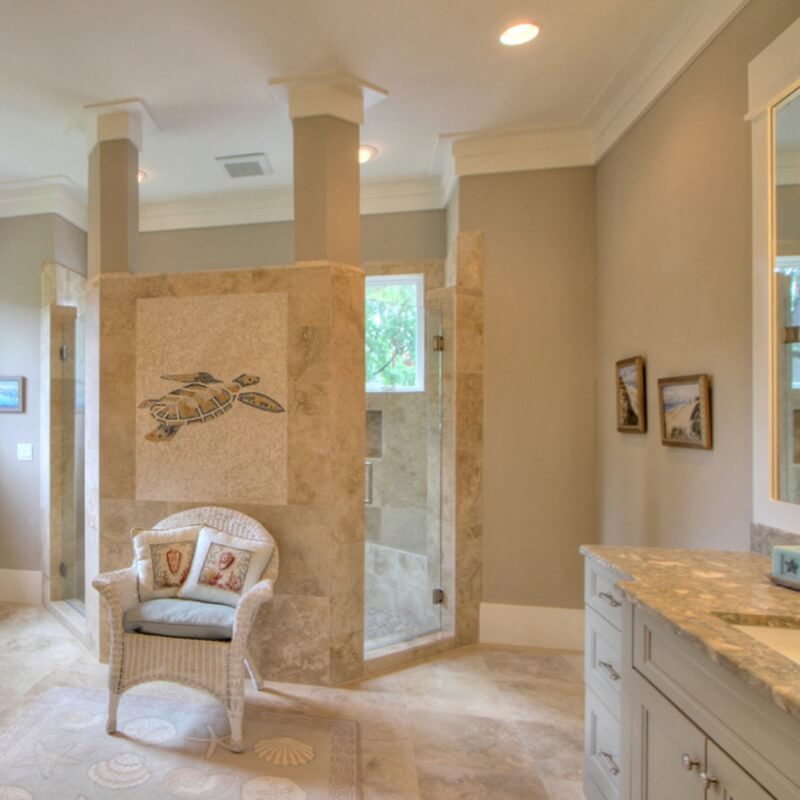 Get this look with MSI's Tuscany Walnut Travertine (Photo Credit: Houzz)
Many people assume that all natural stone tile varieties are priced similarly, but this is simply not true. Travertine, for example, is quite an affordable natural stone flooring option. On top of its affordability, a lighter travertine colors like our Durango Cream Travertine can create the wispy texture and elegance of a more expensive natural stone tile like marble or granite. In this breath-taking master bathroom, larger tiles were used on the floor, while smaller subway tiles were used on the walls. This creates a regal palate of hues and textures, highlighting the true beauty of natural travertine.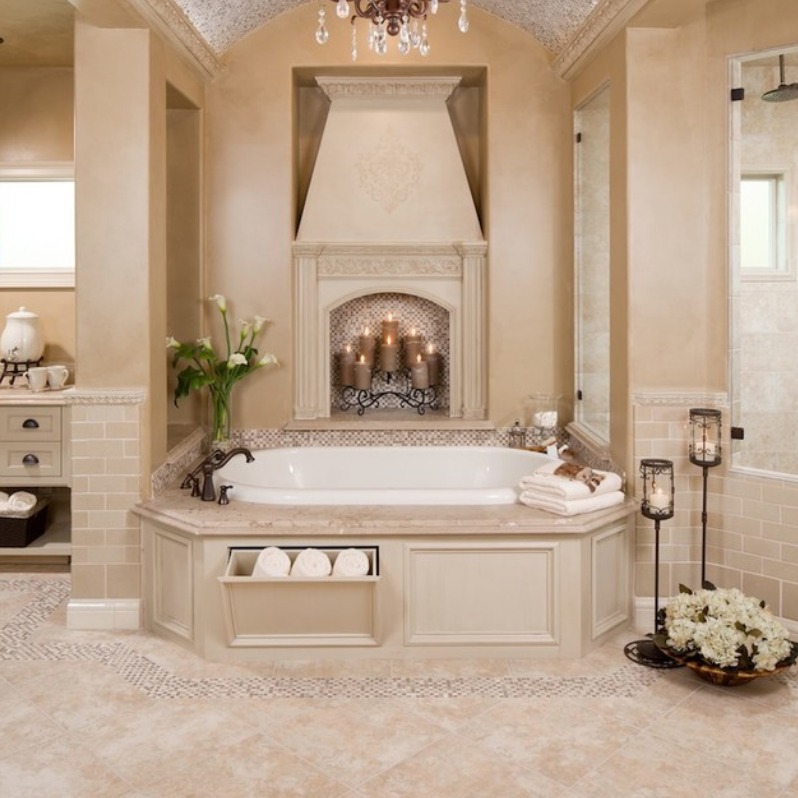 Featured: Durango Cream Travertine
For a more traditional, Old-World feel, our Tuscany Beige Travertine tile is perfect for use indoors or outdoors. This sun-soaked bathroom highlights the textures, character, and tones of this gorgeous travertine tile. Offered as a kit, the tile comes pre-cut in a number of tile sizes, allowing for easy design and installation. The beige and cream tones are truly timeless, and with proper care and appropriate maintenance, this tile will last for decades to come.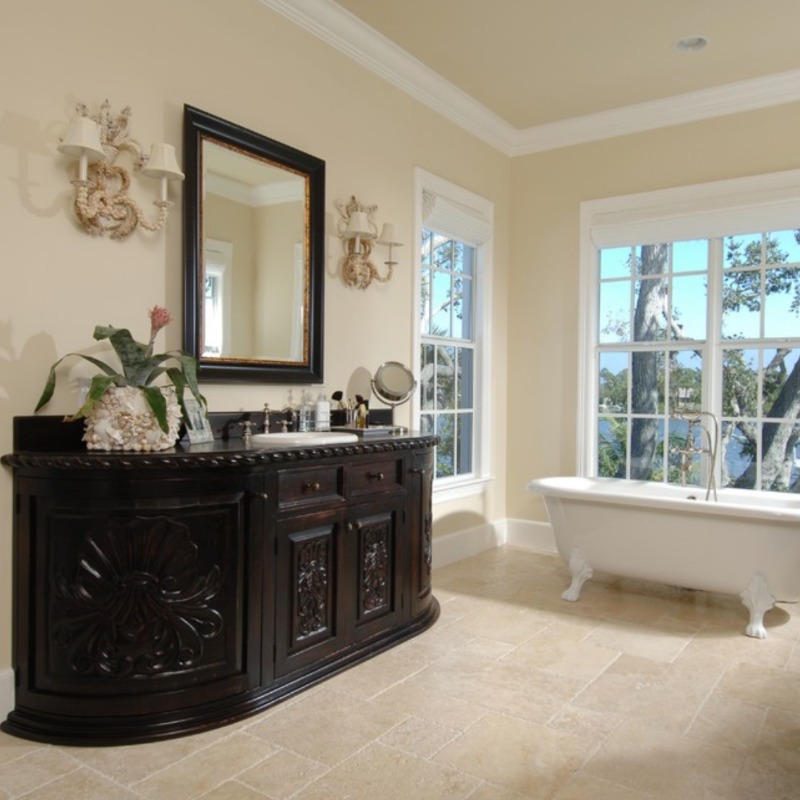 Get this look with MSI's Tuscany Beige Travertine (Photo Credit: Houzz)
Who hasn't dreamed of a step-down tub? There is something so decadent and opulent about a bathroom designed with one. Here, Ivory Onyx Travertine tile is used for the floor throughout this cohesive design. Like the traditional bathroom above, this travertine tile comes in a kit, pre-cut and ready for installation…and it can be used outdoors, too! Just past that sunken tub and through the sliding glass doors, how perfect would a matching patio be, to enjoy a cup of coffee (or glass of wine) after a nice, long soak?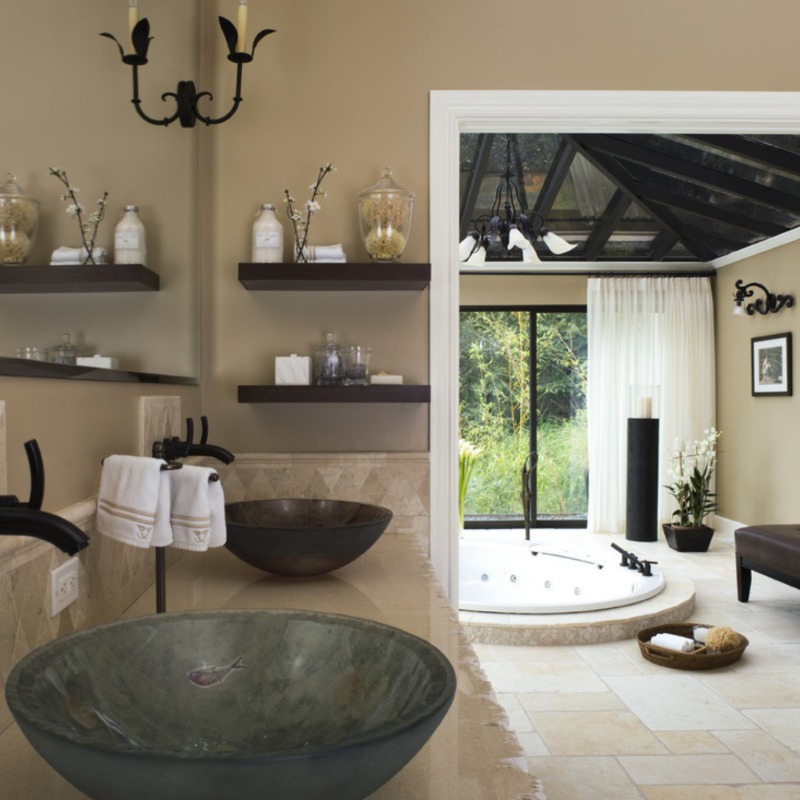 Get this look with MSI's Ivory Onyx Travertine (Photo Credit: Houzz)
While travertine is often thought to evoke more traditional design characteristics, there are also travertine tile options with a more contemporary sensibility. These include our Philadelphia Travertine, a darker, richer-hued tile that exudes warmth. Unlike many other natural stone slabs and tiles, travertine colors are reliable, meaning that patterns are rarely discontinued. This means that if damage occurs or you expand your bathroom, you can quite easily find the same color and pattern to match the existing tiles.

Get this look with MSI's Philadelphia Travertine (Photo Credit: Houzz)
When you are ready to start planning and designing your perfect bathroom, you can try out our user-friendly bathroom visualizer to select floor tile, wall tile, cabinetry colors and countertops, even before you venture into one of our showrooms to see the real thing in person! There are so many beautiful travertine options available, including pattern kits, mosaics, floor tile and wall tile, giving you the freedom to mix and match to your heart's content. Hopefully, these show-stopping bathrooms have proven that you can use a budget-friendly natural stone tile to fashion a simply stunning result.
MORE BATHROOM IDEAS
Tile Style: Beautiful Bathroom Designs Featuring Ceramic Tile
Tips From The Trade: Should You Use Stacked Stone In The Bathroom?
The Truth About Marble In The Bathroom
Perk Up Your Bathroom With Fresh Ceramic Tile
Tile Style: Which Size Porcelain Tile Is Best for Small Bathrooms
Why We're Seeing More Quartz Countertops In The Bathroom