Tile Style: Would A Marble Countertop Fit Your Lifestyle?
March 25, 2018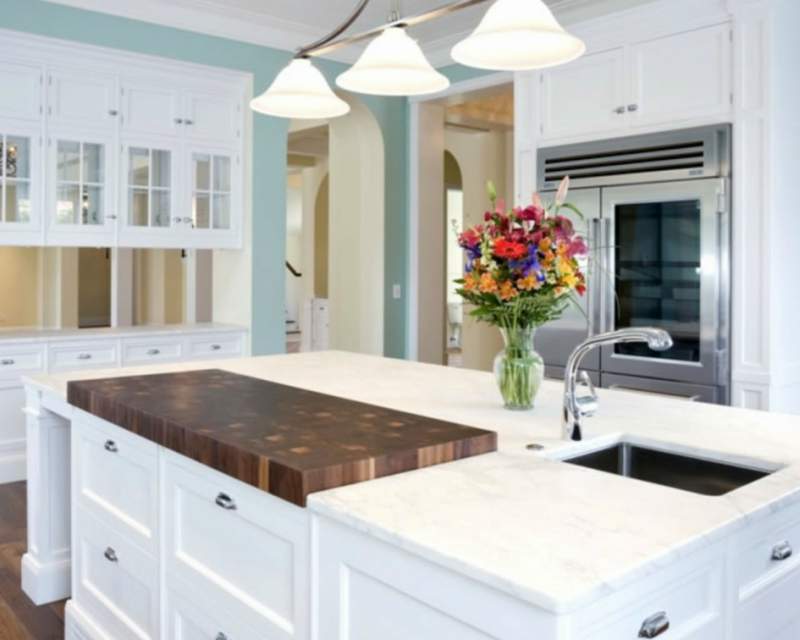 Marble countertops are one of the most luxurious and beautiful surfaces you can add to your home. Prized by both professional and home bakers, marble is a surface that can stand up to use. However, this natural stone does require some precautions and ongoing maintenance. Simply put, it isn't the right countertop for everyone, but when it finds its perfect home, it can remain beautiful for many years.
The best way to keep your marble pristine is to learn the secrets of preventing stains on marble countertops in the first place. Of course, chances are that accidents will happen. A lemon slice might accidentally be left behind on the counter, or vinegar may be spilled and not wiped up quickly. For some, these small incidents may cause distress. If you fall into that category, then, fortunately, there are other countertop choices that are more durable.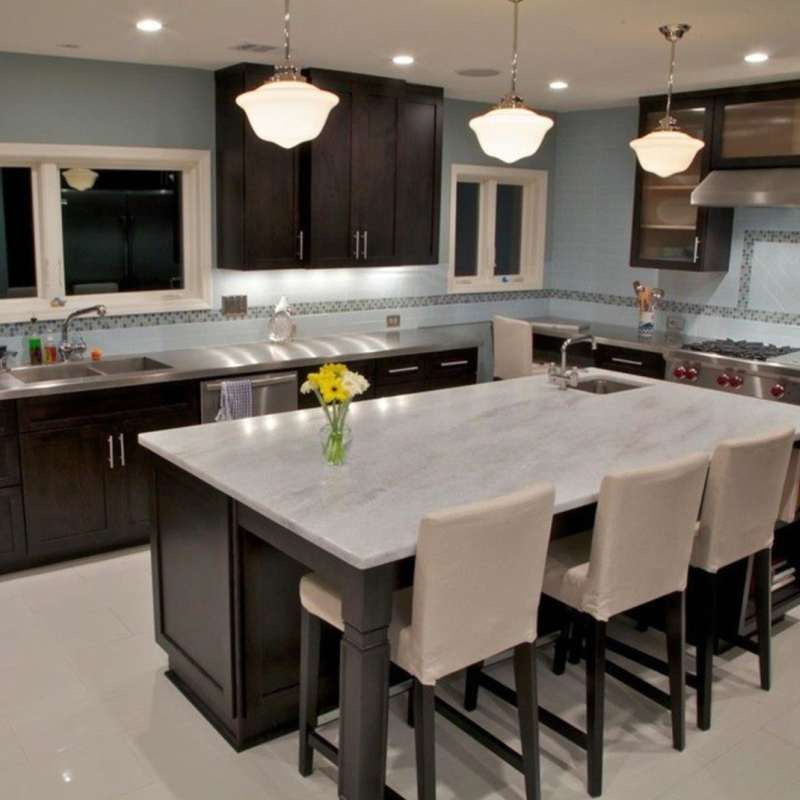 Create a similar look with MSI's Antaride Marble (Photo Credit: Houzz)
However, for those that believe the beauty of marble is enhanced as it ages and gains its distinctive patina in the home, kitchen countertops and islands can be perfectly suitable for busy kitchens. Here, the gorgeous Antartide Marble is a stunning choice, its soft white and gray tones moving in a fluid pattern.
Paired with dark cabinetry and Robin's egg blue walls that pull out the undertones of this natural stone, it makes a perfect finishing note. With a marble counter island this expansive, it can be tempting to pull out crafts and homework projects, but you might want to save that for your kitchen table or cover your marble with plastic sheeting to avoid any accidental damage.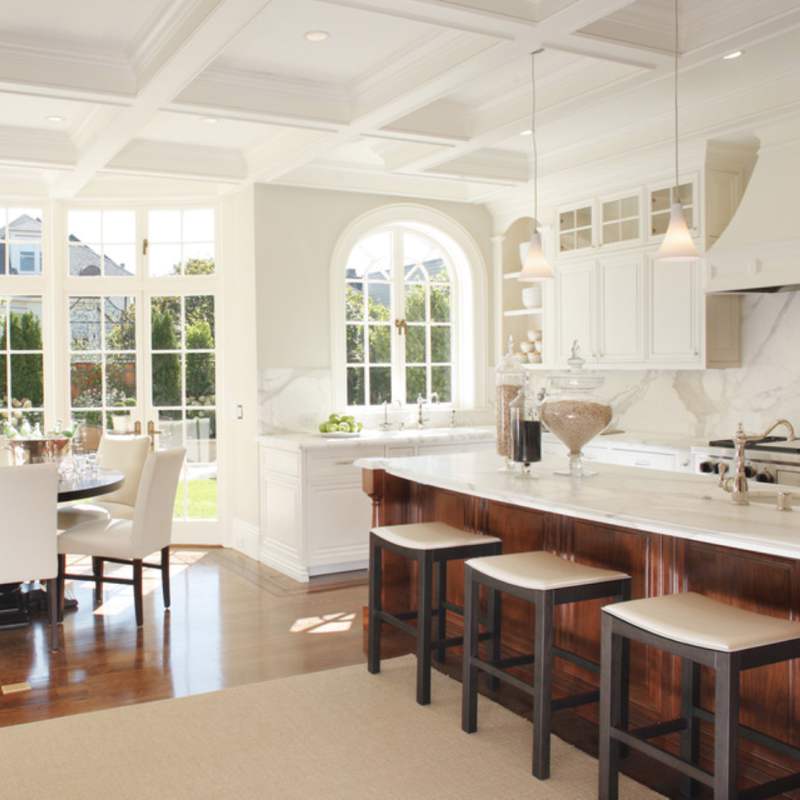 Recreate a similar look with MSI's Bianco Dolomite Marble (Photo Credit: Houzz)
White kitchens are always in style, and here Bianco Dolomite Marble slabs are featured on the countertops, island, and even backsplash over the range. Marble's beauty can be preserved and maintained quite easily by its devotees, but granite, quartzite, or quartz countertops tend to be more popular for homeowners with small children. After all, although marble is great for rolling out pie crust and cookies, it doesn't respond well to permanent markers, paint, or spilled lemonade.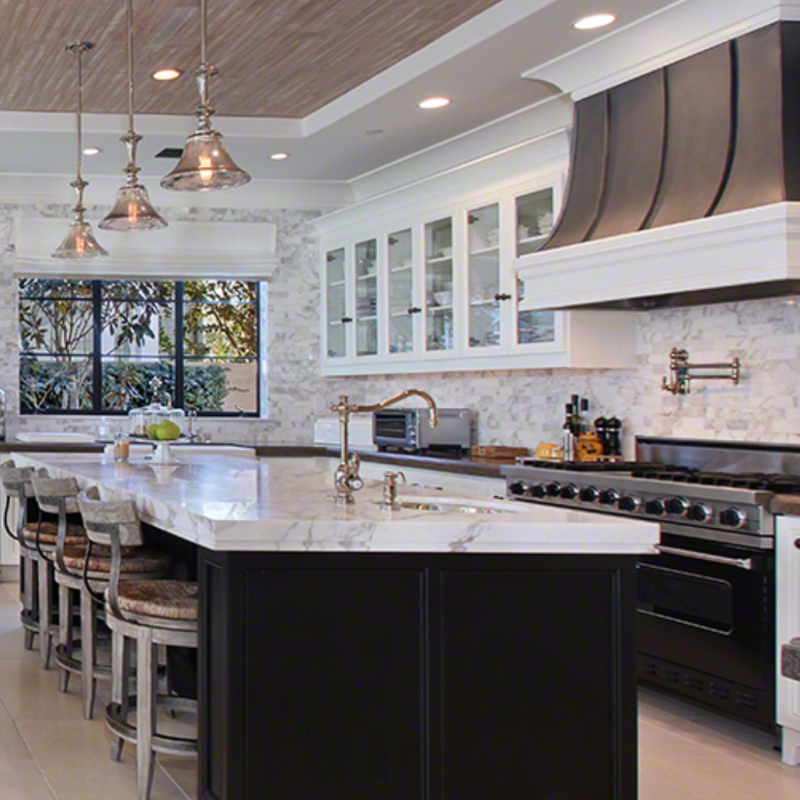 Featured: Calacatta Gold Marble
One of most iconic natural stones, Calacatta Gold Marble is the epitome of luxury. The pure white background with the gray veins is simply perfection, making this classic beauty one of the most timeless choices you can make in design.
In addition to Calacatta Marble slabs, we stock a wide range of floor tiles and backsplash tiles to create universal luxury in your kitchen. Here, the expansive island is complemented beautifully by the matching subway tiles on the walls.
To preserve the marble over the backsplash and on the island, the key is to wipe up spills immediately, including Bolognese spatters and red wine drips. It's also wise to use coasters, trivets, and placemats on marble countertops.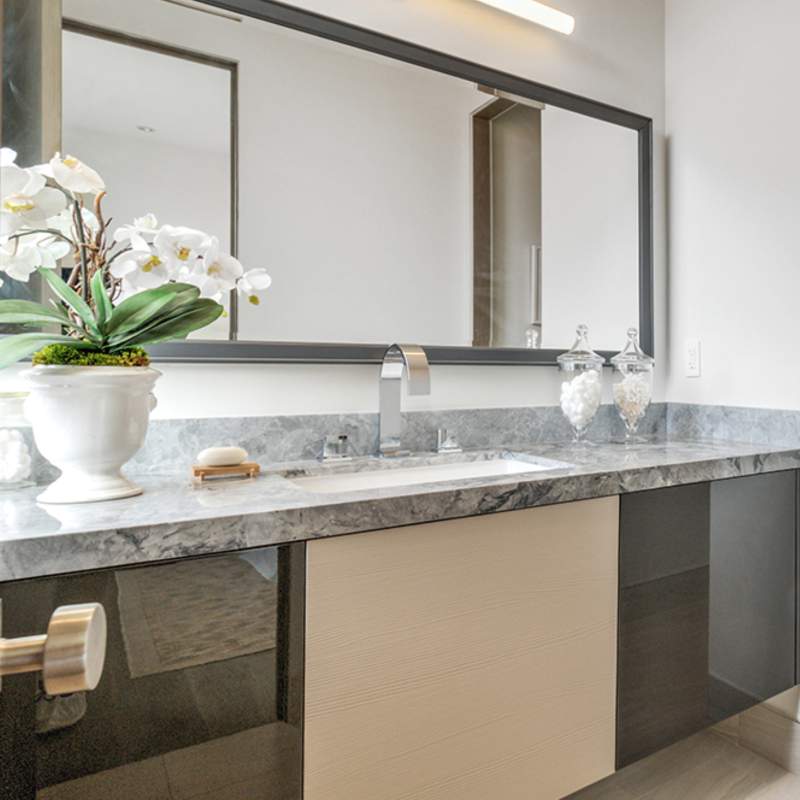 Featured: Super White Marble
Bathrooms are another place where the luxury of marble is tempting. As in the kitchen, marble bathroom countertops need a bit of protection from harsh chemicals and beauty products. In this exquisite bathroom, Super White Marble was chosen to anchor the space, and the result is simply stunning. This marble has a bolder color palette and veining, lending itself to more contemporary and modern designs.
One key to marble care is to avoid harsh cleansers that are acid based when cleaning the bathroom. Instead, stick to marble-friendly commercial cleaners, or simply opt for a soft cloth and a gentle dish soap that is diluted with water. Wipe again once cleaned to remove any residue.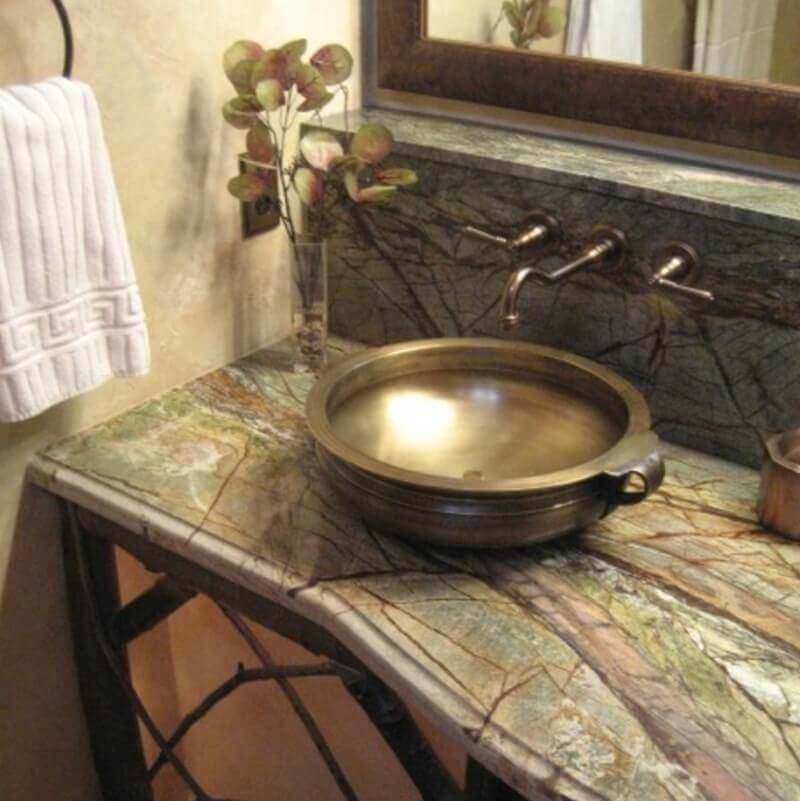 Create a similar look with MSI's Rain Forest Marble (Photo Credit: Houzz)
One of the most highly sought after and prized natural stones is Rain Forest Marble. Its character, color, and pattern are without equal. This rare marble is reminiscent of a fine painting of a rainforest—hence its name. It is available as both marble slabs and coordinating marble tiles, allowing for any number of one-of-a-kind designs. Although it is darker and more varied in color than white-hued marbles, it still requires proper cleaning and maintenance. Make it the focal point of your guest bathroom design, where it is less likely to come into contact with acids and harsh chemicals and will stay beautiful for years.
If you have fallen in love with marble counters and you are considering them for your home, just remember that they will require a bit of extra care, gentle cleaning, and routine sealing to maintain their pristine beauty. But consider that marble has been the surface of choice in monuments, churches, homes, and businesses throughout Europe and beyond for hundreds of years, and in many locations, it remains. It likely shows some staining, some wear, and some etching, but if you see the character and beauty in marble's distinctive patina, it will likely fit right in with your lifestyle.