Tips From The Trade: How To Get The Most Out Of Your Marble Countertop
February 24, 2018
A beautiful marble countertop is a big investment — which means you want to see as much of it as possible instead of covering it up with miscellaneous kitchen stuff. Your kitchen needs to be a functional space, where gleaming countertops await your latest culinary creation and polished kitchen islands are ready to go for snack time or homework.
Accomplishing this requires discipline, and also practical organization. We've put together a short list of tips to help you make the most of your marble countertop and keep it looking great for many years.
Regular Sealer Applications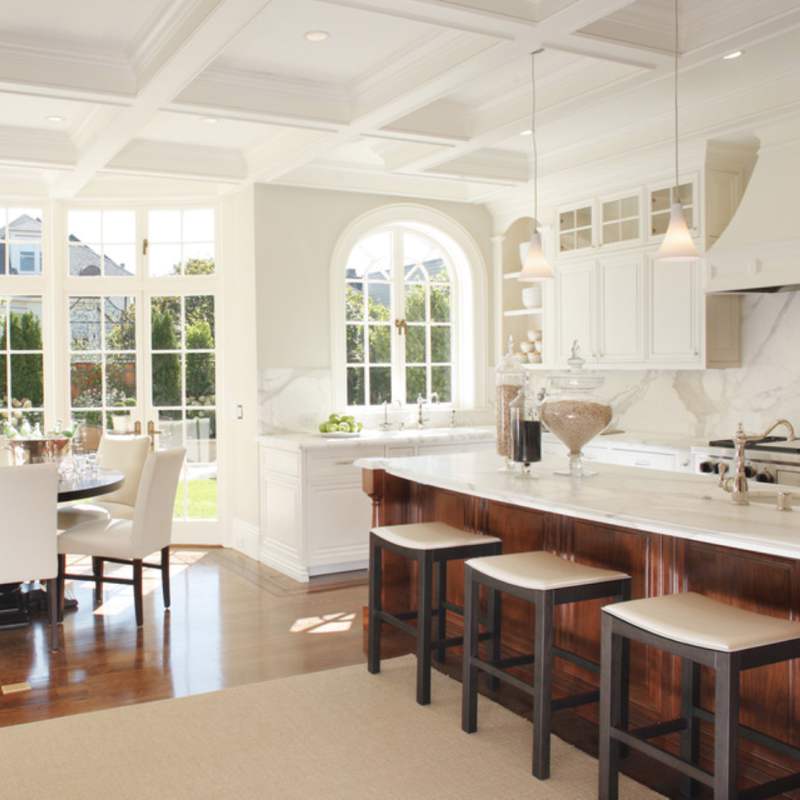 Get this look with MSI's Bianco Dolomite Marble (Photo Credit: Houzz)
Before you put the first item on your new marble counters, it's time to apply sealer. Marble, like most natural stones, is porous and absorbs liquids. A protective sealer specifically intended for marble helps repel spills and stains. For best results, you should apply sealer every one to two years. Although the first sealer application may take two or three coats, annual application should go much more quickly.
Daily Cleaning and Care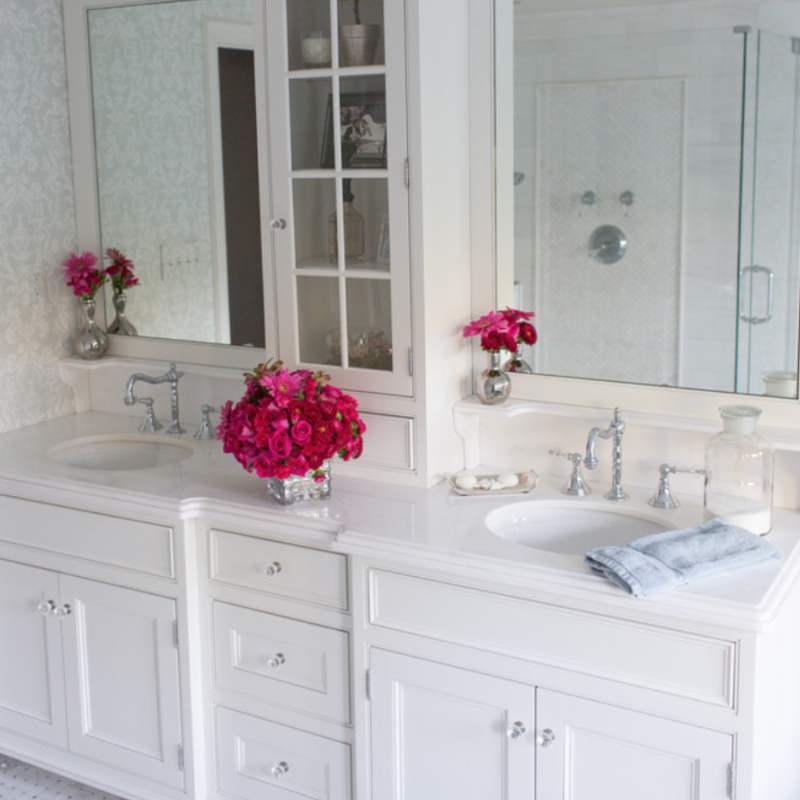 Recreate this look with MSI's Bianco Dolomite Marble (Photo Credit: Houzz)
Applying sealer helps, but you still have to care for your beautiful marble slabs on a daily basis by cleaning up any spills or splatters as soon as possible. Clean your marble countertop with a mild cleanser approved for use on marble, and never use anything abrasive. Doing this ensures that your marble countertop is always ready for food preparation.
Give Appliances a Home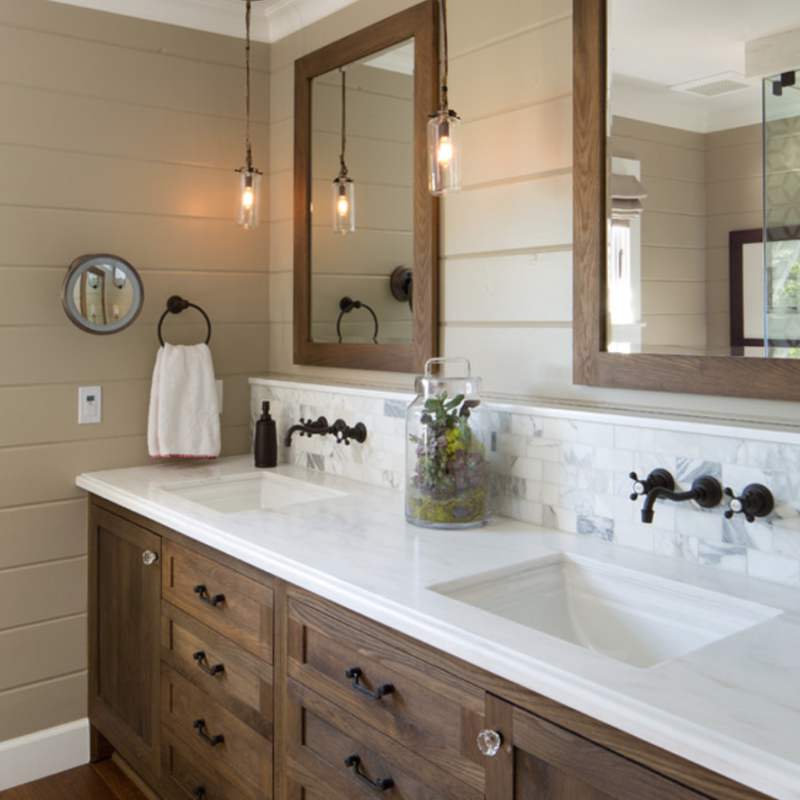 Create a similar look with MSI's Bianco Dolomite Marble (Photo Credit: Houzz)
Microwaves, toasters, coffee makers, and food processors may be conveniences we use on a daily basis, but that doesn't mean they always need to sit on your kitchen countertops. Consider small appliances that can be mounted to the walls or cabinets, or install built-in appliance "garages" to stow them safely while keeping them close at hand.
Remember, too, that keeping small appliances on the countertops increases the risk of staining from coffee, rust, and other sources you might not notice until it's too late.
Trays, Trivets, and Cutting Boards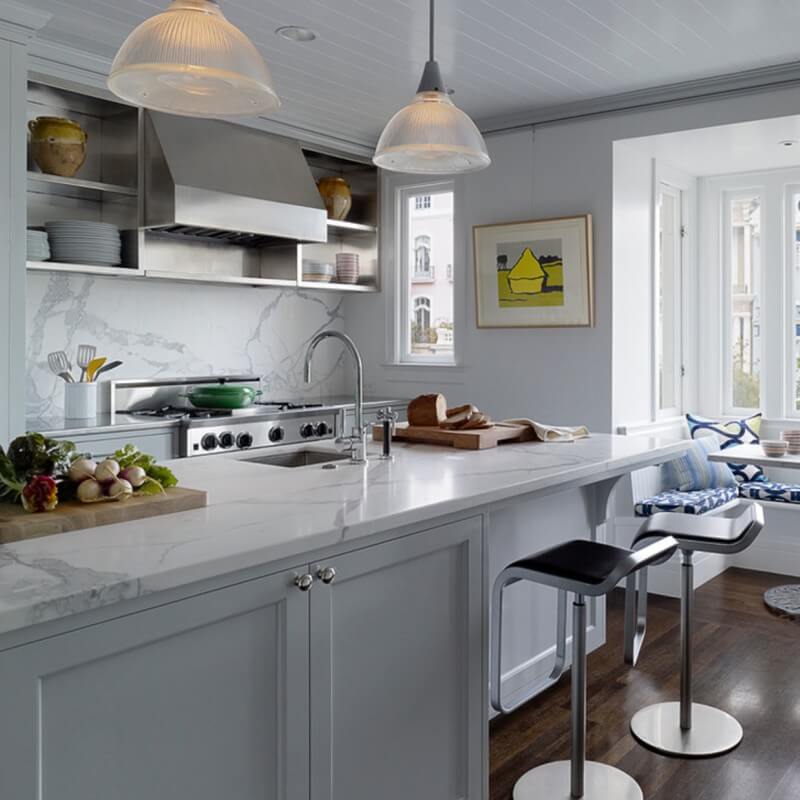 Get this look with MSI's Calacatta Marble (Photo Credit: Houzz)
Although marble tile is a durable material, it will stay looking good longer if you protect the surface as much as possible. Use cutting boards while preparing foods, and never slice anything directly on the counter surface. Acquire a collection of pretty trivets or hot pads for use underneath hot pots and pans. Corral your kitchen clutter by placing miscellaneous items on a decorative tray.
Use Vertical Space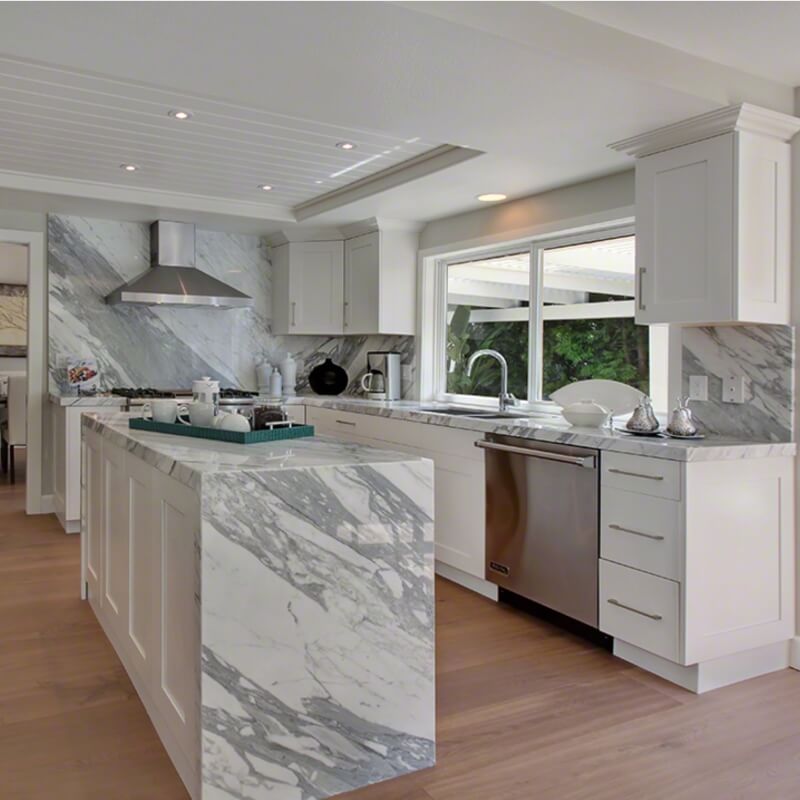 Featured: Volakas Marble
A wide, gleaming marble countertop is often a magnet for all sorts of items, such as utensils, towels, knife blocks, paper towel rolls, paperwork, you name it. Creating vertical storage can help keep these items off the countertop. Hang hooks for towels or mugs. Install a magnetic strip on the wall to store your knives — they stay sharper this way than stored in a wooden block. There are a variety of baskets, racks, and bins you can install on the inside of cabinet doors to hold items like dish soap and scrubbies, spices, and other bits of clutter.
Don't Forget to Decorate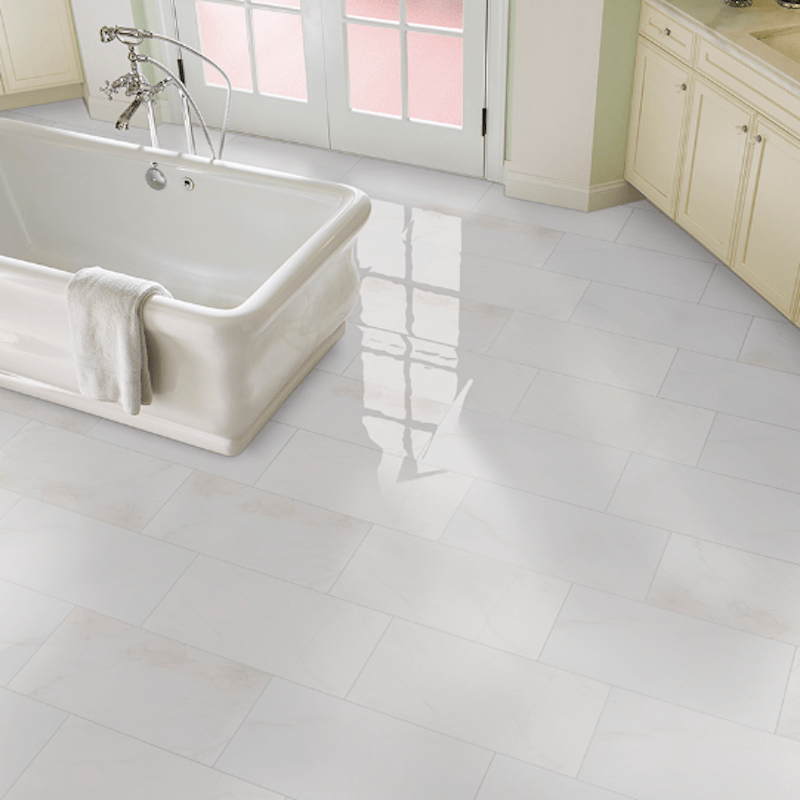 Featured: Bianco Dolomite Marble
While minimalism is trendy nowadays, you don't want to keep everything off those countertops. Just make sure everything that stays on the counter is something you love, such as a houseplant, a special vase, art glass, a particularly attractive appliance, or glass bottles and jars of colorful food items.
A countertop is so much more than just a place to set things when you're not using them. Being mindful of what goes on the kitchen counter will make the most of the beautiful marble patterning and veining you picked out so carefully. It will also prevent damage and staining.
Visit MSI's Web Gallery to see the different types of marble we cover, and also get inspired by various kitchen scenes — all of which look gorgeous because they're missing the clutter.