Current Obsessions: 5 Bathrooms That Steal The Show
December 26, 2016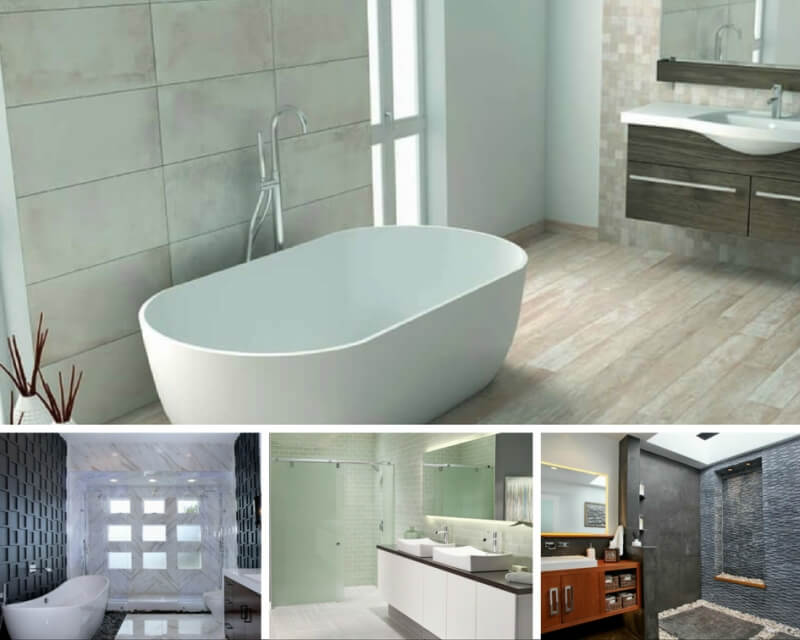 All the rooms in your home are important – but the bathroom ranks at the top priority in terms of investing your remodeling dollar. Why? For resale value, the bathrooms, especially the master bath, are among the first places potential buyers look. If the look is dated, it's a good indication that the rest of the house may need work, too. Conversely, if the bathroom is stylish and dramatic, it makes a great impression!
The most important reason to create a lush loo is for your own enjoyment! It's a room that is used every day, and can impact your entire mood for the rest of your day. You'll want a room that is cheerful yet relaxing, bright but not harsh, efficient and hygienic. And when it comes to creating a bathroom that steals the show, regular paint and vinyl flooring just won't do. Wall tile is in style!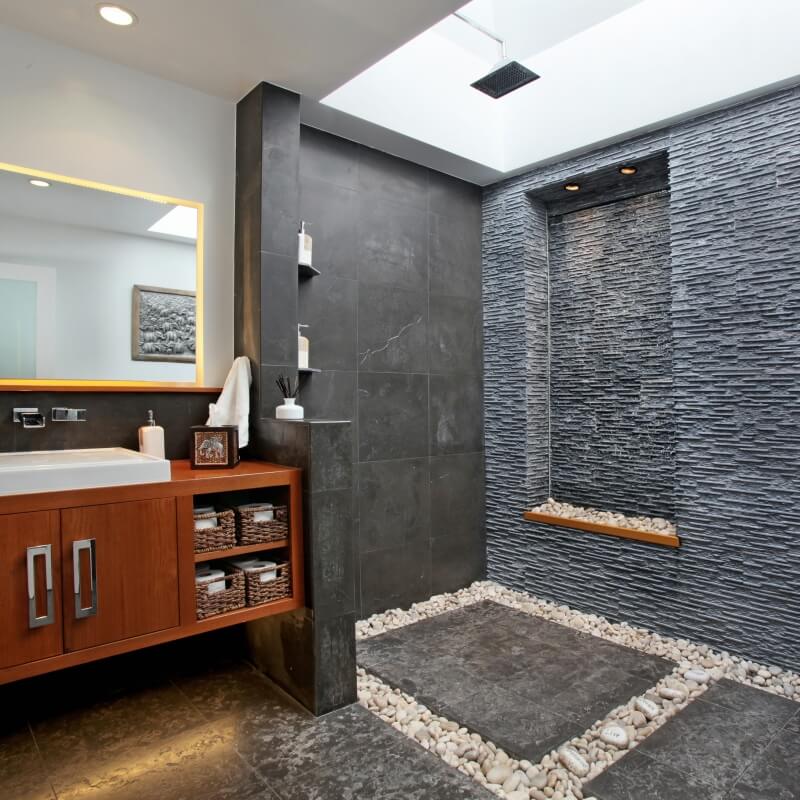 Featured: Royal Black Marble Thin Veneer and Montauk Black Slate
For serious drama, you can't beat Royal Black Marble Thin Veneer on an accent wall or shower surround. This thin veneer is a water-tight ledger panel with an eye-catching grooved texture, crafted from natural black marble. Available in 6" x 24" pre-assembled panels, you can choose to cover a small bathroom backsplash or the entire wall. This material is durable to use outdoors as well, so you can be assured it can stand up to your indoor waterworks.
Montauk Black Slate is a natural slate tile with subtle variation, available in gauged, honed, and natural finishes. Shown here as an excellent complement to Royal Black Veneer, it's a handsome addition to contemporary décor. You can choose from a variety of sizes for your creative bathroom remodeling project.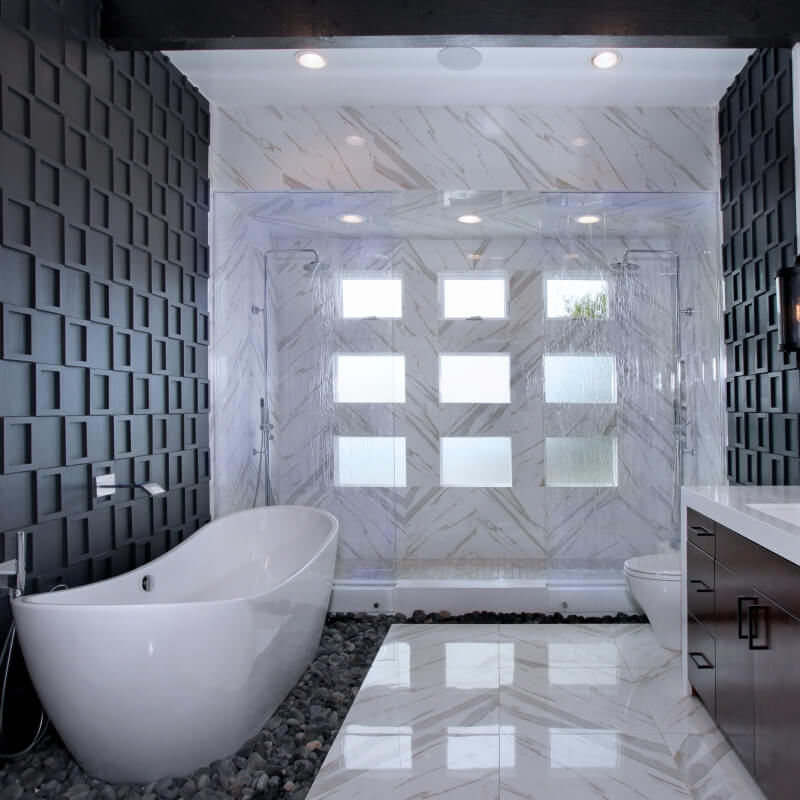 Featured: Pietra Calacatta Porcelain Tile and Arctic White Quartz
Traditional polished marble, made even better in durable easy-care porcelain, Pietra Calacatta Porcelain Tile creates a look of pure opulence. Featuring veins of gray and beige on a creamy white background, it's ideal for this stylish double-shower and matching bathroom floor. With wall tile this gorgeous, you'll want a nearly invisible glass door to show it off!
When you've chosen a dramatic tile such as Pietra Calacatta, or another material with a bold texture, Arctic White Quartz may be just the thing to complement it. This bright, solid white product is available in slab form with a polished finish, and as you can see, creates a stunning countertop. It would also be great for a floor, accent wall or backsplash.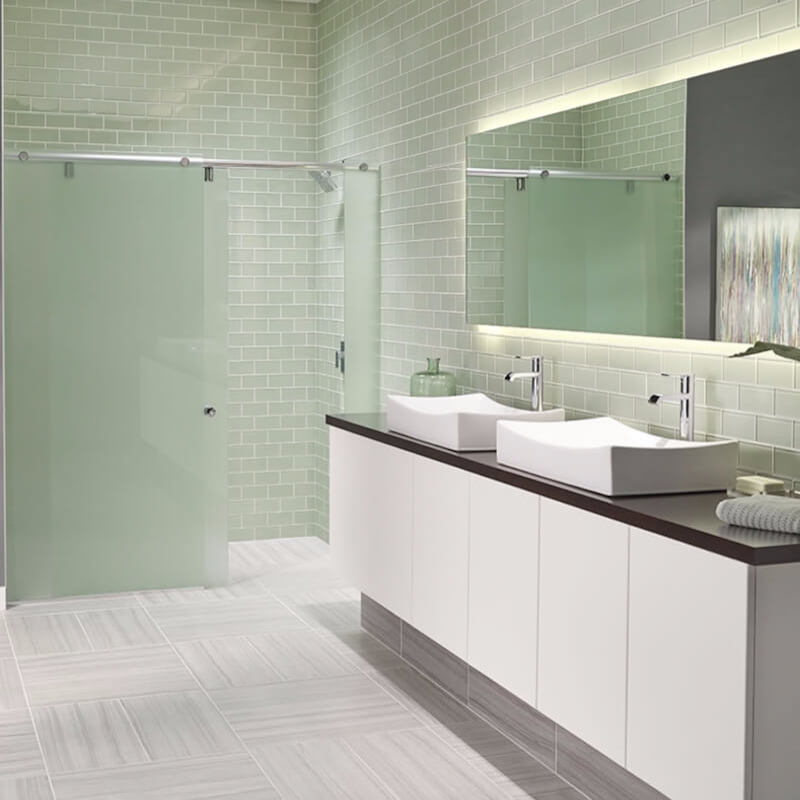 Featured: Arctic Ice Mosaic Tiles and Charisma White Porcelain Tile
Subway tiles are a classic choice for bathroom walls, but Arctic Ice Mosaic Tiles takes them to a new dimension – literally. This mosaic, crafted from crystalline glass, offers just enough transparent depth to really catch the light and brighten a room. Can't get enough? Go ahead and cover the walls in the entire room. The pre-meshed mosaic makes it easy to do.
Charisma White Porcelain Tile have a linear pattern resembling wood, and thanks to their water-resistant and easy-care properties, they are an excellent choice for the bathroom floor – even in the shower. Try 12" x 24" tiles in alternating directions, as shown here, for a truly unique design.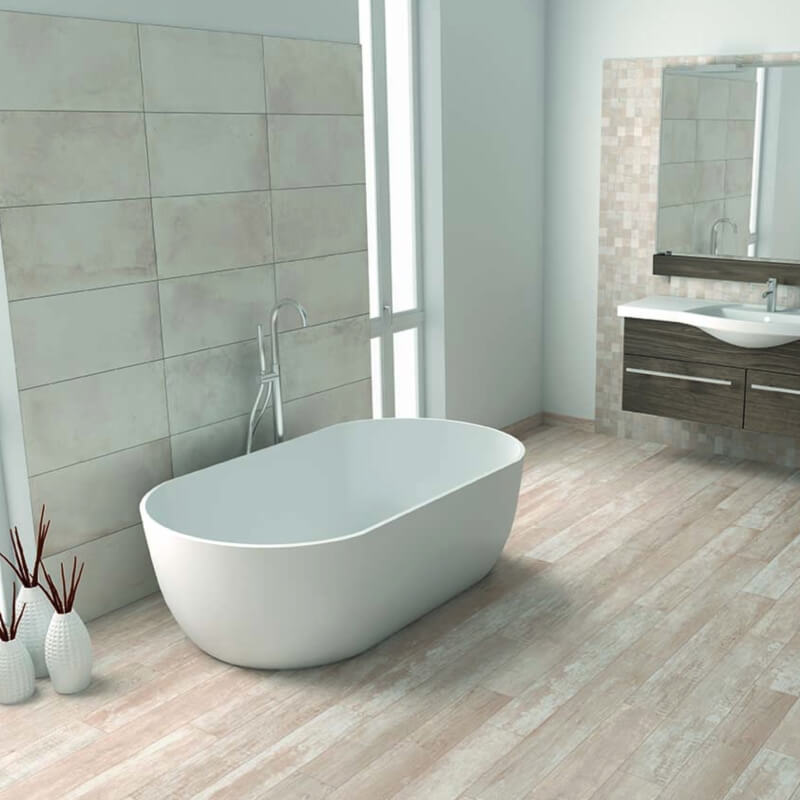 Featured: Birch Capella Porcelain Tile and Talc Capella Porcelain Tile
If you love the look of wood flooring but don't consider it an option for the bathroom due to potential water damage, Birch Capella Porcelain Tile can satisfy your craving. Featuring the pale natural grain of birch hardwood in easy-care porcelain, it's available in wood-like 6" x 40" planks. Enjoy the sophisticated charm of hardwood, and splash all you want.
Talc Capella Porcelain Tile brings old-world elegance into your home design with the look of rustic cotto tile in shades of soft white and cream. These porcelain tiles from the Capella Collection are available in 12" x 24" and 24" x 24" sizes, perfect for walls and flooring, and as you can see, they coordinate beautifully with Birch Capella.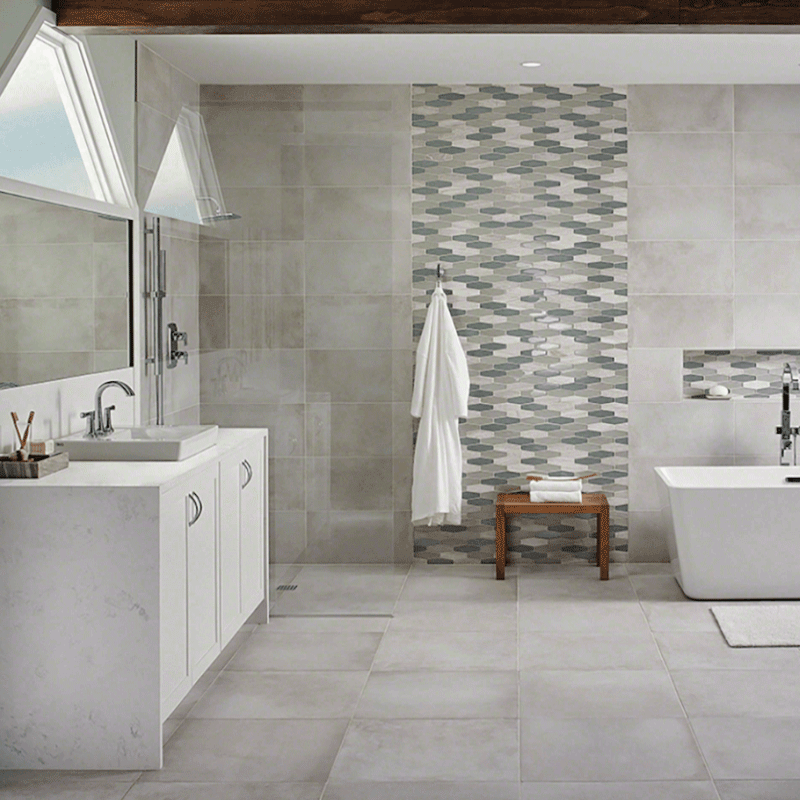 Featured: Europa Elongated Hexagon Mosaic Tile and Calacatta Vicenza Quartz
The accent wall and the recessed wall nook are two hot design trends for bathrooms, as shown here with Europa Elongated Hexagon Mosaic Tiles. This is a glass-stone blend featuring shades of gray, with a modern, eye-catching shape. If a floor-to-ceiling accent wall is a bit much for your room, consider using it for a backsplash instead.
Featuring the beauty of marble in easy-care quartz, Calacatta Vicenza Quartz creates a gorgeous countertop to complement the other design elements in this room. It's neutral, with a low variation, so you can creatively combine surfaces without overwhelming the space.
Available in slab form, Calacatta Vicenza Quartz is tough enough to be used outdoors in freezing climates – so you can feel comfortable choosing it for your bathroom counter.
Talc Capella Porcelain Tile, shown earlier in combination with Birch Capella Porcelain Tile, is easy to coordinate with many other surfaces and much beloved for its low maintenance. It's available in 12" x 24" tiles, as shown on these walls, and 24" x 24", on the floor.
If it's bathroom remodeling time, it can be tempting to brush on a coat of paint or install popular vinyl flooring– but when you want to create a show piece, tile delivers a punch that paint and other ordinary materials just can't do. Plus, there's an endless array of options to choose from. So let your personality shine, and let your bathroom steal the show.