Outdoor Oasis: Warm Up In Winter Time
November 07, 2016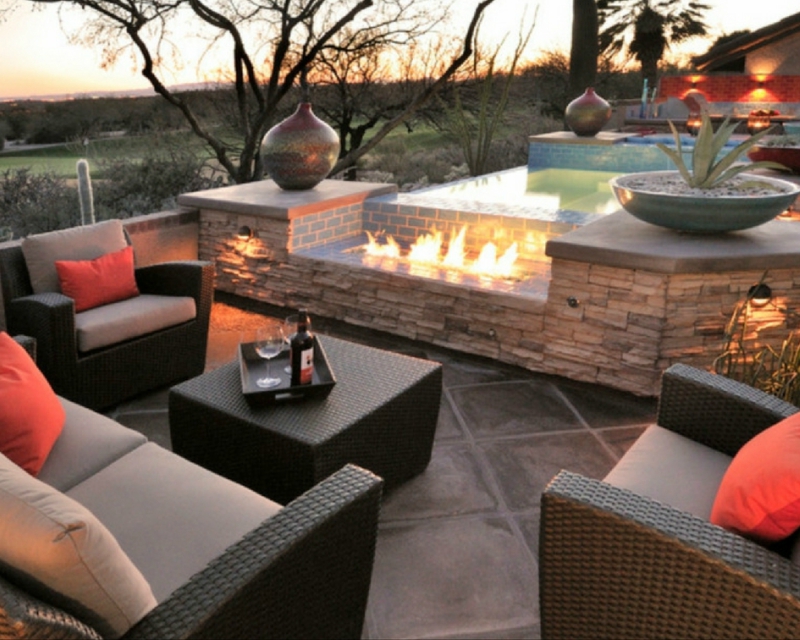 Just because the weather is getting cooler doesn't mean you have to stay indoors – particularly on a lovely clear evening with the stars shimmering overhead. After all, spending time outdoors this time of year has its benefits. No mosquitoes! The chilly air makes a fire feature even more cozy and luxurious.
Fire features are among the biggest trends this year when it comes to renovating an outdoor living space. That means not only will you and your family love to use it, your fire feature will give you a great return on your investment should you decide to sell.
So grab yourself a cup of hot cocoa, or cider, and check out these gorgeous fire features made possible – and easier than you think – by MSI's stacked stone ledger panels. In fact, MSI's Stacked Stone Visualizer can show you how the various materials will look in your design of choice.
Copenhagen Granite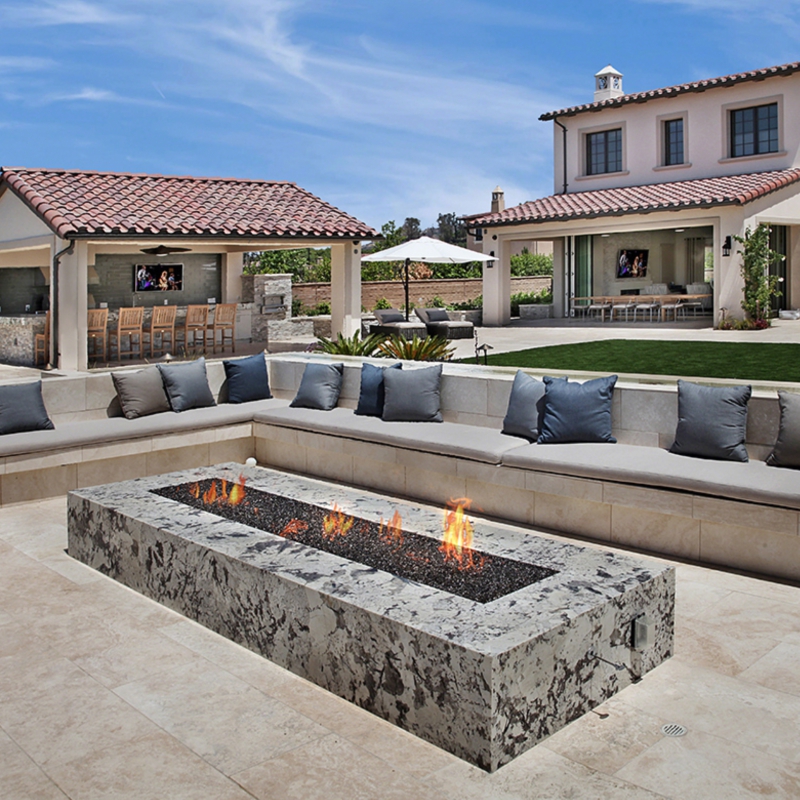 Featured: Copenhagen Granite
The traditional round, central wood-burning fire pit is so yesterday. Today's fire pits come in all shapes and sizes, including this elongated version featuring gas flames that dance on top of heat-resistant glass rocks, surrounded by a stone veneer of Copenhagen Granite.
This durable surface material features a white background with veins of gray and gold, and offers high contrast for sophisticated eye-catching appeal. It's perfect for contemporary features such as this one, both indoors and out.
Tuscany Platinum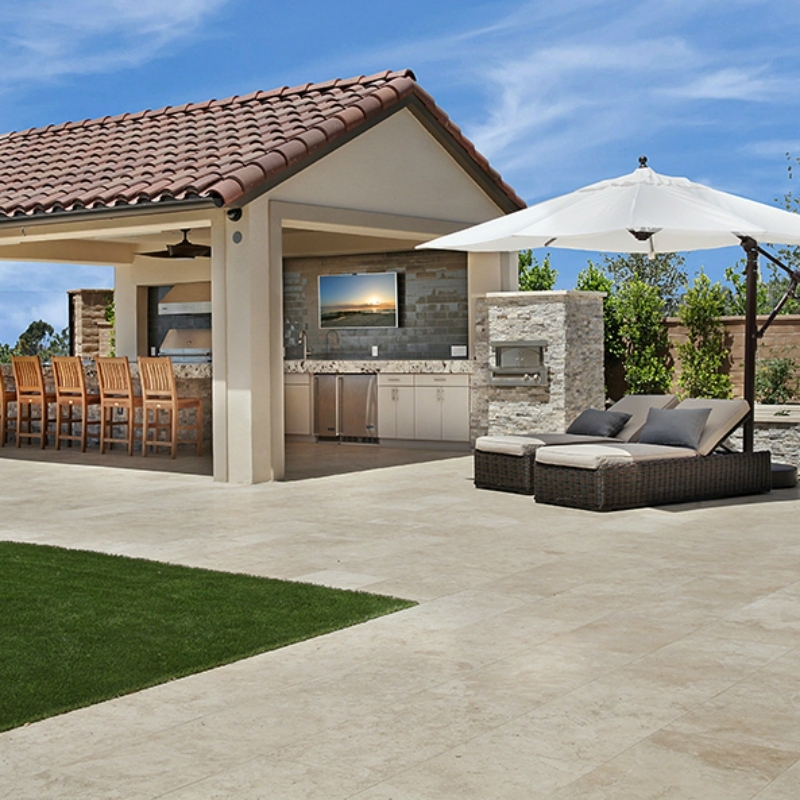 Featured: Tuscany Platinum Travertine
The natural warmth of Tuscany Platinum Travertine is well-suited for an outdoor living space, and this material coordinates well with other surface materials such as the Copenhagen granite fire pit or a granite countertop. An easy-going matte neutral, it's ideal for flooring, patio pavers, and hardscaping elements.
Silver Travertine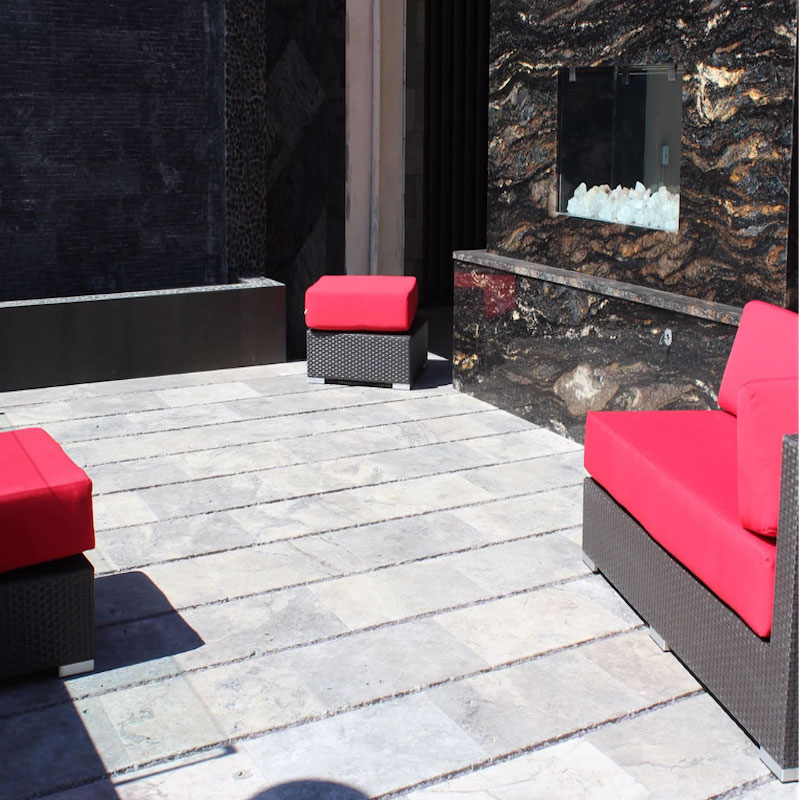 Featured: Silver Travertine Pavers
Adding the texture of stacked stone ledger panels to vertical surfaces lends instant appeal both indoors and out. Silver Travertine Pavers offer a natural split-face finish, and the varying, rough-cut surface looks spectacular at night beside a flickering fire. Matching corners are available so you can create exactly the shape you desire.
Gray Oak Honed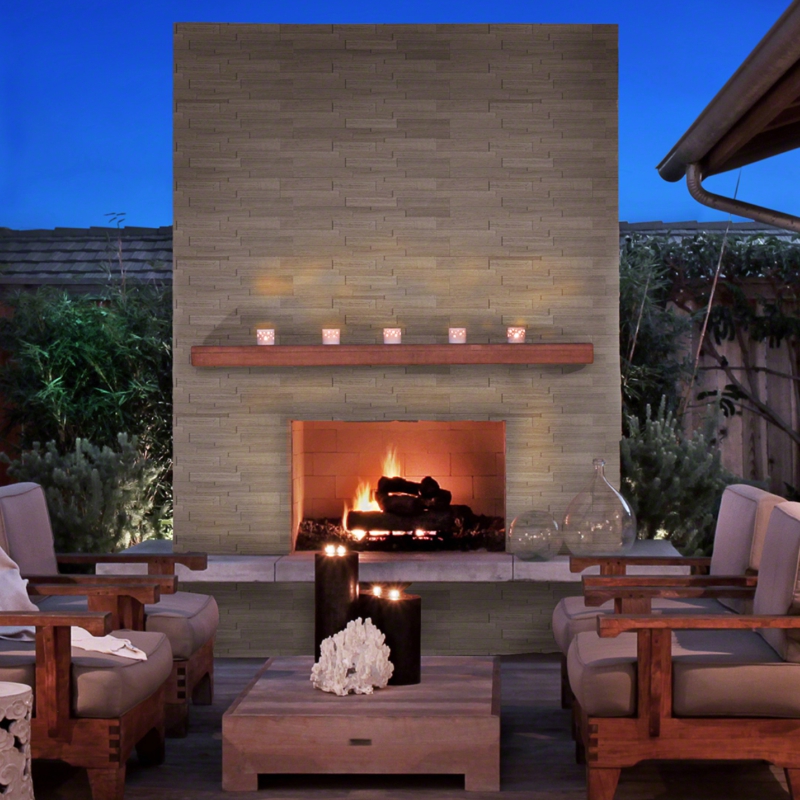 Featured: Gray Oak 3D Honed Stacked Stone
The clean lines of Gray Oak 3D Honed Stacked Stone is ideal for a free-standing fireplace, which becomes the focal point of your cozy outdoor family room. Your outdoor living spaces can be just as elegant and sophisticated as those inside your house, with the canopy of stars for a ceiling.
White Oak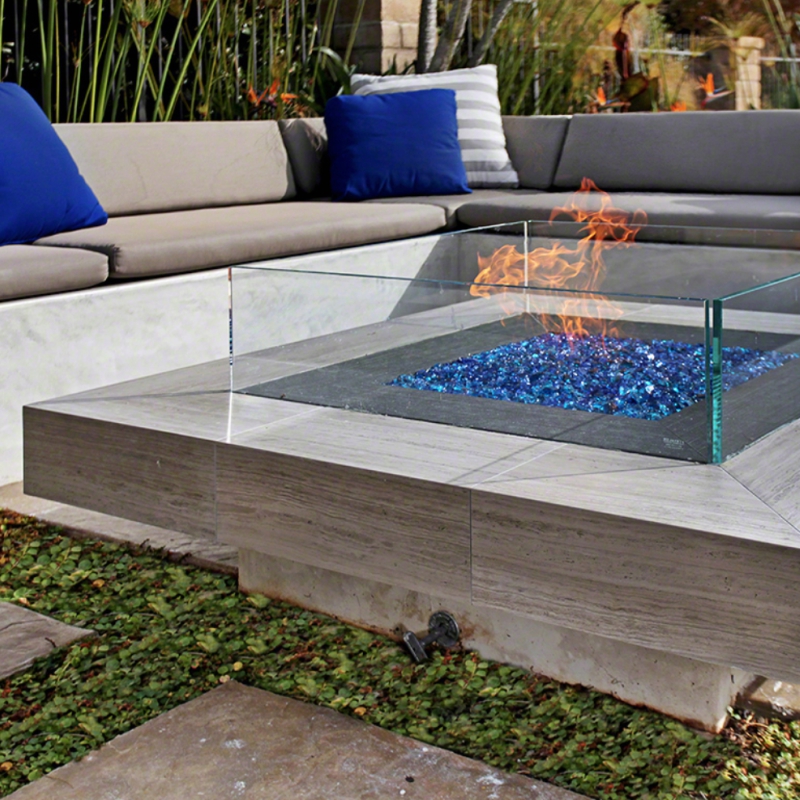 Featured: White Oak Marble
Gather 'round the bonfire – it's like no other you've seen, with gas flames flickering over blue glass rocks. White Oak Marble, which features a pattern reminiscent of oak wood grain, is the perfect enclosure for this fire feature, with shades of pale gray and a polished finish to reflect the glow of the flames.
Tuscany Beige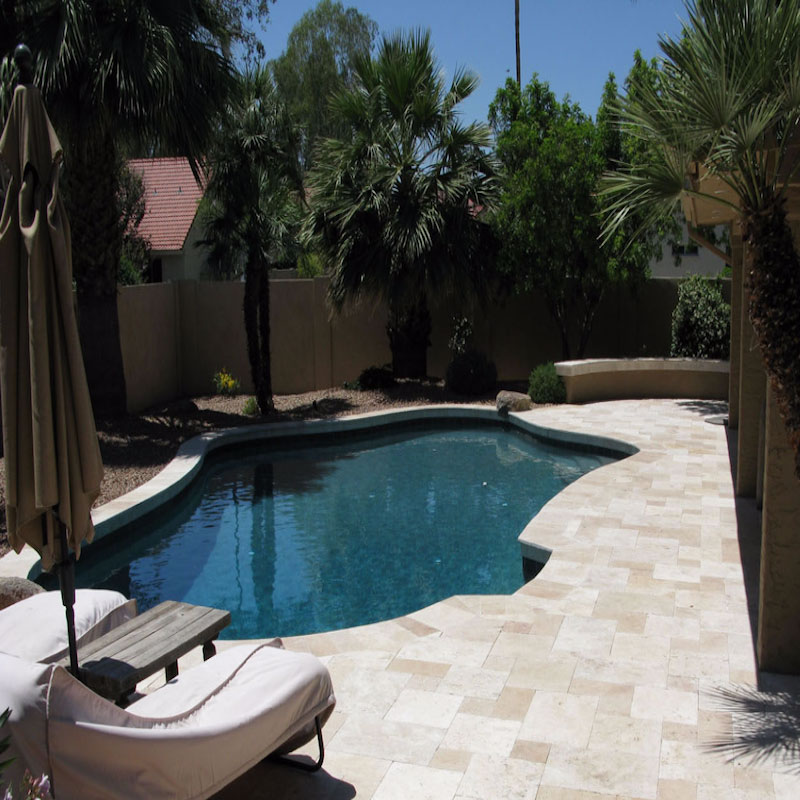 Featured: Tuscany Beige Tumbled Travertine
No matter what fire feature you choose, the pavers beneath your feet can make or break the finished design. Tuscany Beige Tumbled Travertine Pavers offers a tumbled travertine surface with a high-variation finish, featuring shades of taupe, tan, brown, and cream. These travertine pavers are available in several different sizes, allowing you to create interesting patterns.
Casa Blend 3D Multi Finish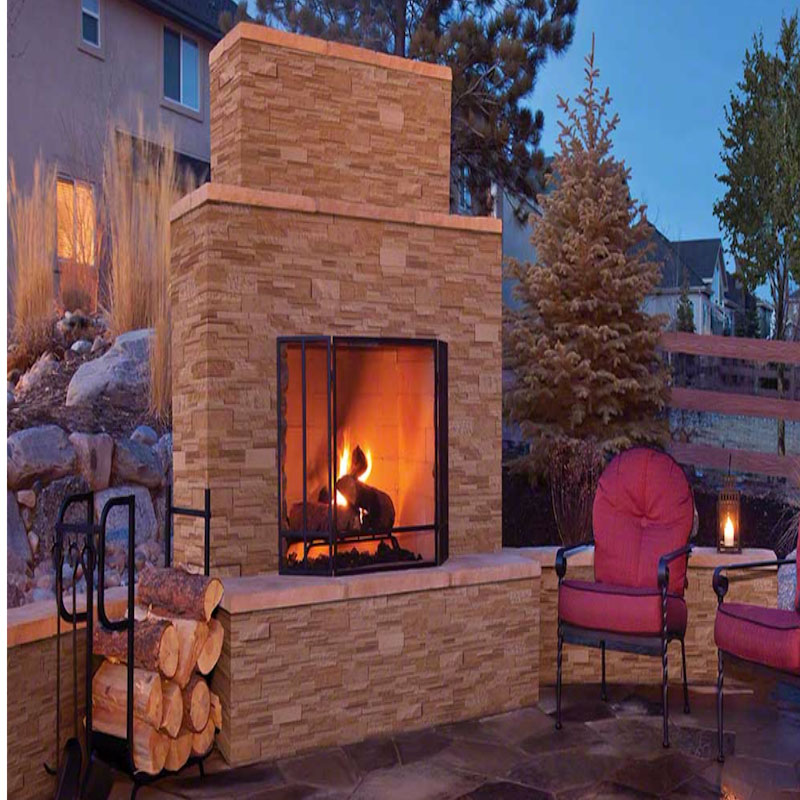 Featured: Casa Blend 3D Multi Finish Stacked Stone
A combination of split-face and honed finish stones with staggered depths, Casa Blend 3D Multi Finish Stacked Stone is a great choice for all vertical surfaces: retaining walls, backsplashes, and of course free-standing fire features. With tones of cream and soft beige, it's easy to fit these ledger panels with rustic or contemporary designs to create your dream outdoor space.
MSI's stacked stone ledger panels, tiles, and pavers are so versatile, you can mix and match them to create a perfect outdoor living space, complete with fire features that encourage you to spend more time in the crisp fresh air.