Tile Style: Slate Is Mother Nature'S Natural Stone
November 02, 2016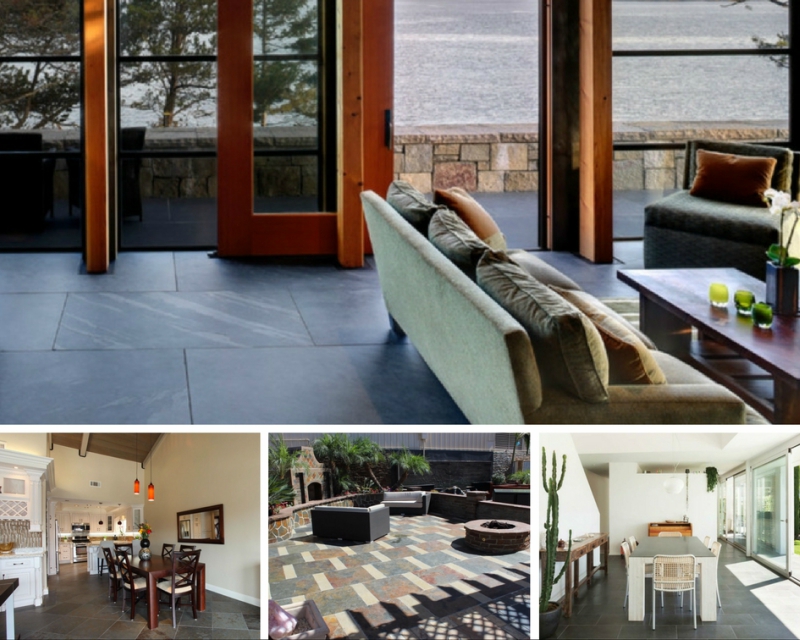 Natural stone has always been a popular choice for countertops, flooring, wall accents and other surfaces both indoors and out – and natural slate is one of the most beloved options. For one thing, it's one of the most durable natural materials available.
Slate tile is extremely hard, so it resists damage from scratching, chipping, and wear, plus it's water-resistant. This makes it a great option for any room that gets a lot of foot traffic or where contact with water could be an issue, such as kitchens, bathrooms, mudrooms, even out on the patio. Care and maintenance is easy too, just sweep with a dust mop and clean with a mild soap.
It's the beauty and versatility of natural slate that may convince you, however. As a natural material, no two pieces are alike, so you're guaranteed to have a "one of a kind" installation. Colors range from dark gray to rust and beige, and every hue and mixture in between. You can even choose different slate tile finishes, such as polished, honed, cleft or tumbled. It's easy to create a look all your own, and know it'll last a lifetime!
Autumn Slate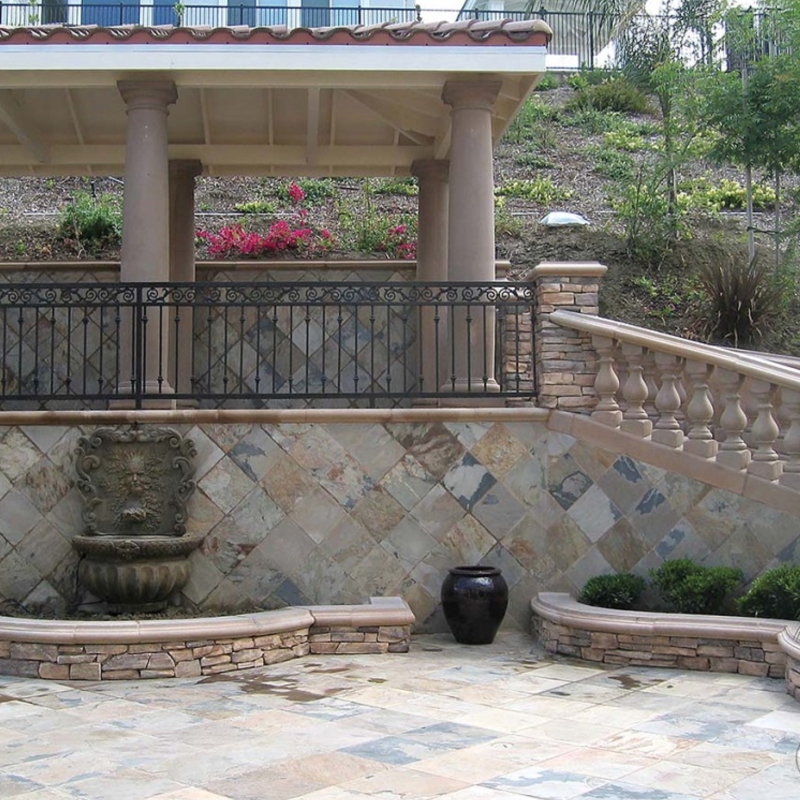 Featured: Autumn Slate
Want to create a space that shows off your dramatic and creative side? Autumn Slate offers multi-colored tiles in shades of beige, rust, and gray in your choice of textured finishes – gauged, honed, or tumbled. Use them to pave a floor, continue upward with wall tile, or install as a kitchen backsplash.
San Rio Rustic Slate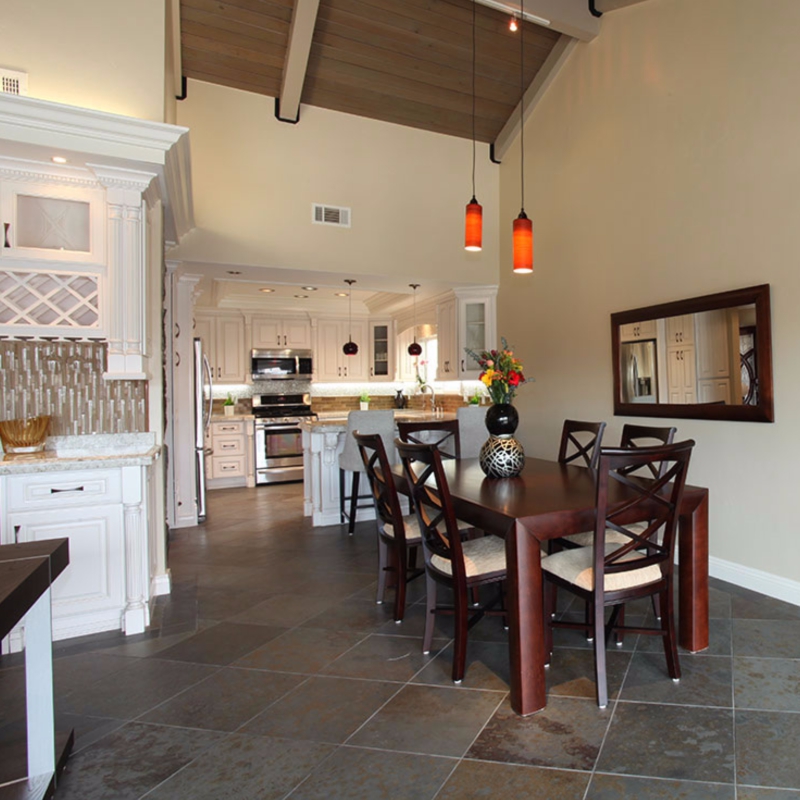 Featured: San Rio Rustic Slate
The polished finish of San Rio Rustic Slate is stunning when used as flooring in a large expansive space such as a combined kitchen/dining area. Its shades of gray, blue, green, and gold vary in splotches, swirls throughout each piece, making each slate tile installation unique.
California Gold Slate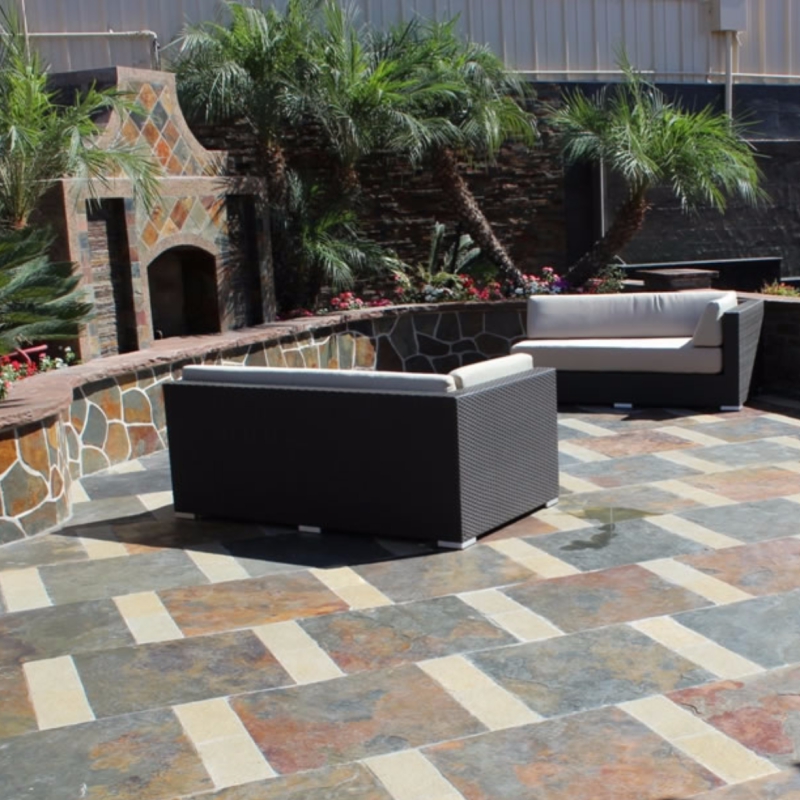 Featured: California Gold Slate
A gray slate with accents of gold, rust and green, California Gold Slate looks fabulous when combined with other complementary tiles. This natural stone is available in a wide array of finishes and tile sizes. Some suggested uses: outdoor pavers, stacked stone walls, pool copings.
Montauk Blue Slate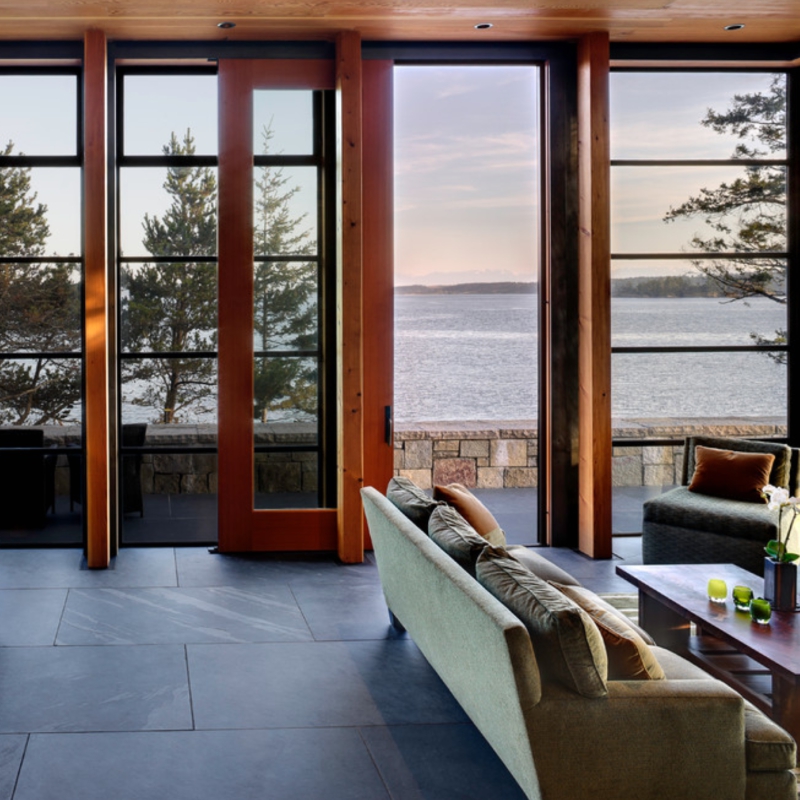 Featured: Montauk Blue Slate
A more refined, elegant slate, Montauk Blue Slate offers a cool, calm shade of blue-gray in a honed or gauged finish. Although it's an ideal choice for an interior room such as kitchens, mudrooms or sunrooms (shown), this slate can hold up to freezing temperatures, so you can use it outdoors as well.
Montauk Black Slate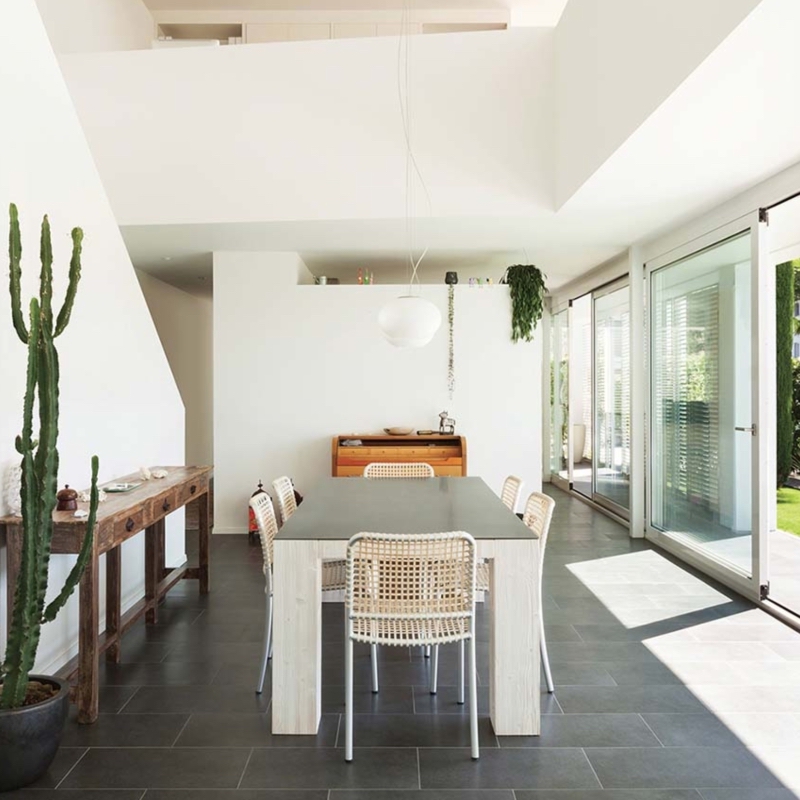 Featured: Montauk Black Slate
Montauk Black Slate is truly a shade of deep gray, with variations of light and dark veining. It's a classic slate that is ideal for countertops as well as flooring, and although it's perfect for your indoor living spaces, you can use black slate to create delightful outdoor living rooms as well.
Slate tile lends an upscale look to every room in which it's installed, no matter what variety you choose. With its durability it's meant to last a lifetime, which means it also adds resale value to your home as well. So check out natural slate -- one of Mother Nature's premium contributions to the many surface-material options in home décor.