Current Obsessions: The Perfect White Quartz Countertop
October 20, 2016
If you're thinking about choosing white for your quartz countertops in the kitchen or bath, you'll quickly realize that "white" isn't just white. There are a multitude of options, which transform your white surfaces from a sterile or blank-slate appearance into a beautiful feature and focal point. White adds an air of simplicity and freshness, but choosing just the right shade of white isn't so simple.
Fortunately, MSI has many white options and tools, such as our Virtual Kitchen Designer to help you choose. Here, we're providing a few stunning white room scenes along with tips for making white modern quartz surfaces look anything but sterile and stark.
Calacatta Classique Quartz
The simplicity of white is augmented with dramatic gray veins in Calacatta Classique Quartz. In this contemporary kitchen design, the veining prevents this white surface from appearing too barren and bland. The island and the wall behind the cooktop become a focal point for the room, with eye-appealing motion. It also picks up the gray hues in the flooring and cabinetry, as well as the stainless steel pendulum lights.
Iced White Quartz
In this perfectly white kitchen and living space, Iced White Quartz provides just enough contrast and pattern to keep the room from looking too homogenous. This quartz features a cool white background with the added subtle pattern of pale gray flecks. It's the perfect transition from pure white to quartz countertop colors such as the gray center peninsula.
Carrara Grigio Quartz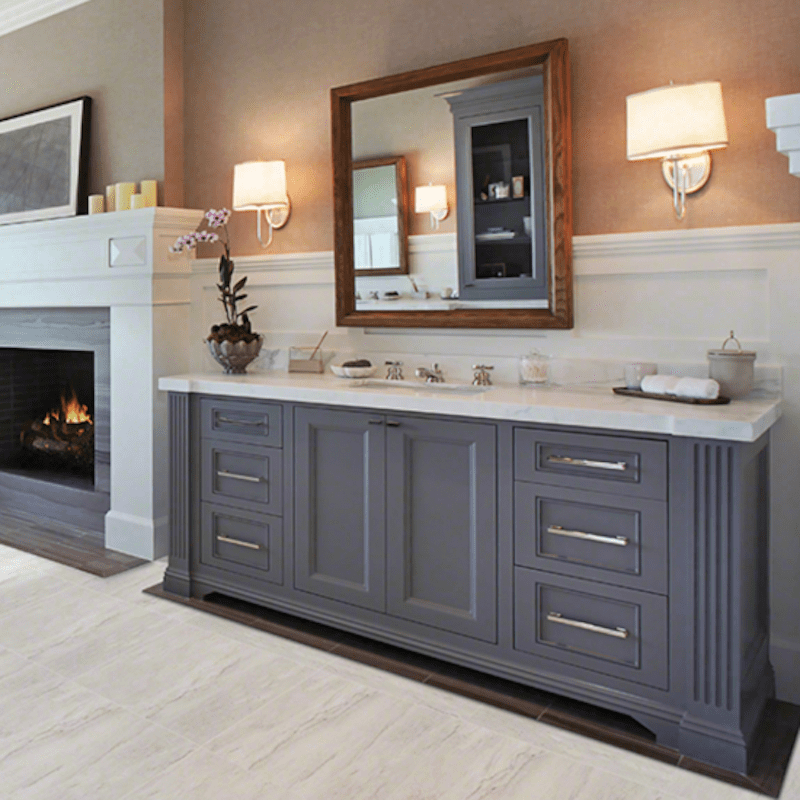 Featured: Carrara Grigio Quartz
White marble with gray veining, or its easy-care cousin Carrara Grigio Quartz, is such a beloved, classic surface material that it works nearly everywhere as a true neutral. On this sideboard, it's a vital link between the charcoal gray of the cabinet and the rusty beige wall above – two shades that are difficult to match. With the marble-look quartz and a bit of pure white between, the result is lovely.
Stellar White Quartz
A highly polished contemporary quartz in a soft white shade, with barely-there pale gray flecks, Stellar White Quartz mingles with the simple white walls and white porcelain, and matches well with the stainless steel fixtures. However, since the flooring is a luscious wood-grain, it's important to not overdo the gray patterning, and this colorway is the perfect balance.
Arctic White Quartz
Despite the virtues of white with patterning, flecks and veining, there are situations in which nothing will do but simple, bright, solid white. Arctic White Quartz delivers this with a highly polished surface that beautifully reflects both natural and artificial light. In this scene it's a focal point that keeps the rich, dark cabinetry from overwhelming the room.
Cashmere Carrara Quartz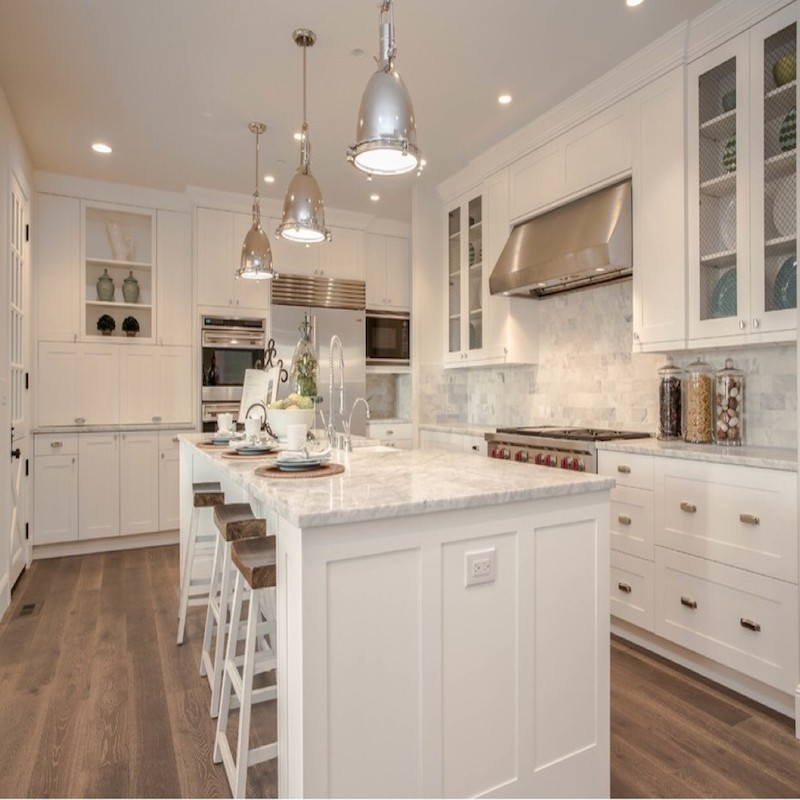 Featured: Cashmere Carrara Quartz
Another marble-look quartz surface, Cashmere Carrara Quartz, delivers classic elegance with the barest hint of gray veining against an ivory-white background. It's used in this contemporary bathroom design as a backdrop for the elegant dark brown wood cabinetry and the black feature wall, but it's neutral enough to look great with an added splash of color, too.
Although there are many white quartz options from MSI, each with slightly different features and shades, you shouldn't feel nervous about making your choice. Just consider the other room's features, and what you hope to accomplish – will it become a patterned focal point for a room full of solid colors? Do you need to link colors and features with a compromise in-between? Should it brighten up a dark room, or add contrast to an otherwise monochromatic room?
One thing is for sure, when you find the perfect white quartz countertop, you'll know you made the right choice.