Current Obsessions: Bright And Airy Quartz Kitchens
October 08, 2016
The kitchen is the heart of the house where families gather to share food and create memories. A bright, friendly kitchen that is welcoming and inviting to guests is easier to create than you think. Light colored cabinets and neutral flooring can help, but quartz counters, which are as durable as they are beautiful, can turn a drab kitchen into a stunner. Your new kitchen begins with dreams and ideas.
MSI's Virtual Kitchen Designer lets you mix and match quartz counters with cabinets, flooring, and backsplashes to get a feel of what your remodeled kitchen could be. Get crazy and pick the most exotic choices, and then get serious to see what your dream kitchen can be.
Here's why quartz, which ranges from the sublime to exotic, should be part of your kitchen remodel plan:
Natural Strength
When it comes to strength, quartz is second only to diamonds. But what nature provides, man improves. By fusing the mined mineral with polymer resins, it hardens the quartz and makes it nonporous. MSI's Shadow Gray Quartz is a workhorse in the kitchen that contains flecks of onyx, iron, and pewter that work well in a contemporary design.
Counters Repel Stains
Unlike some marbles and granites, quartz is naturally nonporous and laughs at wine spills and grease stains. It requires no sealing or polishing and needs only routine cleaning to remove food, spills, and dust. Pacific Salt Quartz counters swirl with dark gray and tan veins on a creamy background, making it an excellent choice for kitchen islands and walls.
Germ Resistant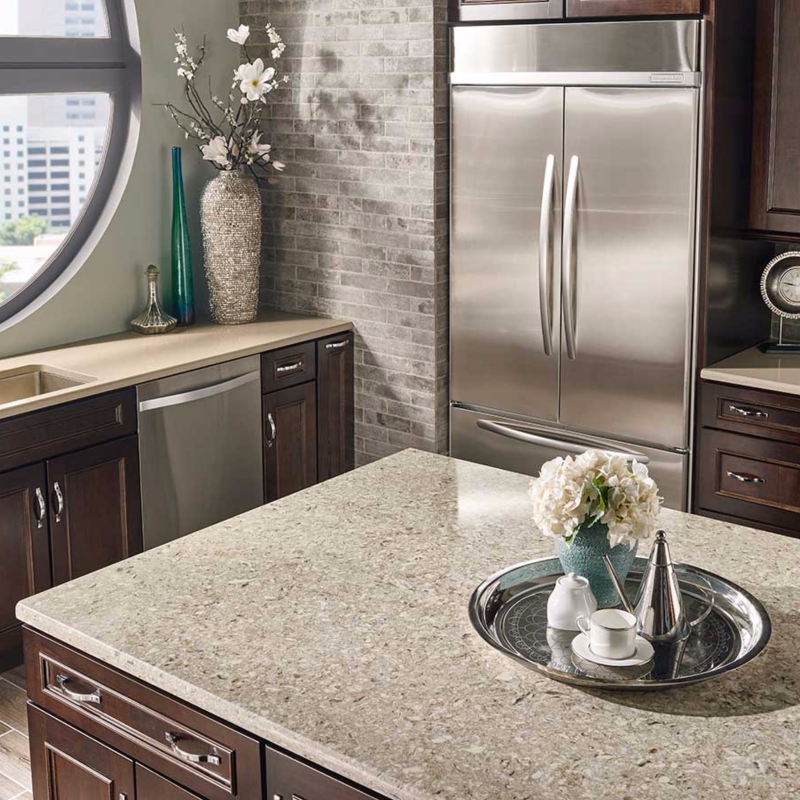 Featured: Boletus
The surface of quartz is so hard and smooth that your counters and floors will be germ resistant. The majority of household cleaners pose no threat to quartz, making cleaning up and prepping for flu season extremely easy. Boletus Quartz, a dark mushroom with taupe speckles and cream and cocoa accents, creates a neutral, soothing look for both counters and floors.
Premium Natural Quartz Comes with a Lifetime Warranty
Premium Natural Quartz is an incredibly durable selection that is scratch- and stain-resistant. It comes in an array of colors and designs. All Premium Natural Quartz counters are 90% quartz and are considered environmentally sustainable. Premium selections are backed by a Residential Lifetime Warranty to be free of manufacturing defects from the date of installation when fabricated and installed in a home. That warranty is a reflection of MSI's faith in the integrity of its quartz products. Cashmere Carrara, a premium, polished white quartz with gray veins is a fine choice for counters and flooring in white kitchens.
Resists Chips and Etching
Kitchens are combat zones for counters that are frequently banged and bumped by pots, pans, and utensils. Quartz resists the dings and chips that often show up in other softer materials. Carrara Grigio Quartz resembles the popular Carrara Marble but is maintenance free and resists chipping and etching, a common concern with its marble cousins.
Quartz kitchen countertops lend a light and airy feel to kitchens not only by their incredible looks but by their performance too. With an easy to wipe surface that is germ resistant, quartz is the quintessential no-fuss elegance you've been searching for. Explore the MSI website to see the entire collection of quartz countertop colors.