Unique Installs With Stone Veneers
October 01, 2016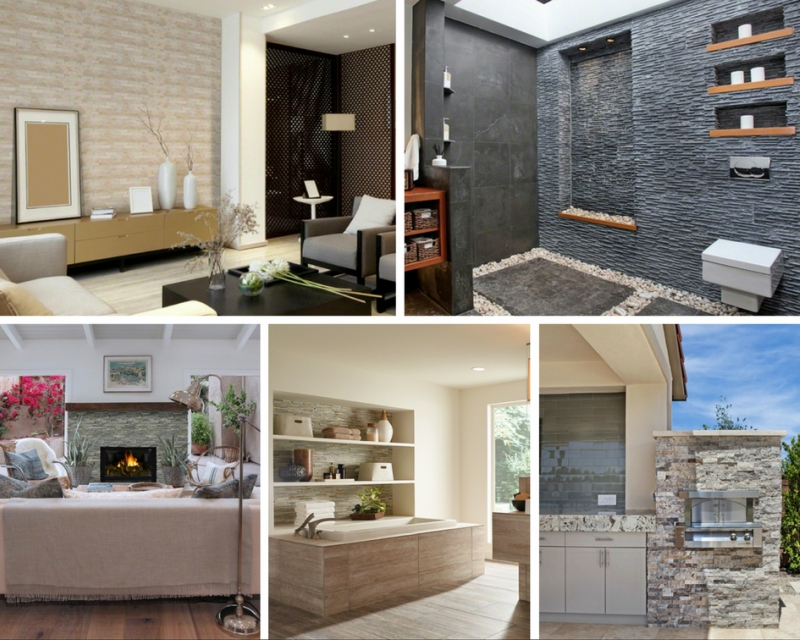 Homeowners and industry professionals alike look to natural stone to give both modern and traditional homes an organic feel or rustic allure. But while stone veneer is popular for outdoor hardscapes, this desirable upgrade is often overlooked for indoor use.
Not only does stone veneer add warmth and character to a room, but it also is very durable and simple to clean. With a large variety of available colors, it's easy to find a style and color to suit your individual taste. So, if you're ready to explore the world of stone veneers, here are five creative ways to use this popular material to elegantly accent your indoor or outdoor space.
An Architectural Accent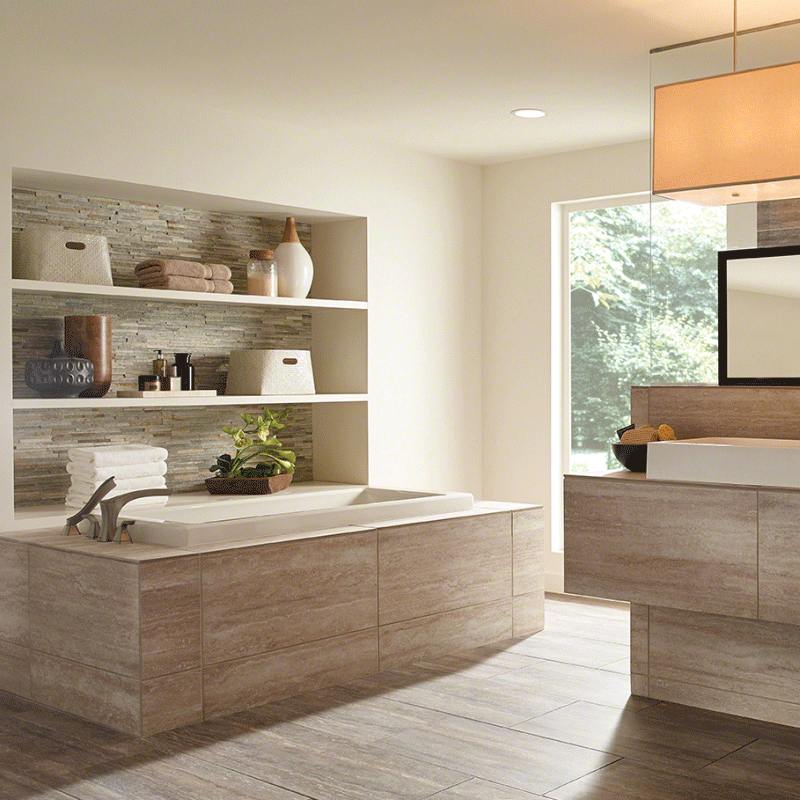 Featured: Golden Honey Pencil
Natural stone gives your bathroom a relaxing Zen vibe. In this spa-like space, Golden Honey Pencil Stacked Stone panels highlight the built-in shelves above the freestanding tub. The thin strips of quartzite in gold and gray add color and texture to what would otherwise be a plain white wall.
Feature Wall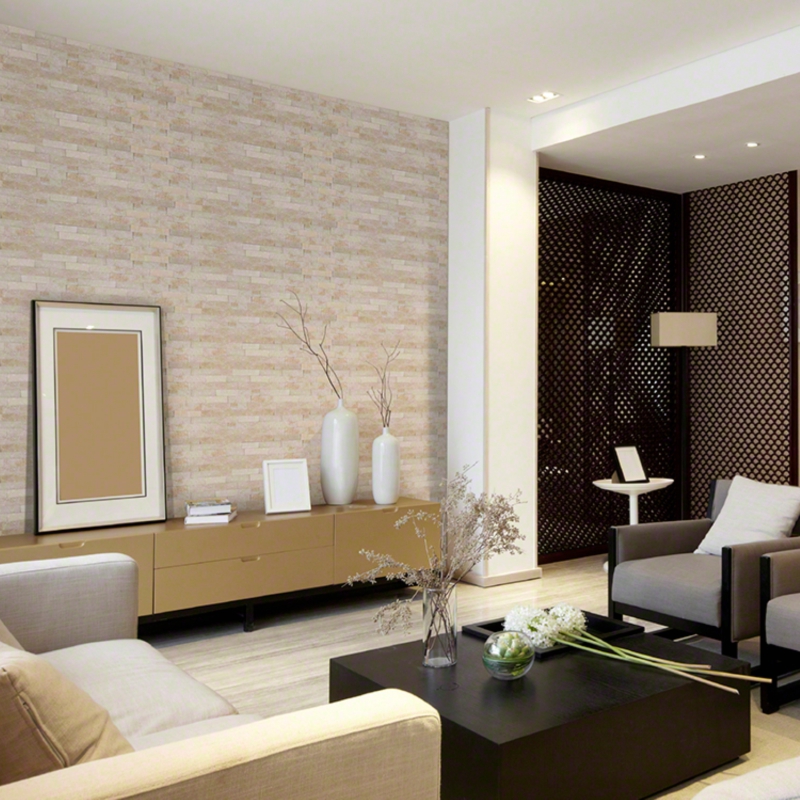 Featured: Arctic Golden
Add that wow factor to your room with the addition of stacked stone. Select a style and color for your featured accent wall that coordinates well with your furnishings. This living room includes a floor-to-ceiling installation of Arctic Golden panel stacked stone. The white and gold quartzite adds a subtle pattern to this contemporary design and harmonizes with the soft palette of golds and whites in the furniture and accessories.
Fireplace Façade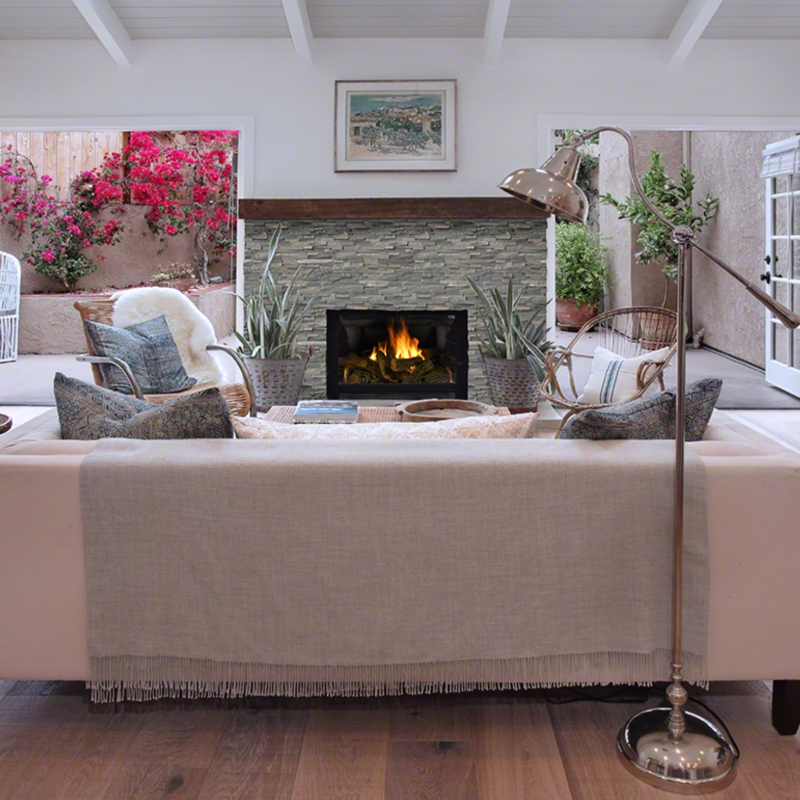 Featured: Sierra Blue
One of the most common applications for stone veneer ledger panels is on the fireplace surround. Whether you are creating an outdoor or indoor fireplace, you can turn this functional component of your home into a spectacular centerpiece. In this living room, the fire-burning feature is clad in Sierra Blue quartzite ledger panels and a wood mantel. French doors on either side of the fireplace help establish the indoor-outdoor connection, and the rustic materials and greenery help carry the natural elements indoors.
Outdoor Kitchen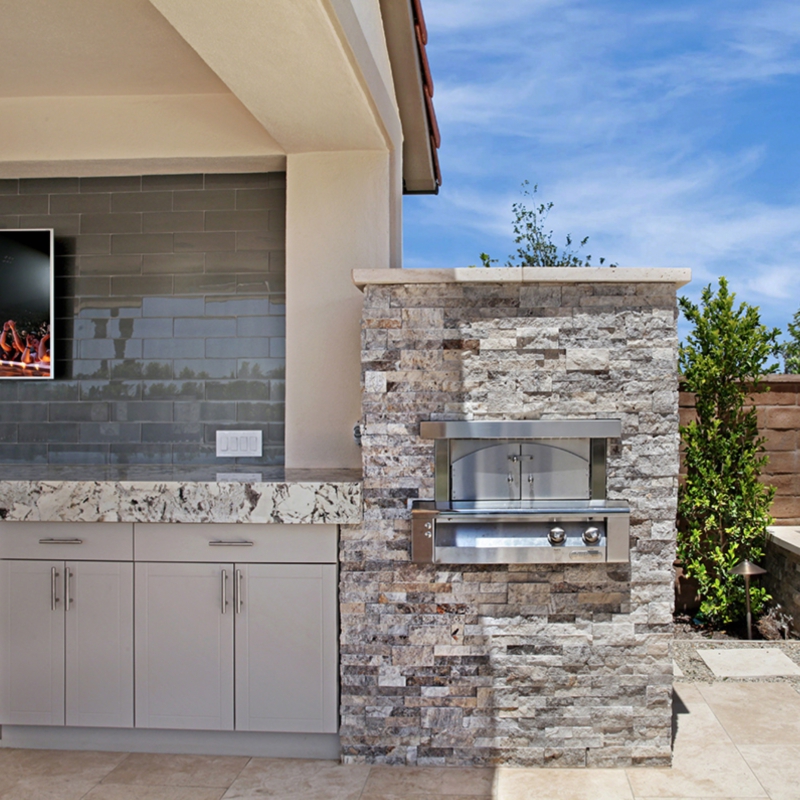 Featured: Silver Travertine
Since stone is used in a variety of outdoor details, it's no surprise that travertine tile is featured in an exterior project like this outdoor kitchen. A stainless steel oven and grill is built into this gourmet cooking space, and the addition of Silver Travertine stacked stone panels has transformed a functional space into a beautiful architectural element. The natural split face finish adds an organic accent to this refined kitchen and mixes well with the stone countertops and flooring. This natural stone tile is also available in matching corner pieces to finish off the look.
Wet Room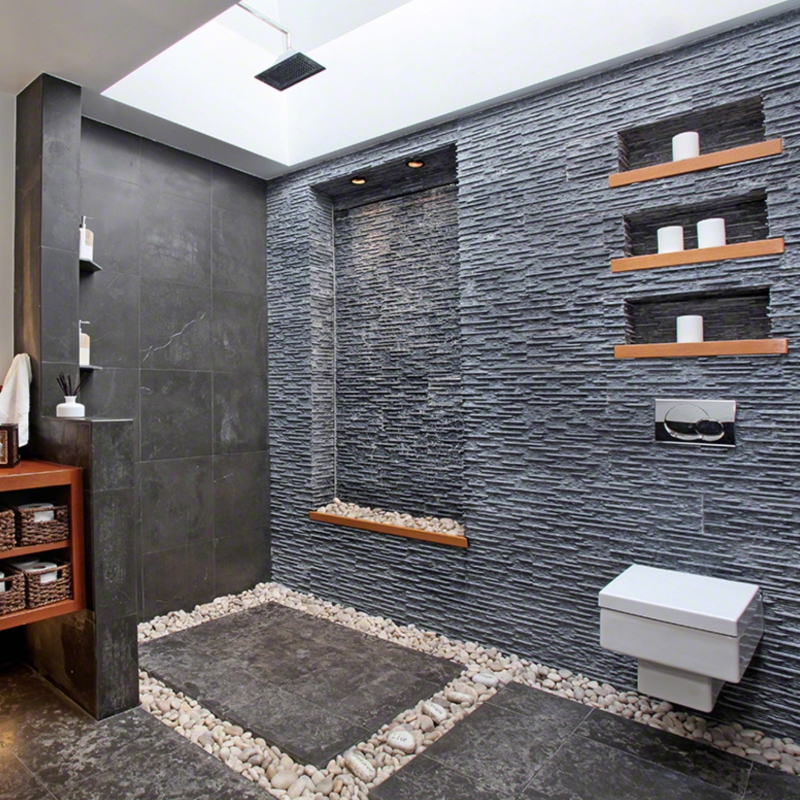 Featured: Royal Black
A barrier-free bathroom is increasing in popularity because a wet room doesn't require as much space as a standard washroom. One of the most important factors to consider when designing a space with no interior walls or doors is to make sure you incorporate waterproof materials. Royal Black is composed of distinctive black marble ledger panels and is perfect for your wet room because this product is watertight. Including a marble or slate tile with a three-dimensional texture creates a calming environment, but keeps the design visually interesting.
And here's another piece of good news. The installation method for these products is easy, meaning you can get any of these looks by adding a porcelain tile or natural stone to your design. To learn more about the high-quality products MSI offers, check out MSI's Video Library of Hardscape Inspirations.