Current Obsessions: Quartz Countertops For Indoor And Outdoor Spaces
May 17, 2016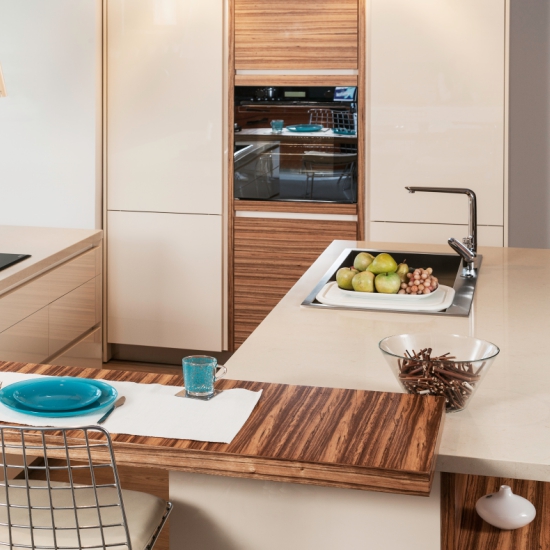 Gone are the days when rooms within a house had strict boundaries, especially the kitchen! In today's open concept homes, it's sometimes hard to tell where the kitchen ends and other indoor spaces, such as living room, dining room, or great room, begin. In fact, opening the kitchen to beautiful outdoor spaces is becoming a hot trend! Homeowners are extending their living space outward, creating outdoor family rooms and kitchens.
Thanks to their versatility, hardy all-weather durability, and natural coordination with the great outdoors, quartz countertops are a perfect way to make the most of this growing trend.
Lagos Azul Quartz
If you prefer subtle elegance, you can't go wrong with Lagos Azul Quartz. A solid medium-brown slab product with eye-pleasing dark brown speckles, its polished light-reflective surface is perfect for walls and backsplashes. This quartz looks great for many interior surfaces – kitchen counters, bathroom vanity tops, and even fireplace surrounds. Easy to coordinate with just about any other material, this low-variation design is sure to fit perfectly into your décor.
Canvas Quartz
Canvas is another contemporary quartz with low variation, delivering a light beige with darker freckles. Also with a polished finish, Canvas is perfect for multiple surfaces – both horizontal and vertical, anywhere a durable and waterproof surface is desired. This light shade is perfect for small rooms because it won't overwhelm the space and can be paired with freedom and versatility. As with Lagos Azul, you'll have a great time mixing-and-matching with wood, brick, or even other types of natural stone.
Sahara Beige Quartz
If you like a bit more visual variation and texture, Sahara Beige is a modern quartz offering pale beige with flecks of amber-brown and rusty red. Its subtle, natural waves are similar to Carrara quartz, yet with less contrast veining than Calacutta quartz. This beautiful option adds visual interest without being overly busy. That's why you'll love its shiny versatility throughout your home.
Fossil Taupe Quartz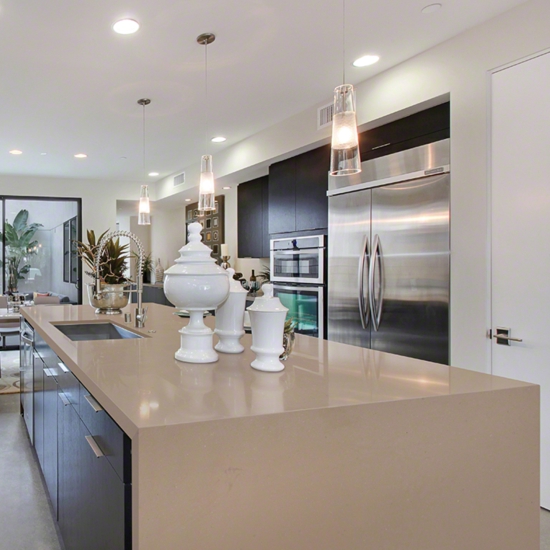 Featured: Fossil Taupe Quartz
Ready for a little more of a pattern in your quartz slab surfaces? Fossil Taupe, inspired by the timeless natural impressions of prehistoric life, is a tasteful combination of light brown, accented with flecks of darker and lighter hues. Although originally intended for interior usage – as with the other quartz slabs mentioned here – it can withstand freezing temperatures, making it appropriate for covered patios.
Bedrock Quartz
The bold and beautiful Bedrock Quartz brings the outdoors into your home! Its cross-cut amalgam of translucent, multi-shaded stones in hues of beige, cocoa and gray adds great depth and contrast to your interior design. It's perfect for contemporary kitchens – islands, bars, or any work surface – or a sheltered outdoor space.
A recent survey on Houzz reports that 50% of kitchen renovations opened up indoor spaces, and 65% opened to outdoor spaces, sometimes in unique and creative ways. Will yours be one of them? The natural patterns, visual textures, and colors of Quartz Countertops help to create a seamless blend between indoor and outdoor spaces. For more inspiration or to browse our products, visit our website at www.msisurfaces.com.