Current Obsessions: Dreamy Beige Quartz Countertops
December 09, 2015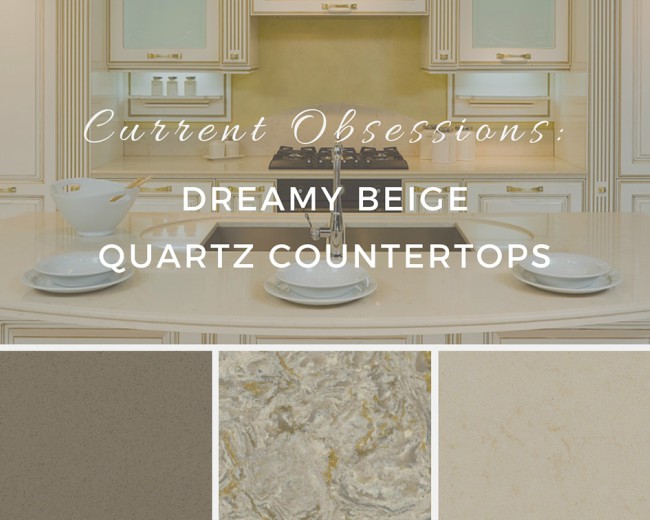 Close your eyes and imagine a long, sandy stretch of beach on a pristine Caribbean island. Now picture that same calming color for your kitchen countertops or backsplash. On the spectrum of countertop color choices, beige quartz is the perfect soft-hued choice that easily compliments a variety of materials and styles. The warm undertones of beige, which can range from cream to taupe, make for cozy kitchens and family memories. Here are our top five choices for quartz countertops in beige to help you envision a memorable and welcoming dream kitchen.
1. Sahara Beige
This pale, parchment-hued quartz countertop features flecks of warm amber and brick. The subtly textured surface acts as a solid color, leaving plenty of opportunities to play with colors and patterns elsewhere. In addition to being a serene countertop or backsplash surface, this cream quartz looks great on floor surfaces and shower surrounds as well.
2. Chakra Beige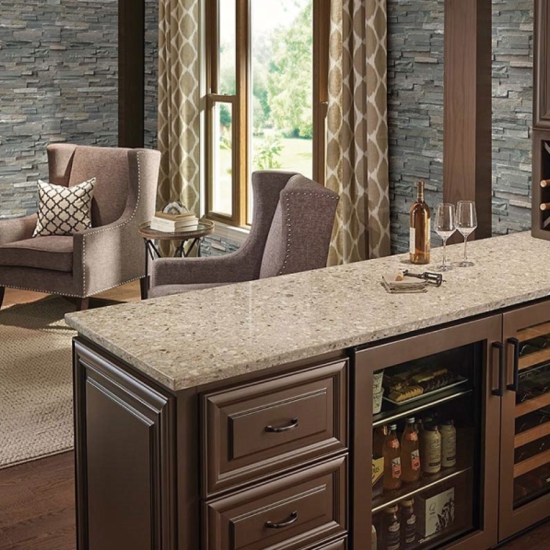 Featured: Chakra Beige Quartz
If you're longing for more dimension in beige, consider our Chakra Beige Quartz. Warm rust tones and swirls of rich creams and grays add textured elegance to this taupe quartz. Lovely enough to be a focal point, this stone looks striking as a kitchen island. For a pulled-together look, try adding rust-colored accents and creams elsewhere in the room.
3. Sandy Cove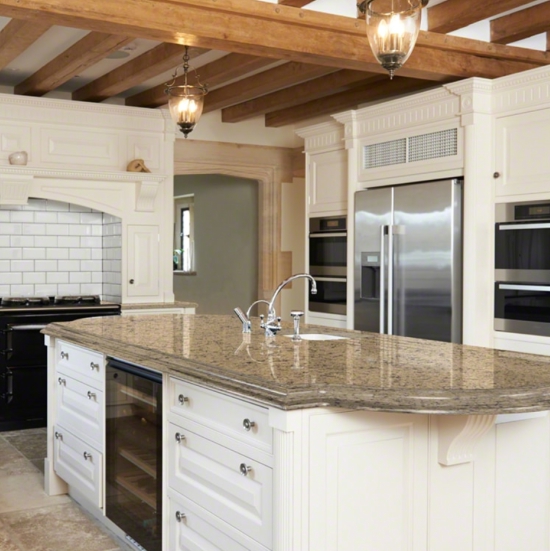 Featured: Sandy Cove Quartz
On the warmer side of the quartz color spectrum is our Sandy Cove Quartz. Reminiscent of oceanside rock formations found up and down the West Coast, the splashes of tans, browns and creams are a great match for those attracted to warmer color palettes. Pair this prefab quartz countertop with white or cream cabinetry to add a crisp, lightness to your decor.
4. Desert Bloom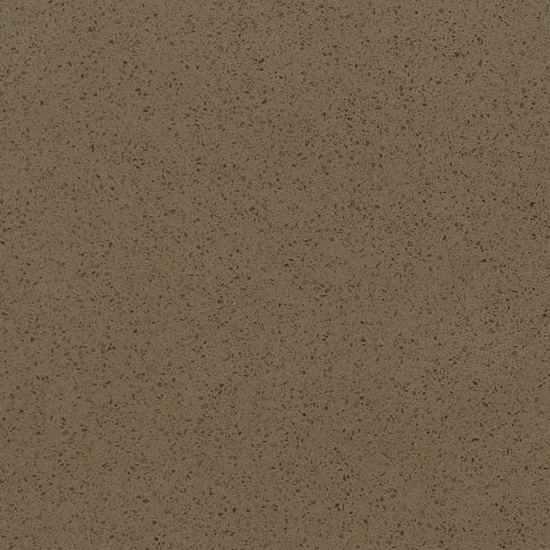 Featured: Desert Bloom Quartz
If you think this quartz countertop feels more modern than the rest, you're spot-on. The contemporary quartz design has a clean, streamlined look thanks to the brown background that shows off the earthy, tonal flecks. Desert Bloom Quartz is a great option if you're looking for a solid beige quartz that understatedly compliments other textures and fixtures.
5. Chantilly Taupe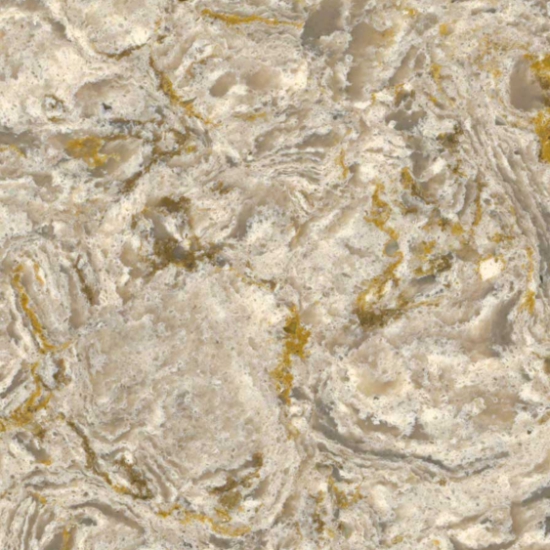 Featured: Chantilly Taupe Quartz
If you're on the hunt for a beige quartz that's a total beauty, look no further than our Chantilly Taupe Quartz. It captivates with the dramatic movement of natural stone that can easily mimic the look of lavish marble. Splashes of gold feel elegant and pair brilliantly with brass hardware in a kitchen or bathroom.
Remember: Beyond good looks, quartz countertops are a smart decision for function. The surface is non-porous, scratch-resistant, and requires no sealing, so you can be assured that your investment will stand up to the spills and other accidents that will inevitably occur in hard-working spaces. With the combined benefits of beauty and function, what more could you want?
Read More About Quartz Countertop Colors and Styles:
Beautifully Beige Quartz
High Style Monochromatic Quartz Countertops
Bathroom Beauties with Quartz Countertops
The Most Timeless Quartz Countertop Colors
Greige is the Newest Quartz Countertop Color Trend
Sophisticated and Sparkling Quartz Countertops