Popular
5 Top Tile Trends At Cersaie
November 24, 2015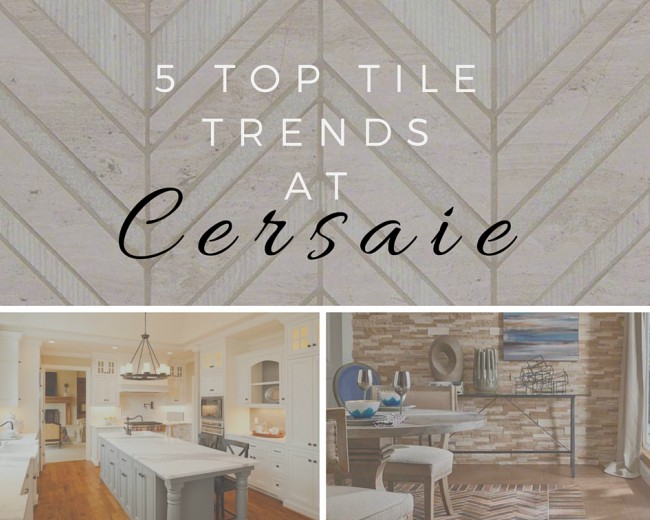 Oh, the marvels we saw at CERSAIE, the International Exhibition of Ceramic Tile and Bathroom Furnishings held in Bologna, Italy. Wandering the show floor, we viewed a vast array of fashion-forward installations rendered in porcelain and mosaic tile, natural stone, and other equally distinctive premium surfaces. Inspiration abounded at every turn; trend-setting tableaus left us awestruck as we considered the wonders that result when nature and technology join forces."Each and every year, CERSAIE offers thrilling experiences and original design concepts unrivaled by other industry shows," says Emily Holle, MSI's trend and design expert. "Design professionals that need to be in the know about surface trends make sure they attend."
The most notable trends at this year's show revolved around the notions of more variety, larger shapes, perfected patterning, organic textures, and looks that combined rusticity and refinement. Here are the industry trends that captured our attention and had every member of our design team taking copious notes.
1. Shapely Tiles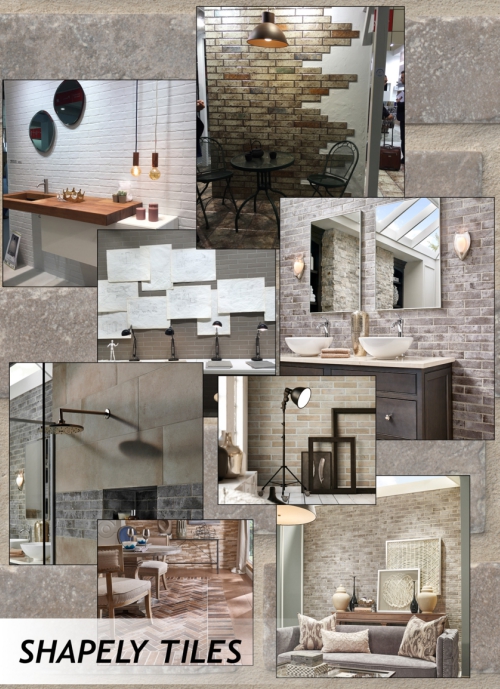 Brick is back . . . in a big way. Brick tiles were showcased in varying sizes, shapes, finishes, and surfaces by nearly every show presenter. Cobblestone forms, colorful painted finishes, and heavily textured surfaces are sure to make the newest brick tile offerings a commonly requested material when it comes to backsplashes, feature walls, and floors. "I was delighted to see brick-look tiles pop up in almost every booth," says Holle. "MSI jumped ahead on the brick trend; we have already introduced porcelain brick tiles in our old world Capella Collection". Holle says that another noteworthy tile trend revolves around wood-look tiles, which have grown wider and longer, come in hexagon and chevron shapes, and sport color-washed finishes and heavily textured surfaces. Rectangular plank tiles created a buzz, appearing as fetching floors and wow-powered walls. Planks showed up most often in stone and wood looks. Expect to see more plank tiles added to existing tile lines in 2016.
2. White Marble: The Return of a Classic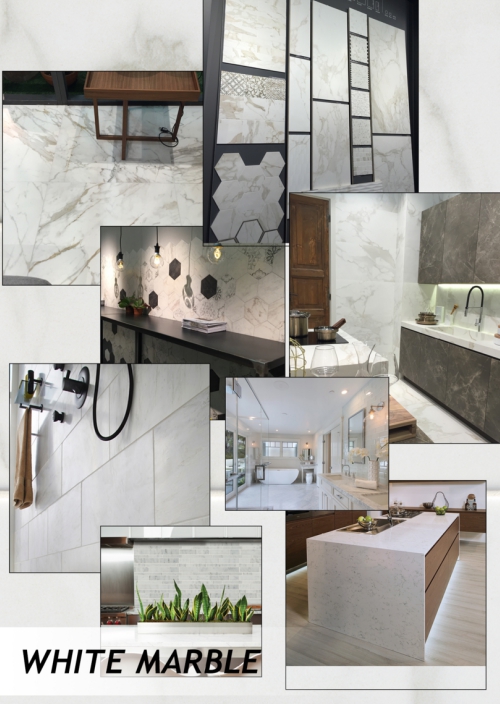 White marbles are getting whiter, offering a clean, crisp look that satisfies consumers' love of bright, breezy spaces. Vein patterns are more pronounced, which gives marble tiles and slabs more visual weight when installed as floors, countertops, and shower walls. Vendors offered a number of coordinated white marble collections comprised of square-shaped, plank, and mosaic tiles. Conversely, a plethora of exhibits highlighted tile treatments that combined different types of white marble to create high-impact installations that presented classic materials in avant-garde fashion.
3. Patterns with Panache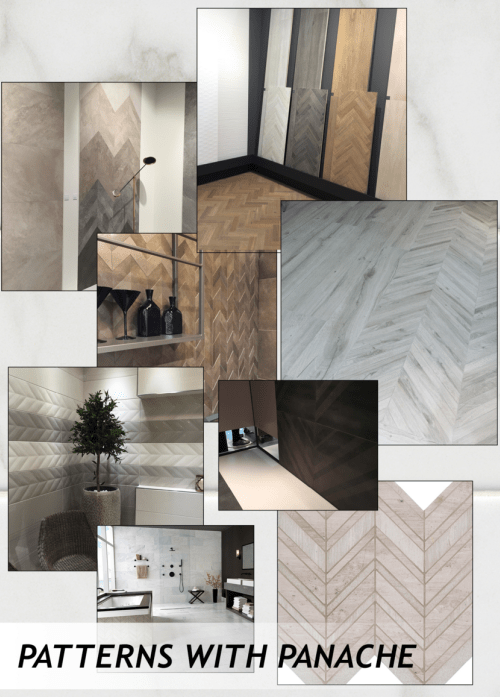 Though hexagons made a big splash, the hottest shape at this year's show was chevron. Forecast as the "must have" motif in the upcoming year, dramatic chevron patterns appeared as meshed components, printed and embossed details, and tile-works created with tiles sporting clipped corners. "Unlike herringbone patterns, chevron patterns are all about the zigzag," explains Holle."In chevron patterns, tiles run point to point and the ends are cut at an angle to create a continuous zigzag design. In herringbone patterns, tiles finish perpendicular to each other, which results in a broken zigzag."
4. Mixed Finishes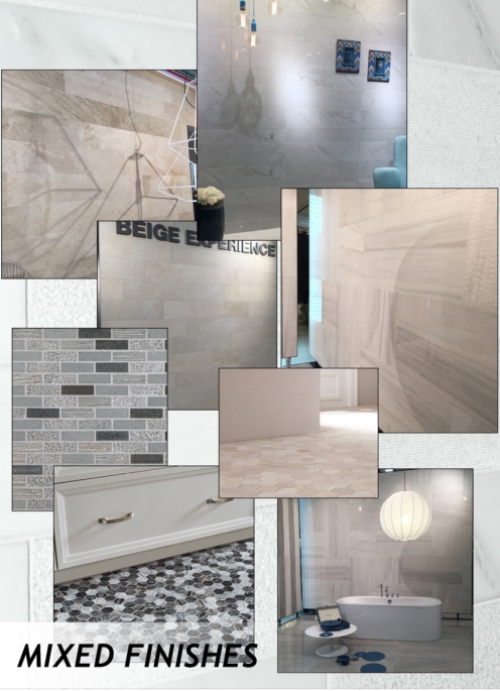 Interior designers will have to master the mix to create on-trend spaces. Show presenters featured walls and floors that combined different premium surfaces in high-style ways. They showcased designs that fused contrasting textured tiles and melded matte and polished finishes. They displayed patterned treatments that merged large and small tiles. Touchable tiles and natural stone surfaces, many with brushed, chiseled, and hand-scraped faces, will be all the rage in 2016.
5. Editorial Outlooks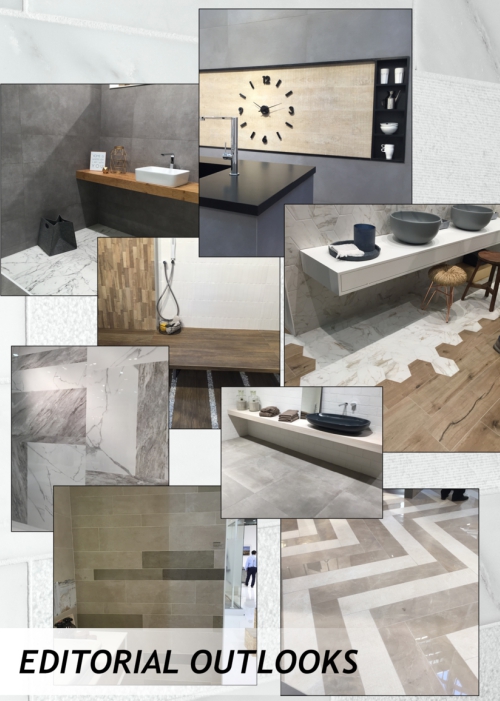 Unlikely unions of materials, colors, and shapes supplied a few delightful surprises at this year's show. The unconventional wall and floor treatments combined wood and marble as well as white marble and concrete proving that opposites do attract! Other showcased items included multiple types of stone in a single application, and exhibited smart ways to use one material to frame another. We predict the luxurious, streamlined looks will appeal to modernists and design editors, who are always on the lookout for innovative designs using traditional materials.
Though the aforementioned design trends were standouts at CERSAIE 2015, other show-stopping looks garnered a fair amount of attention. "We will soon be seeing many different forms of white tile and more metallic surfaces," predicts Holle. "Watch for tile treatments with the look of carpeting and fine-tuned floors comprised of framed tiles. One of the coolest upcoming trends? Thin porcelain slabs aligned in book-page fashion to create a unique pattern." The MSI design expert adds, "No matter what tile trend proves to be the strongest, each and every one of these design ideas will promote original thinking and inspire some fabulous applications."