Popular
Perfect Pairings: Designer Combinations That Inspire
February 24, 2015
Like most things in interior design, there are no hard and fast rules. And if there are, some rules were just meant to be broken. When taking on the new design of a kitchen or bathroom, how does one approach selecting and coordinating a backsplash, countertop and flooring? Hiring an interior designer might do the trick, or, you could start by creating your own inspiration boards with samples and swatches readily available at many retail locations. Begin by selecting colors and tones that reflect the feel of your home, and build from there. Here are some of our favorite combinations of patterns, colors, and materials that will ensure a gorgeous, well-put-together space.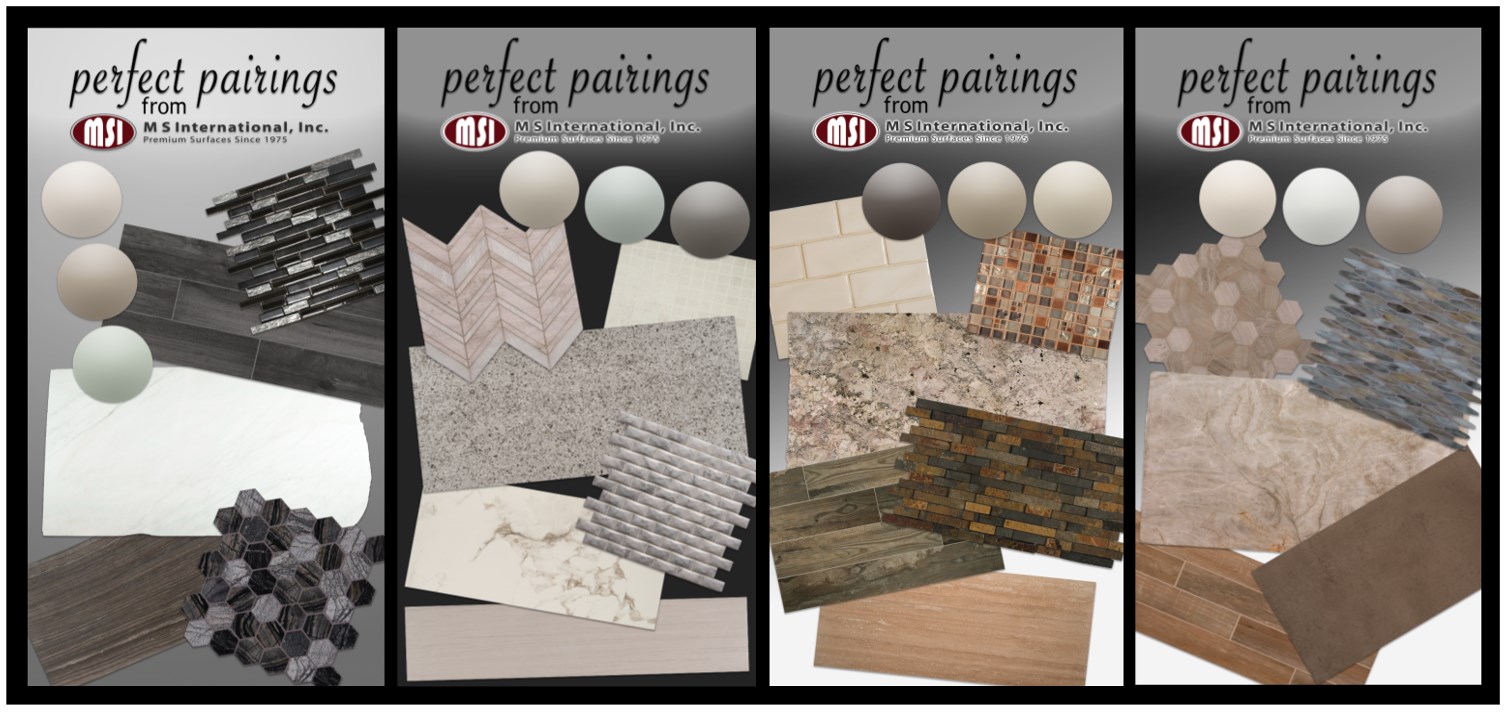 Coordinating Shades of Gray
There is no doubt that gray is the most popular "new neutral". MSI is on-trend for color by offering a wide array of premium surfaces including slabs, tiles, and mosaics in shades of gray. Our new Palmetto Collection offers the look of time-worn, gray-washed wood in durable porcelain, perfect for flooring but can also be used to accent walls. The white background and dramatic gray veins in Arabescato Carrara marble gives timeless look and partners beautifully with our large format Eramosa Gray porcelain to give it a more updated and modern edge. Adding a backsplash or accent wall in Triton, our newest interlocking pattern, or our new graphic Henley Hexagon marble brings visual interest and depth. Grays can go warm or cool; the solution is to select styles and tones that can standalone in their beauty, but work together in harmony, to create a stunning space.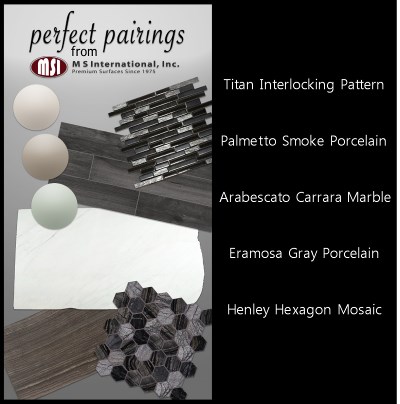 Creating a Soothing Palette
Cascade White Quartz slabs feature white and cream undertones, with darker shades of tans and browns; this soothing pallet blends beautifully with our White Quarry Chevron Pattern or Carrara White 3D Marble Mosaic tiles. Patterns and textures are rapidly gaining popularity and can make for a stunning accent wall or backsplash. For flooring, our new 16x32 Statuario Porcelain Tile has a soothing cream background with warm tan veins, reminiscent of natural stone but with the durability many homeowners desire. Or try our 12x24 Dimensions Glacier, which brings a concrete-look urban edge to any room but with the ease of maintenance of porcelain tile. Our 16x24 Sygma Ice Ceramic Tile also creates a striking space with its hand-scraped wood-look appearance. These large format versatile tiles can be used to coordinate flooring, as well as backsplashes, to give the visual illusion of a larger space. This collection would be beautiful to create an inviting and spa-like bathroom retreat.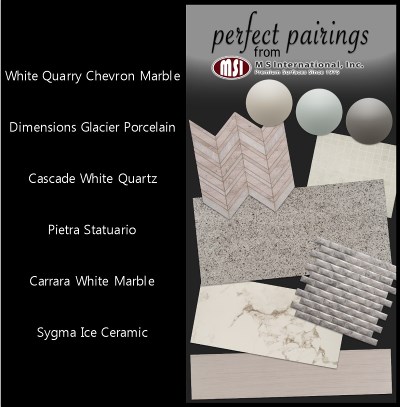 Striking Design with Earth Tones
Granite countertops are still the most popular surface with homebuyers, and Bordeaux Dream from Brazil is simply stunning. The undertones of cream and white are beautifully contrasted with darker shades of bordeaux and brown. This lends itself to a wide variety of design aesthetics from traditional to modern. Partner with Antique White handcrafted ceramic tiles for a more traditional look, or with Manhattan Blend glass metal mosaics to create a more modern result. Roman Veincut Travertine tile floors add a modern background while our large 6x40 Salvage Musk Porcelain wood-look tile planks would lend themselves to a more rustic effect, as would a wall decorated with our new Rustique 3D Interlocking Slate Pattern. The natural earth tones in this collection bring warmth and a bit of visual drama to any space. Mix and match any of these styles to create your ideal kitchen or bath.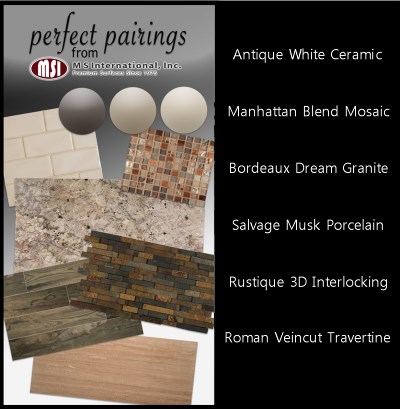 Harmonizing On-Trend Looks
Wood-look porcelain tiles are very popular right now and are not expected to decrease in popularity any time soon. Our Capella Stable Porcelain Tile is available in 6x40 planks, allowing for creative installations on floors and walls. When paired with our large format cotto-look tile, Capella Silt, will bring rich patinas and modern flair to any room. Both of these tiles partner beautifully with our new Mochachino hexagon glass mosaic, made from stunning stained glass. The pop of color from the earthy blue glass mosaic brings out the rich browns and creams of this trendy hexagon pattern. Or try our Carmello 2" Travertine hexagon, with its beautiful brown hues, perfect for bathrooms, kitchens, showers and even fireplaces! For a stunning countertop, add durable Madreperola Quartzite, available in both polished and brushed finishes. This trendy palette will be the envy of all of your neighbors yet still stand the test of time.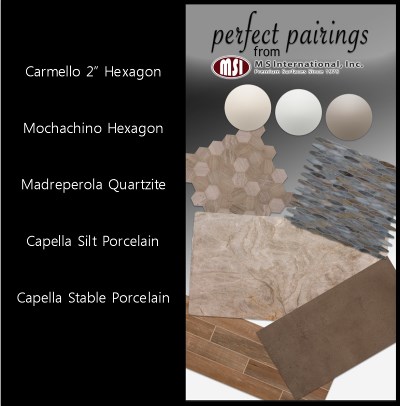 We hope these perfect pairings have been helpful and have inspired you to take the next step in your remodeling design project. For more ideas, visit our MSI Kitchen and Bathroom Visualizer tools, where you can experiment with a variety of tiles, mosaics, and countertops. Mixing and matching colors, patterns, and surfaces will add drama and style to any room and bring new life into the place you call home.