Popular
2015 Hot Kitchen Trends – Part 1: Cabinets & Countertops
January 16, 2015
Design style is cyclical; what is hot one year cools the next. Fads may come and go, but many hot trends, including countertops, flooring, and cabinetry can sustain the test of time. For 2015, we are seeing many trends, some which will age gracefully through the years, and others, well, may come and go.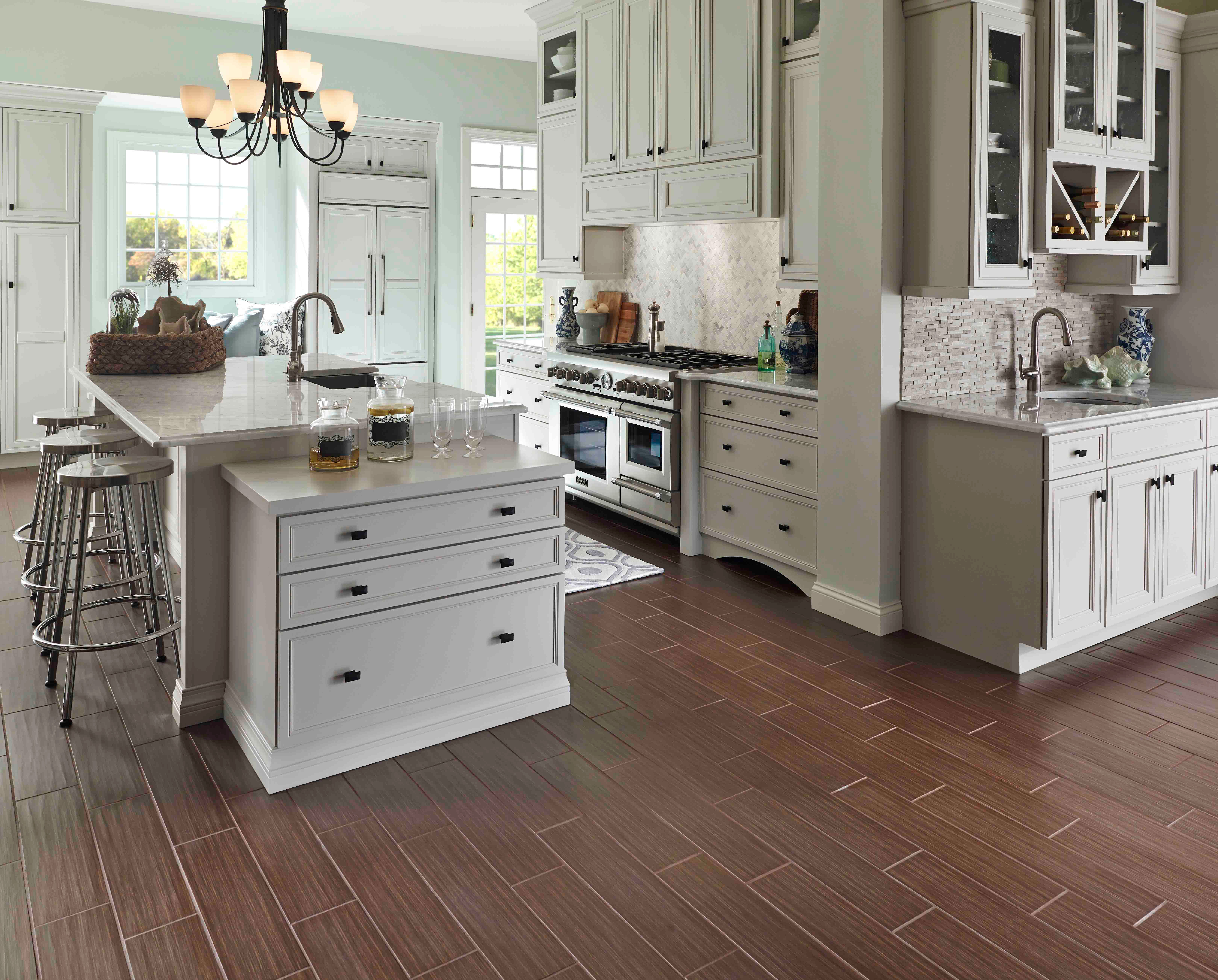 The kitchen is the heart of the home, and as such, families eagerly seek comfortable and beautiful kitchens that are durable, timeless, functional, and easy to maintain. Design trends expand eat-in kitchens, where families can gather together for meals, to do homework, and celebrate with friends and family. Formal dining rooms continue to fade, and many homeowners are expanding their kitchen into dining spaces for that highly desirable open concept floor plan.
Architectural accents including coffered ceilings, textured surfaces, and honed stone premium surfaces add character and visual interest. During a remodeling project, pay attention to lighting; ceiling lights and recessed lighting in task areas, as well as under cabinet lighting help to highlight your kitchen's beauty, while increasing functionality. It's all in the details when planning that perfect kitchen!
Cabinetry Trends
We are noticing several trends in the kitchen related to color and style. Shaker style cabinet doors remain the most popular. And, it is no wonder as they are easy to keep clean, and they adapt well to a host of design styles from traditional through modern. When it comes to color, painted finishes remain strong; from crisp whites to dove gray and rich espresso wood glazes. For cabinetry, designers are staying style-neutral and using the accents in the room to dictate the design style. A statement island, designed to look like a piece of furniture, with a different color or material of slab, is also catching the eye of many. Crisp white shaker cabinetry with a contrasting island topped with Bordeaux Dream granite, creates a warm, and inviting space.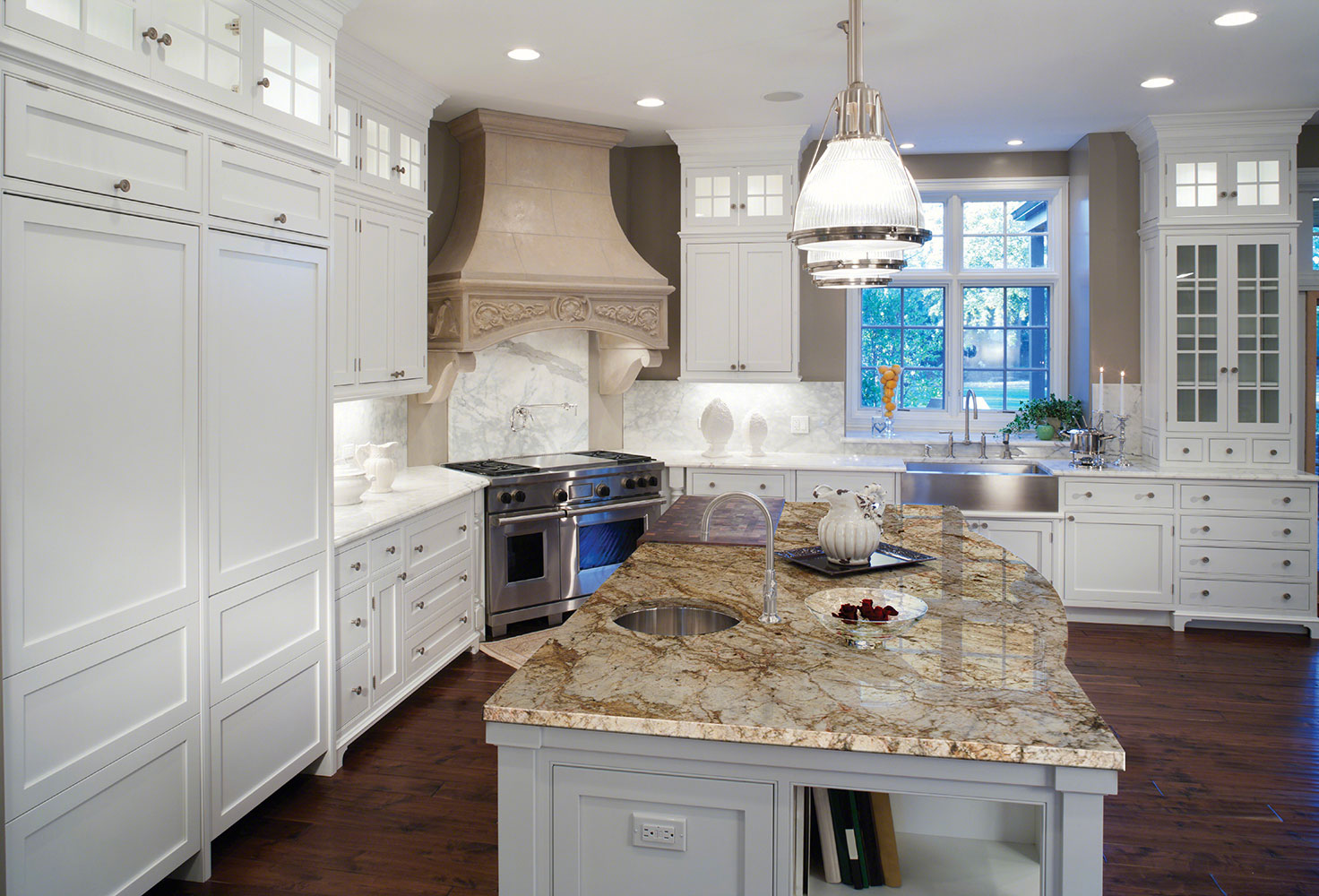 Hot Countertops
Granite is still the leading choice for homeowners and homebuyers. And, white granite slabs are definitely "hot". White marble is beautiful with its natural gray veins, but it does require more maintenance. White granite is available with a variety of vein colors and specks, creating interest and dimension. Alaska White has tones of grays and tans, Galaxy Bordeaux's white background with dramatic Bordeaux and charcoal grain is distinctive and a great way to add timeless colors in sweeping waves.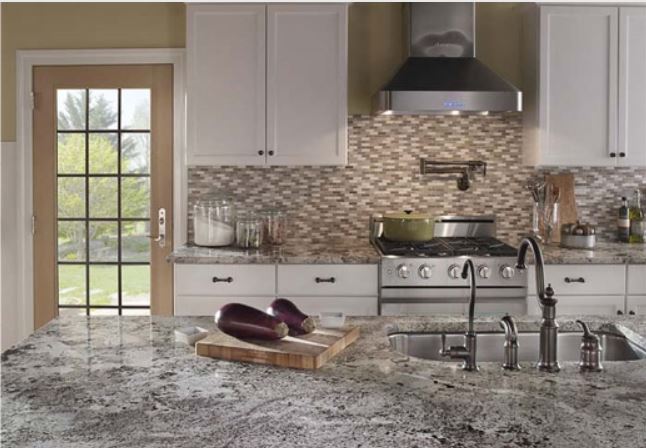 Other emerging granite trends for 2015 include dramatic and bold countertops in rich colors. As the largest eye-level horizontal surface in the kitchen, it is easy to understand why designers are taking advantage to add an artistic element in this manner. Desert Dream's black and rich gold tones lend to both a modern or traditional aesthetic, depending on the choice of cabinetry, accent wall tiles, and flooring. When selecting a stone slab, remember they will last a lifetime; choose one that will easily adapt to future design styles. With over 250 colors available, it should be easy to fall in love with one, or more, of them!
Quartz countertops continue to impress! Their durability, lack of maintenance, and new designs reminiscent of granite and marble, are available in a wide array of colors and patterns. Cabinetry with clean lines, graphic accent walls, and modern accessories are the perfect backdrop for the simplicity of solid color quartz countertops. Arctic White, with its solid bright white appeal, would be the perfect choice for a crisp, clean look. However, relatively new to market are more bolder patterns with swirls and waves in rich colors. These are ideal for homeowners looking to add the look of granite or marble, but desire the low maintenance of quartz.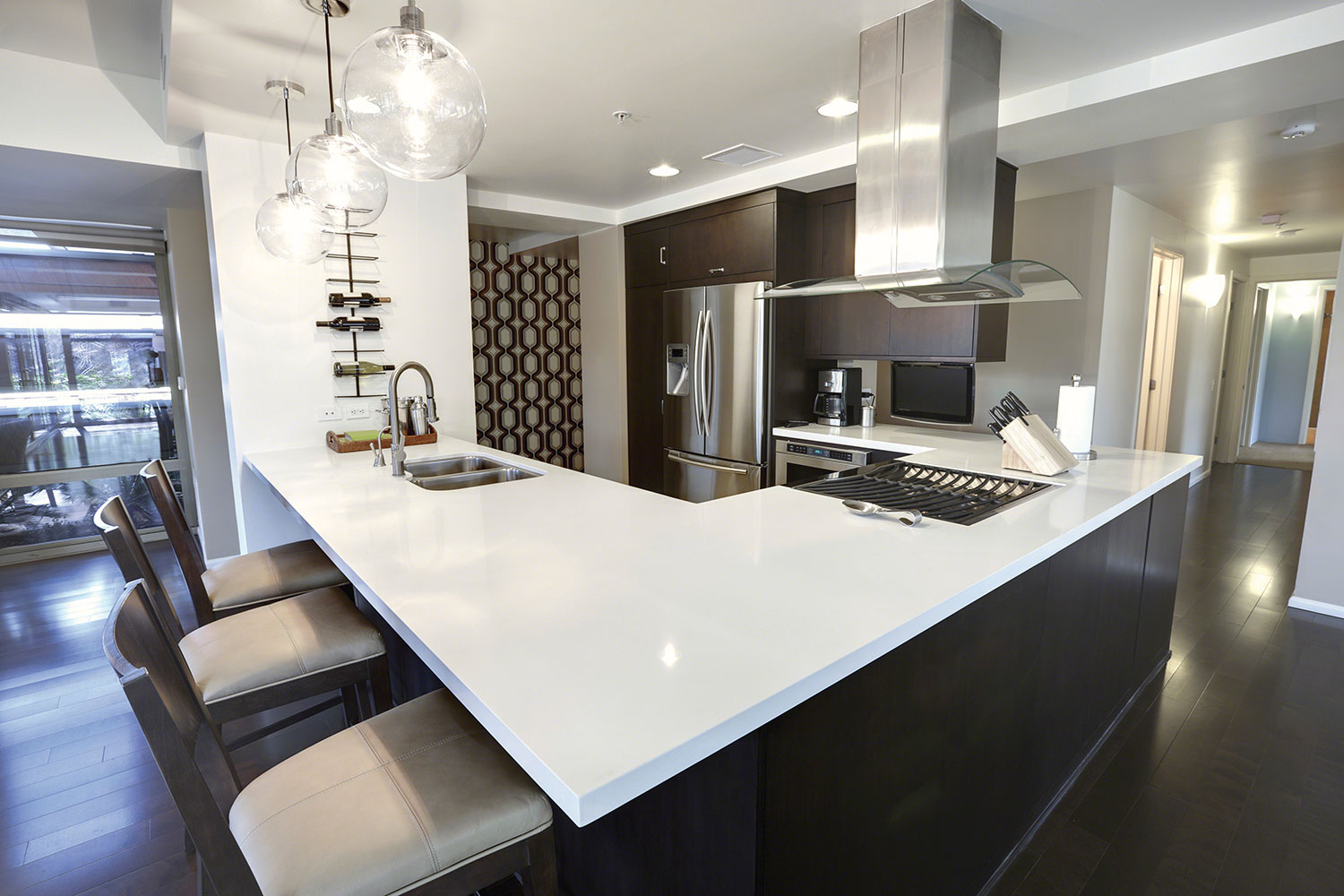 Granite, soapstone, marble and quartz countertops can serve as a dramatic and artistic element in your kitchen, or have a more subtle presence to let cabinetry, backsplashes, and flooring be the focal point of the room. As interior design continues to evolve with new flooring options, backsplashes, and cabinetry, select the countertop slab that best complements your personal taste but will be flexible throughout the years.