Popular
Unique Installs: Floors And Walls
November 12, 2014
Accentuating your home's distinctive features with natural stone surfaces has never been easier! Entry halls, fireplace surrounds, as well as backsplashes and the walls, floors and countertops of your kitchen and bath can be quickly remade into a striking space with some creativity and a talented installation team. Contemporary and traditional styles alike can be transformed with the innovative use of unique patterns, accents, and colors that will turn your home into the envy of the neighborhood.
Bold Looks for Floors & Walls
Let's start from the floor and work our way up. Hardwood floors were all the rage, for many years. And while they do bring the essence of nature into your home, they are simply not as durable as tile flooring. One of the most dramatic ways to update any interior space, is by swapping out your hardwood floors for tile. Before you think of the simplistic square tiles laid in a grid format, imagine a floor with true character that reflects your creativity.
Once a design of the past, laying tiles in a herringbone pattern is making a comeback throughout the design world. With our Botanica Porcelain Tile (shown below), you can have the look of hardwood floors, without all of the maintenance. When laid in an interesting, non-linear pattern, your space can be immediately transformed.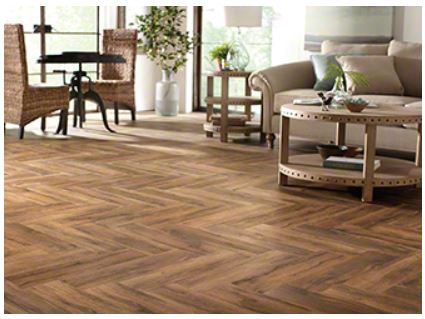 Another design trend for flooring is to use mosaics or complementary tiles as an inlay for accent. For example, you can create a dynamic entry space in the shape of a rug or medallion by mixing patterns, colors and textures. For hallways, a combination of mosaics and tiles can create the illusion of a carpet runner, leading your guests into the heart of your home.
Let's not overlook the opportunity to add drama to your entry hall's accent wall! You can echo the color and pattern from the floor, or you can create something uniquely yours with stone ledger panels for an earthy natural feel, with mosaics for a contemporary splash of color and texture, or with complementary porcelain tiles for a continuous flow of design.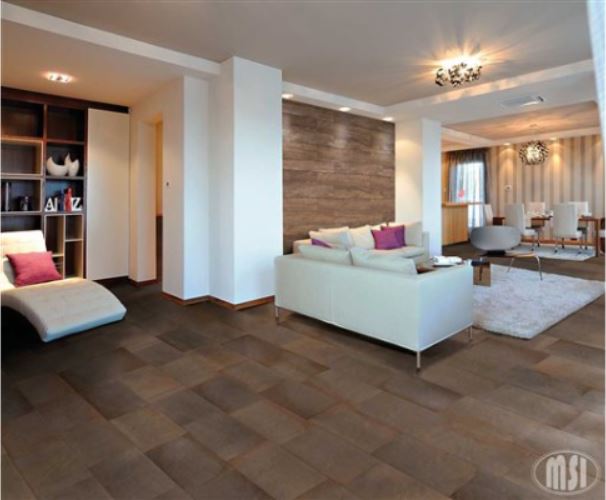 For another unique way to bring together both your horizontal and vertical spaces, consider using coordinating tiles of the same tone and texture for walls and flooring. Perhaps you like the look and feel of 6x40 planks on an accent wall that is grounded by 12x24 tiles on the floor like our Capella tile line (shown above). Or perhaps, you would prefer the 6x40 planks laid in a herringbone pattern on the walls, with the larger tiles on the floor. Your options are truly endless!