Popular
Looking To Add A Little Shimmer To Your Next Project? Mosaic Metallics Are The Perfect Choice!
September 29, 2014
Does your bathroom, kitchen, entry, or living room need a makeover? Mosaic metallic tiles are an elegant way to bring depth, character, and life to any room. Available in a wide array of designs and natural stone blends, metallic mosaic tiles add drama and shine suitable for all design aesthetics providing a premium surface and backdrop to your design style.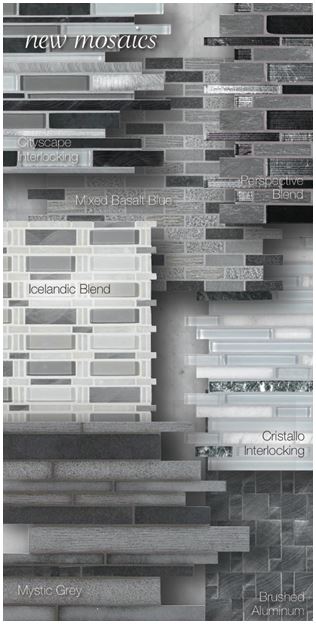 Change the look of any space by adding metallic touches that echo throughout the room. Metallics are showing up in multiple applications. We are seeing actual brushed aluminum, metallic-painted slate, and shimmering glass – all with a hint of glimmer for a subtle sparkle. Available in neutrals, mid-tones, dramatic colors and everything in between, metallic tiles partner nicely when paired with organic elements. Glass, metallic, natural stone flooring and countertops, and wood cabinets and floors can come together in harmony to dramatically change your space. Here are some creative ideas to jumpstart your design process!
Decorative Wall Accents
Entryways are an ideal space to incorporate the timeless grandeur of metallic tiles. Dramatic Titan Interlocking tile features deep shades of charcoal and black accented by silver tones. For a more contemporary graphic look, Icelandic Blend combines soft whites and grays comprised of Arabescato Carrara, glass, and metal. Both of these choices are available in easy to install mesh-backed sheets that interlock naturally for a seamless appearance.
Kitchen Backsplashes
Stainless appliances, crystal stem wear, and light fixtures are complemented by metallic mosaics. Mosaics with metallic accents are ideal for backsplashes over the range, and over the kitchen sink to contrast or complement countertops, floors, and cabinets. Triton Interlocking is a unique mosaic that incorporates metallic paint in its design. As seen below, the rich brown porcelains blend beautifully with the copper-painted slate pieces. This neutral mosaic coordinates quite easily and will enhance your traditional kitchen design with a subtle hint of glam!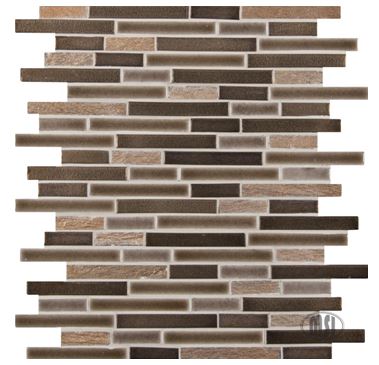 Shower and Tub Surrounds
If your bathroom borders on the "ho hum" variety, consider installing mosaic metallic tiles in your shower, as a backsplash, or on your soaking tub's surround. Choices are endless, and the amount of shimmer and shine you want to add to your bathroom is at your discretion. Perhaps a dark shower would benefit from an entire wall of the blue glasses and silver metal accents of Cityscape Interlocking, or perhaps you would prefer just an accent stripe or two incorporated into the design. The warm tones of beiges and browns contrasting with the cool silvers of the Madison Avenue Interlocking pattern reflect light and add dimension to this eye-catching accent wall.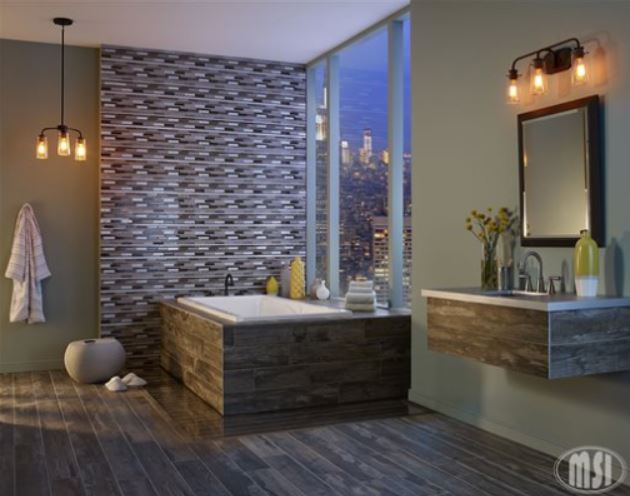 Cristallo Interlocking mosaic tile is a luxurious blend of Arabescato Carrara, glass, and metallic tiles that bring opulence and drama to a bathroom. The shades of white tile, some with veins reminiscent of Carrara marble and the glass tiles create a spa type atmosphere suitable for backsplashes, around soaking tubs, and in shower enclosures. As with other mosaics, marble, travertine, and granite countertops are easy to match.

With so many color and style options, mosaic tiles can enliven any décor. For an all-metallic backdrop, consider Silver Aluminum Metal tiles that provide for a graphic and sophisticated feel on accent walls, fireplace surrounds, in bathrooms and kitchens alike. Click backsplash tile for more unique mesh-backed mosaic tile options and design ideas.