Popular
Pattern Defined: The Highland Park Collection
August 18, 2014
Recently, we wrote about sophistication and how porcelain tiles like those in our Sophie Collection define it perfectly for a style that reflects worldly design know-how. This week, we're taking a look at the Highland Park Collection and reflecting on the importance of pattern for a timeless style. Why is pattern so essential to design? What is it about a symmetrical look that pleases the eye, even in the simplest designs and colors, heightening our interest and turning a functional space into one we desire?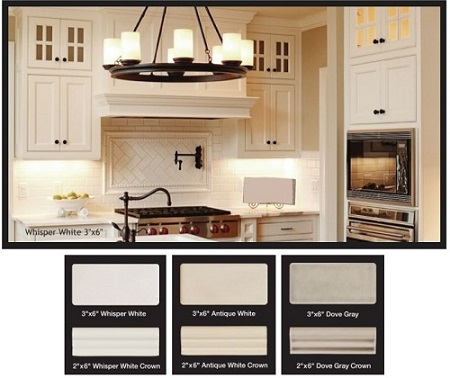 Humans, and some animals and insects (even bees and butterflies), are naturally attracted to pattern. We can understand why a bee would recognize pattern – after all, they need to be able to distinguish patterns to identify flowers from other things in nature. Humans, too, are considered a pattern-seeking species. This may stem from our earliest days, when we needed patterns to create and make sense of speech or to figure out how to navigate our way through a dense forest, detecting changes in pattern from the terrain, weather, and other signals to identify where we've been.
These types of colorful patterns are obvious. However, patterns of arrangement and repetition, without distinctive color markings, are also extremely pleasing to us visually. The patterns of the Highland Park collection are a perfect example. These high-end tiles are handcrafted into three perfectly selected colors with a beautiful weathered look to them for a timeless appeal. The subway tiles are enhanced with coordinating mosaic tiles cut into shapes like herringbone, hexagons, arabesque and brick shapes laid in simple but sophisticated patterns. Without any additional embellishment, they are subtle and striking.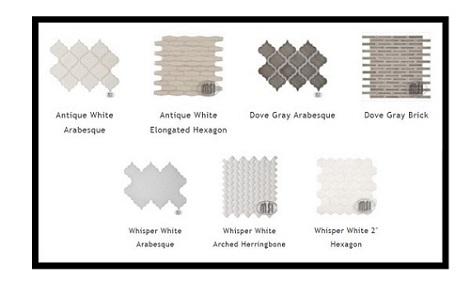 Some might explain the visual beauty of these simple patterns as an evolutionary progression. As a matter of survival, we learned over time to avoid chaos; therefore, simple patterns are calming – a visual moment of order in a disordered world. Structurally simple designs help us to feel more comfortable in our surroundings because they feel familiar, even if we've never seen them before, while complex patterns help us to feel camouflaged.
Akin to patterns, symmetry is also calming and attractive to many people. Studies have shown that we find things in nature to be more beautiful if they are symmetrical, like a beautiful face or the matching wings of that patterned butterfly. This ideal finds its way into design everywhere, from uniquely crafted architecture to how tiles are applied in a bathroom. Perfectly aligned tiles are calming as we sit back and enjoy a hot bath; strange patterns or misaligned tiles are distracting.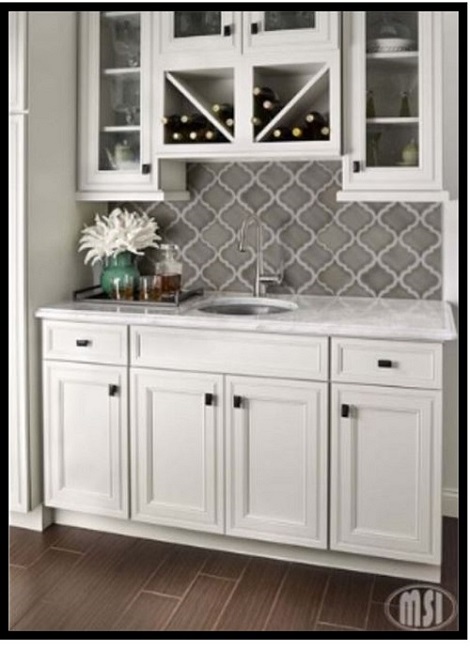 As much as we enjoy patterns, creating them in such a way that is pleasing rather than distracting is not always easy. This is why artisans craft mosaic tiles, to take out the guesswork and why MSI offers subway tiles cut for easy placement in beautiful, basic patterns. Paired with other natural stones, or arranged alone as patterns within patterns (such as a rectangular placement of a herringbone design within an expanse of subway tiles), the Highland Park Collection satisfies our natural desire for order with a hint complexity. That complexity fulfills our desire for texture and movement – things we also need for an overall appealing design.
Use the Highland Park Collection to create an environment specific to you, one with the symmetry we all desire and a pattern that is uniquely yours. Whether you select timeless field tiles for backsplashes, flooring or countertops for a simple application, or you select crowns and mosaics for more intricate patterns, MSI offers a complete line of tiles and mosaics, including subway tiles in a variety of sizes and shapes, to appeal to your basic desire for pattern, symmetry, texture and style.