Popular
Down To Earth Style: Salvage Porcelain Flooring
June 17, 2014
Many value the look of reclaimed wood. It calls to mind treasured family heirlooms. It sends us back to a time of farmhouses and country manors. Reclaimed or salvaged wood is a visual reminder, infused with memories, that plays on our sense of nostalgia for a simpler time. Additionally, reclaimed wood is a great way to recycle a natural resource. So what do you do when you love the look of salvaged wood for your home décor, but you want new flooring that will withstand the future decades of memories you will give it? Porcelain tile flooring is a wonderful way to please your sentimentality and also create a sound surface for your home that will last a lifetime and beyond.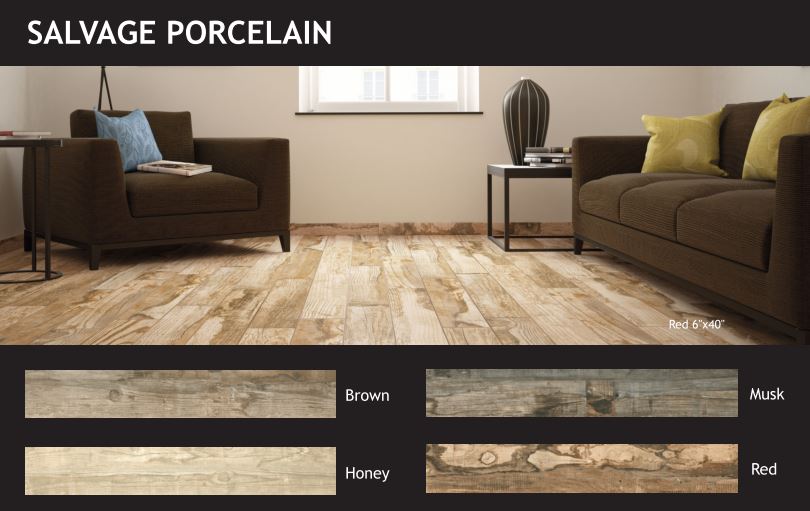 Though you may enjoy the look, you many discover that true salvaged wood is not easy to find in good condition. It may be recovered from barns or salvaged from historical homesteads, i.e., structures that were in disrepair. If the wood is in pristine condition, it likely would not need replacement – which means it would not be available for your home improvement project. When you do find salvaged planks, they may be perfect for a craft project but too far gone to use as a safe, solid surface for flooring. Deterioration of natural wood can unfortunately make a piece of salvaged lumber unrealistic for bearing weight, as it may have existing soft spots in some places or warping in others. Salvaged wood in excellent condition that is suitable for interior flooring is harder to find, which means it may be more costly than new wood planks or other flooring material options.
The porcelain tile in MSI's Salvage Collection is made with state-of-the-art digital glazing techniques, authentically reproducing the grain, texture and color of reclaimed wood. The sizing is important too – MSI's Salvage Collection features planks in 6X40", which gives a more authentic look to each piece, as if it could be straight from a historical home or rustic barn wall.
Porcelain tile planks have a few distinct advantages – they won't warp, they won't crack, and they won't swell. This means that your floor will keep its authentic, salvaged look but you won't experience the downside of natural wood floors as they age: shifting of the planks, revealing spaces that need to be filled with sawdust fillers, sanded, and then refinished; textural blemishes that make the floor more difficult to clean, snagging everything from your socks to your dust mop; and finally, old nails and floorboards that creak as the wood expands and contracts through the seasons when temperature and humidity fluctuate.
Porcelain tile is created from super-fine porcelain clay and is fired at a higher temperature than ordinary ceramic tile, which makes the material dense and tough enough to stand up to today's demanding applications. (Notably, in addition to the salvaged look, MSI offers porcelain tiles that may be highly glossy and refined or rough textured to resemble natural stone, which nicely compliments granite countertops and mosaic backsplashes. Porcelain tiles are also suited to both indoor and outdoor applications.)
If a recycled décor is more your style, you can find a balance between look and function with porcelain tiles. Mix Salvage Collection porcelain tiles with other recycled items throughout the home, like salvaged wood shutters or old wood frames, to tie into the old world theme and give your home a fully authentic feel. Use porcelain flooring to create a harmonious style that appeals to your greener nature but also offers a dependable surface to enjoy.