Rectangular Tiles: Is it Still Hip to Be Square?
May 12, 2014
In the late 40s to early 60s, new home constructions boomed across U.S. suburbs to accommodate the burgeoning Post-World War II economy and the resulting growing family unit. It is no surprise then that what was popular during this time as a standard option, namely square tiles (typically 4"x4"), can still be found in many of today's homes that boast their original porcelain tile. In contemporary homes and newer builds, on the other hand, the hot shape in flooring tile is now the rectangle – which means that many of today's homeowners are updating their bathrooms and kitchens. Larger, rectangular tiles are on the way in for a fresher, more current appearance.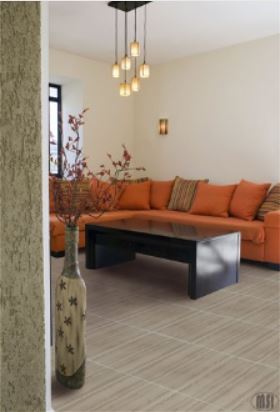 The oversized shapes of rectangular tiles are popular today for several reasons: they are far-removed from the 40s-60s bathrooms of old, their larger sizes create fewer grout joints, and when thinly set, they can create a nearly seamless look – a very modern ideal.

MSI offers several highly popular lines of rectangular porcelain tile. The Eramosa series has distinctive, oversized appeal (tiles are 12"x24"), as well as a modern pattern and color palette. The pattern is a delicate linear veining, which sets it apart. The color selections are neutral: beige, grey, silver, and white. Neutral coloring, in addition to shape, keep these tiles looking timeless. If you've ever walked into a circa 1950s home, you probably found bright pinks and sea-foam greens in the bathrooms and kitchen. Contemporary tiles detour from dated color selections, offering a more neutral color scheme on which to build – mosaic backsplash tile, available in a vast spectrum from bold to neutral, or a striking granite countertop, may be used to add even more focal interest and depth.
The Dimensions series is another popular MSI option for rectangular tiles. These tiles have an urban appeal, with appearances that fit their names: Concrete, Glacier, Graphite, Gris, Khaki and Olive. Pairings of these tiles with neutral or bold mosaics are common design choices. (Note that where once a standard size wall or floor tile was en vogue, now tiles are most desirable in tiny or large sizes. Mosaics of tiny squares are therefore not an outdated look.) Mixing tiles of varying size and pattern can create more focal interest than large expanses of 4"x4" tiles with thick grout lines. Rectangular tiles in the Focus Series and Loft Series, have slightly different patterns and similar colors to those of Eramosa and Dimensions, making them ideal for mixing and matching harmoniously.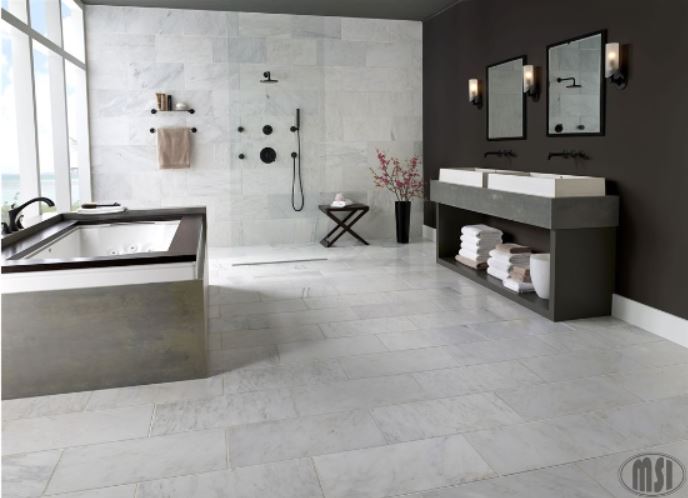 Porcelain tiles are not the only kinds of tiles which are increasingly popular in rectangular dimensions. For example, marble flooring also comes in 12"x24" selections – Athens Grey is a marble tile similar in look to the porcelain tiles of the Focus series with its sophisticated, horizontal lines. Coupling these marble floors with porcelain tiles allows modern designers to mix materials and patterns while still creating an overall cohesive appeal from floor to ceiling.
The question remains – is it still hip to be square? The answer is not clear cut. Though rectangular options have burst on the scene in recent years as a way to update from the square tiles of older constructed homes, square tiles are still available today in newer, more updated sizes, colors and patterns (particularly in ceramic tiles), which make them an enduring choice for today's homes. What you'll notice, however, is that 4"x4" porcelain wall tile, is quickly becoming a thing of the past. Tiles of such dimensions have been updated to exciting materials like limestone, marble, onyx, quartzite, slate and travertine. The striking colors, patterns, and textures of these materials give this older sizing option a more modern day feel – so that square can stay hip a little longer.
---