Hardscape For Outdoor Living With Porcini And Aegean Pearl Pavers
February 24, 2014
Natural stone pavers are a rich and dynamic way to surface your landscape for additional living space. From generous expanses that create a clean floor for your patio living to economical accents that highlight focal points, pavers are an excellent way to define your space. MSI's pavers are available in travertine flooring, granite, slate, quartzite, marble, basalt, sandstone or limestone. Today we'll feature two of the most popular selections: Porcini (travertine) and Aegean Pearl (marble). Both are attractive natural stone options that represent different ends of the color spectrum.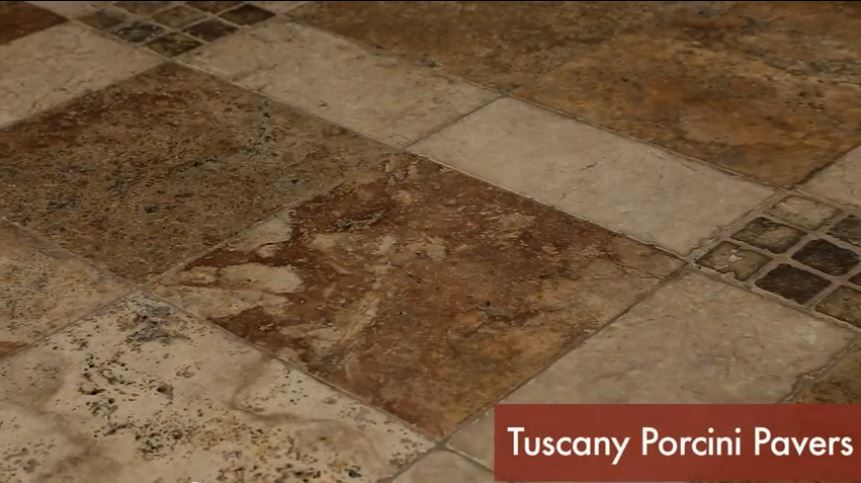 Tuscany Porcini, imported from Turkey, is a rich, multi-colored travertine stone available in chiseled, honed, unfilled, or tumbled finishes. These finishes offer a range of options for your hardscape design scheme – old world to new world – and the stone itself features creams, beiges, golds, greys, and even hints of rusts, as if your piece of landscape was carved from a mountain. These pavers offer a finished look to any landscape while keeping you connected to nature. Around pools and water features, as walkways and steps, travertine pavers invite barefoot travel even on the hottest days.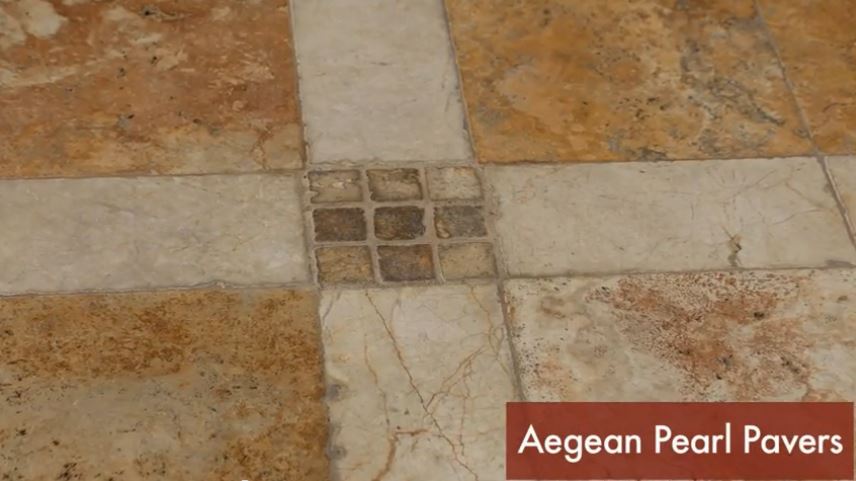 Aegean Pearl pavers (also from Turkey) are an elegant, neutral marble available in a tumbled finish as well as a variety of sizes. Porcini is a warmer stone color-wise than Aegean Pearl, which offers hues on the lighter end of the color spectrum with soft beiges and white veining. Pavers enhance homes and outlying buildings as patios, driveways, paths, and pool decks – Aegean Pearl accomplishes this beautifully, creating an inviting, fresh palette for sophisticated decor that will contrast with your colorful foliage.
Like MSI's other paver selections, including Porcini, Aegean Pearl is recommended for indoors and out, which makes these pavers perfect for creating a consistent theme throughout, starting with your hardscape and carrying through to your indoor kitchen, bathrooms, entryways or anywhere you'd like to bring nature inside.
MSI pavers are consistent in thickness for easy installation and are perfect for sand-set application. Most pavers have matching pool coping colors to give edges and steps a finished look. MSI offers a full collection of copings, caps and treads that matches most paving options in travertine, granite, slate, quartzite and limestone. Pavers are available in an assortment of shapes, sizes and colors and are also used for wall caps and column caps. Options include 1 ¼ or 2" thickness and sizes like 4x12", 12x24", 16x24", 12x12" or 6x12".
To fully enjoy the look of Porcini and Aegean Pearl pavers, take a look at them in action! MSI's new video on Pavers and Copings offers examples of both, as part of MSI's stunning outdoor showplace at the Orange County headquarters in California.