The Many Moods Of Mosaics
February 17, 2014
The art of mosaic design begins with beautiful mosaic wall tile and ends only with the limits of your imagination. To help stretch that imagination past its limits and beyond, M S International names mosaics for the moods they can create – making it easier than ever to bring your personal inspiration to life with a literal translation. Expression through mosaics is indeed permanent art that will elevate any room for years to come.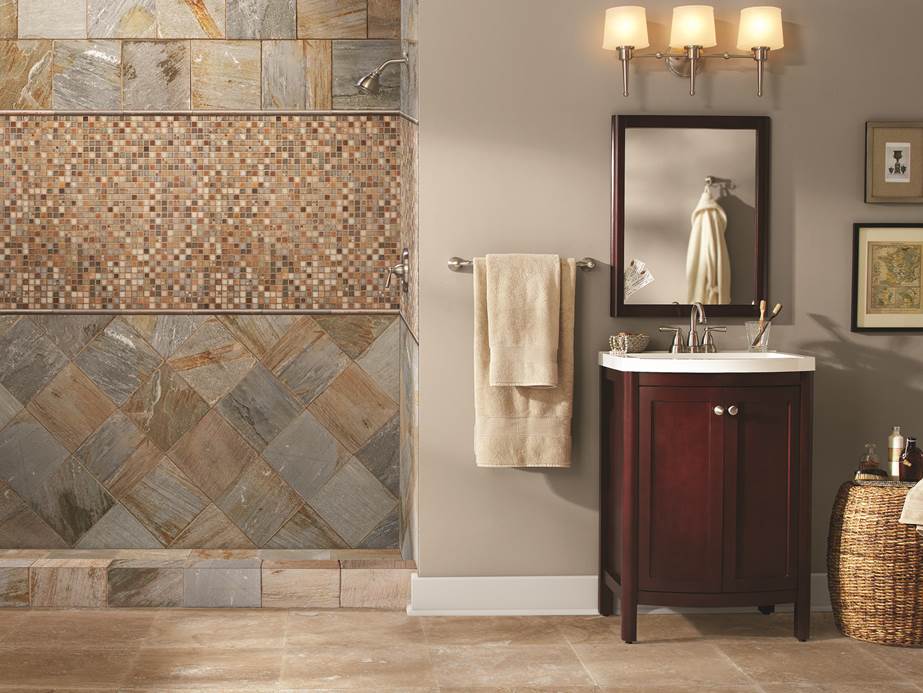 Castle Rock: Aptly named to create a majestic mood, castle rock is a glass, stone and metal blend mosaic of grey and silver tones that will easily complement a sophisticated décor. A wide expanse of mosaics across a wall can lengthen a room or a countertop surface, like a long stretch of castle wall; a tall expanse of mosaics from floor to ceiling can draw the room upward and make it feel taller, like an unbreachable royal tower. Literal translations for sure – but a less tangible mood may also be achieved with this mosaic selection. With creative lighting, Castle Rock wall tile can feel warm, cold, mysterious, or grand, and this mosaics' palette will strengthen the theme of any room.
Autumn Leaves: Another beautiful glass, stone, and metal blend, Autumn Leaves is an elemental interpretation of its namesake – a multi-colored mosaic variety with shades of brown and gold on a bed of silver, like autumn leaves on a sidewalk. Home designers who wish to employ this mosaic as a literal translation could apply imaginative patterns of this tile as a backsplash to resemble actual leaves or as an artistic decoration near entrances to bring the outdoors in. Less literal translations could be employed anywhere a warm, rich look is desired.
Manhattan Blend: A chic glass and metal blend mosaic, Manhattan Blend offers a dramatic landscape that calls to mind the diversity of a busy city. Its rich grays, browns, and creams with highlights of iridescent tiles can recreate soaring skyscrapers or Central Park depending on the design scheme. This mosaic is as comfortable among the high end décor of Park Avenue as the fun and quirky décor one might imagine for a Central Zoo theme. Extremely versatile, the Manhattan Blend can create many moods to fit your personality and do it with style.
Glacier Peak: This cool glass and stone mosaic is an appealing blend of white and blue glass and darker brown and gold stone, recreating glassy ice and snow on a mountain peak. This mosaic is sure to create a peaceful mood. For literal translations, Glacier Peak can be arranged in vertical displays for a feeling of height and strength. With its clean, unblemished look, this mosaic tile is also great for the kitchen, where the idea of a pristine glacier peak can be translated into cool tones, granite, and stainless steel. This palette will also complement colorful foods to the fullest.

Mediterranean Glass: This glass mosaic looks just like its name – a soothing sampling of the sea. Within the category of Mediterranean Glass, there are two styles: Mediterranean Pearl and Twilight Opalescence. The latter is a vivid and colorful selection of black, blue, green, and purple – like peering down into the swirling waters of the Mediterranean around reef in low light. The former, Mediterranean Pearl, is a lighter version with cream, white, pink, and gold, like coral reefs in the sunshine. A perfect selection for creating a tranquil mood, Mediterranean Glass is suited to any areas but particularly those with water themes. Bathrooms and kitchens can be enhanced with accents or large displays of this mosaic, with a traditional installation or even though unique applications like swirls or wave patterns.

Mosaics are a great way to incorporate art in a lasting way. Whether they are employed in large displays or more simply as accents, mosaics give a finished, textured look to every room. MSI strives to make design decisions even easier with mosaic collections that are fittingly named and lend themselves to the imagination. Explore MSI's many mosaic options – from Desert Mirage to Ocean Wave and the dozens of themes in between.