Wall Tile: Raise Your Expectations
February 05, 2014
There's a hot new trend that is here to stay. Porcelain tile, ceramic, marble and onyx are meant for more than just beautiful floors and countertops today. They are rapidly growing in popularity for more extensive use, beyond the horizontal to large wall expanses.
For decades, tile flooring like ceramic and porcelain have been relegated to specific rooms and functions. Namely, they've performed as floor or wall tiles in bathrooms and kitchens (usually as a backsplash), valued for their durability and wall protection. These days, porcelain tile and ceramics are proving they are much more versatile. In fact, they are growing in popularity with designers for larger scale projects, both residential and commercial, like inviting foyers, stunning entryways, living areas, and basically anywhere a designer wishes to exploit the beauty of stone by showcasing it as much as possible. These tiles and slabs aren't just a protective layer; they are indeed a pretty face that adds to the overall look and feel of the room.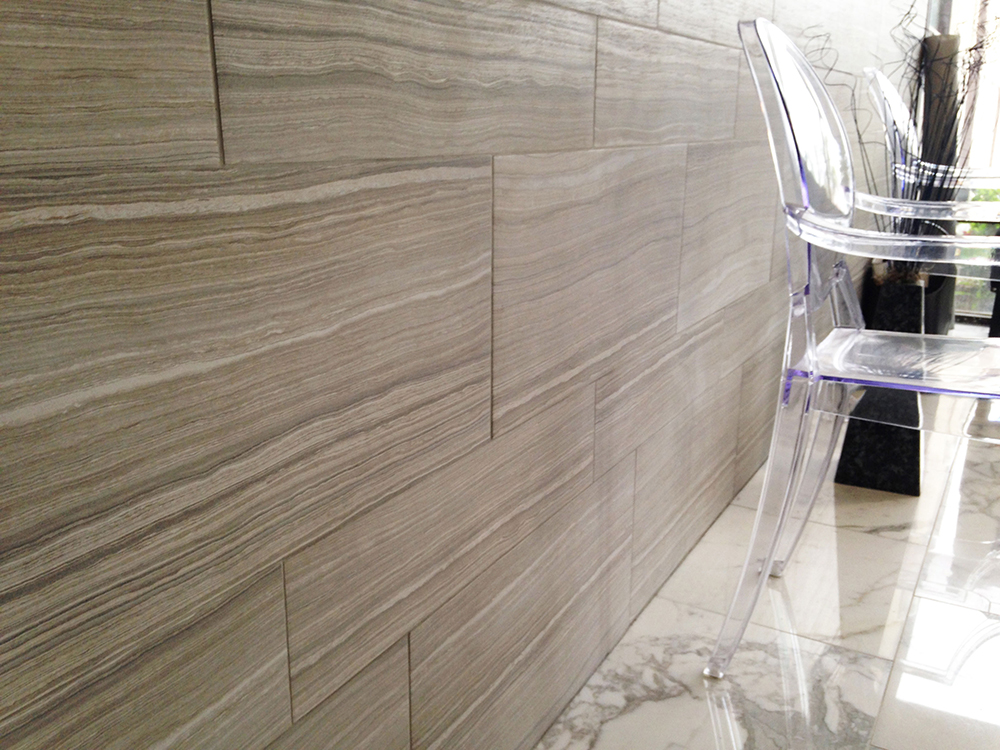 When it comes to porcelain tile and ceramic tile, both are known for durability and high function in the busiest of areas. If a porcelain and ceramic tile can withstand the moisture and abuse of a busy family bathroom, surely they can hold up anywhere. However, these days, trends show we are looking for more than just function. We want that perfect combination of function and beauty. With so many sizes, colors and textures to choose from, finding the right fit for any room in the home is easier than ever. Porcelain or ceramic as wall cladding offer the following benefits:
- A durable surface to protect walls from damage.
- A smooth palette or backdrop for striking décor.
- A surface that does not need frequent replacement, like wallpaper or paint.
- An easy to clean surface for busy areas.
- An opportunity to expand the gaze upward from the flooring, creating the impression of a larger area.
- An elevated, finished look to the room.
Onyx and marble flooring, likewise, are materials that have been underestimated when it comes to walls. These are higher-end options that truly indulge in an extensive use of stone. In addition to the benefits offered by ceramic and porcelain tile, onyx and marble selections also offer the following benefits as wall cladding:
- An upscale appearance that showcases natural stone, for contemporary or traditional themes.
- A design that includes a bold statement wall or walls.
- An introduction of color and pattern that simply cannot be matched by traditional wall covering like paper or paint.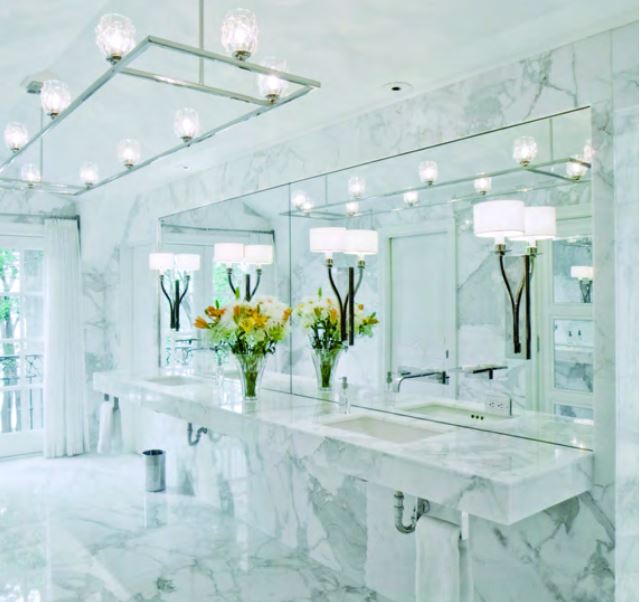 Raise your expectations, and your eye-line, a bit higher to envision porcelain, ceramic, onyx or marble on your walls – and not just in the bathroom. Any room can benefit from practicality and style! MSI has specialized in premium surfaces since 1975 and offers thousands of selections in porcelain and ceramic tiles and mosaics, as well as premium onyx and marble slabs.