It's A Tactile World
May 09, 2013
Are you tired of those boring flat walls in your home? Step into the new world of textured walls. They are not your usual faux finish or textured wall paper. It's an evolution of tile! It's a texture that you can actually touch and feel with your hands. There are so many ways to incorporate texture into a space with new options in glass mosaics, stone ledger panels, Splitface stones, and 3 dimensional effect tiles. Also, it is time to start thinking about wall tile in other rooms of the house besides just kitchens and baths. Think of older homes or an urban loft with a brick accent wall, tile can be used the same way but with many many more options. Take a look at these natural stones: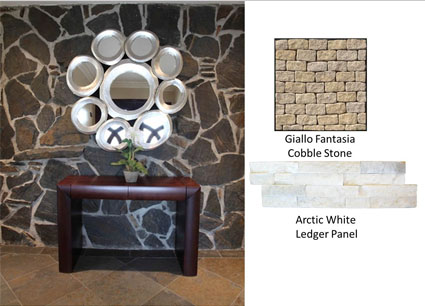 Giallo Fantasia Cobble Stone | Arctic White Ledger Panel
One of the key elements in designing a room can be incorporating texture. Think about wood grain, grass cloth, shag rugs, or seeded glass. All of these elements can help create visual interest that can make a space uniquely yours. One of the latest trends in tile is split face tile. Split Face stone is a technique applied to the stone that creates a highly textural look. Because of the rugged and uneven surface of the natural stone, it exposes crystal reflections that range in high and low lights that create dramatic random texture.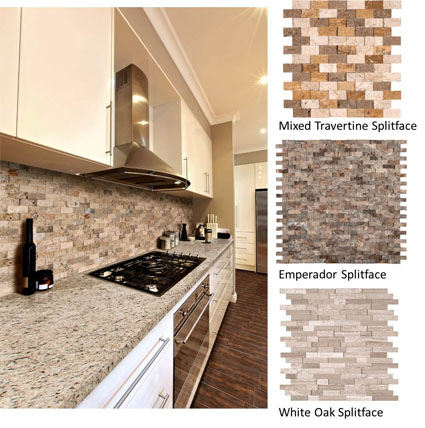 Mixed Travertine Splitface | Emperador Splitface | White Oak Splitface
As you get more comfortable with mixing textures in a space try mixing different materials together. Don't be boxed into the traditional combinations of tile where everything matches exactly. Mix glass with stone with metal. The combination can be amazing! Take a look at the bathroom below. We used Ledger panels in the bottom half of the room, almost like a traditional bead board, paired it with a large scale glass subway tile and striped in a great glass and metal mosaic tile to feature the mirrors. The combination possibilities are endless!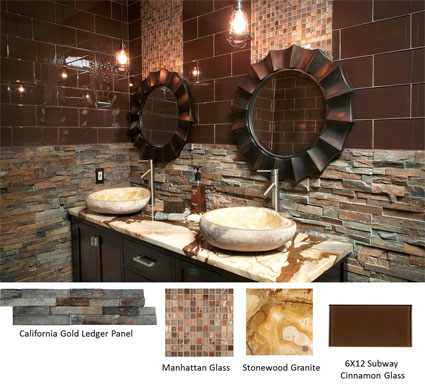 California Gold Ledger Panel | Manhattan Glass | Stone Wood Granite | 6x12 Subway Cinnamon Glass