Make A Splash With Mosaics | MSI Blog
December 03, 2012
While many areas of the country experience the Winter holidays with a touch of cold weather and snow, buying sweaters and mittens or perhaps picking up snow-blowers at holiday sales, Californians often celebrate 70 degree days in December with t-shirts and shorts out on the patio.
Thus, an article about bringing mosaics to the outdoor landscape might seem spot on to the latter, and something to dream about in warmer days to the former. If you are indeed enjoying the warmer side of Winter and looking for a gift for your home that truly gives rewards all year, this topic may inspire you to add a little cheer to your current landscape with a splash of mosaics designs.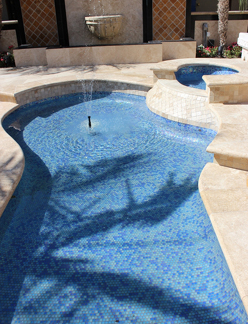 Most recently, we blogged about natural stone mosaics (Romancing The Stone: Bring it Together With Natural Stone Mosaics) and about glass and stone mosaics (Mosaic Trends: Blending Glass and Stone). However, it is important to note that MSI offers an extensive collection of decorative, functional mosaics which also include glass mosaics, glass and metal blend mosaics, glass and stone mosaics, glass stone and metal mosaics, and porcelain mosaics. Though we've mostly highlighted the indoor applications of mosaics in our previous blogs, this week we'd like to turn your attention to an outdoor application – specifically, to water features.
A splashing fountain, a tranquil koi point, or a distinctive waterfall into a swimming pool – each water feature lends something special and unique to the backyard world, transforming it from an ordinary lot of land into a private piece of paradise. Many enjoy the sound of trickling water or the idea of bringing nature home in general; others enjoy a water feature's ability to the elevate a landscape from standard to premier in the following ways:
Attracts wildlife
Makes a garden focal point
Boosts the health of surrounding plants (and allows planting of flora for wetter zones)
Introduces personality to the property
Increases the value/appeal of the home to future buyers
There are many materials with which to build the foundations of water features such as ponds, fountains, and waterfalls; however, mosaics are a clever choice for enhancing other materials, like slabs of natural stones:
Glass mosaics add shimmer and reflect light, but are non-porous and resistant to wear and weather.
Metal blend mosaics add a touch of sophistication and luxury to an otherwise earthy display and are best suited for expanding reflection around water (not for submersion in it).
Glass, Stone and Metal mosaics make a distinctive feature in contrast to the backdrop of a natural setting - a cross of timelessness and contemporary style.
Porcelain mosaics blend cohesively with natural counterparts and allow floral presentations to steal the spotlight.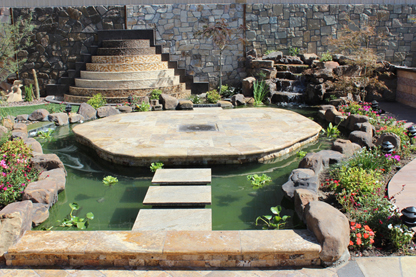 All mosaics introduce a design element that can suit a home or business owner's personal style – from simple to intricate patterns, earthy to modern, sophisticated to understated. Mosaics can take something as simple as a pool of water and transform it into a theme, mood, or idea. MSI offers hundreds of mosaic blends and patterns designed to enrich every space, inside or out – the perfect gift of renewal for your landscaping project.