Romancing The Stone - Slate Is A Timeless Stone
October 08, 2012
In our last installment of Romancing the Stone, we discussed the geographic boundaries of natural stones – how marble from Italy is equivalent quality to a marble from China, as they were formed long before we divided the Earth into states, providences, and countries. Slate is the perfect stone to follow this discussion, as it is not reserved to one locale, or even to one generation. It is a timeless rock found the world over that has adapted to our needs as a growing civilization.
Slate is formed in the ocean by the alteration of shale that was exposed to low heat and low pressure over long periods of time. It can take thousands of years for slate to change. Slate may contain other minerals like quartz, muscovite, hematite, and graphite and develops into different colors depending on what is present – light to dark grey, black, green, pink or red, purple, brown, blue-grey or mottled varieties are all common shades of slate. Decomposed microscopic organic matter tends to create the black shades; deposits of iron create the pinks and reds, purples, and greens. Because slate is formed under low heat and low pressure, fossils are often found in slate.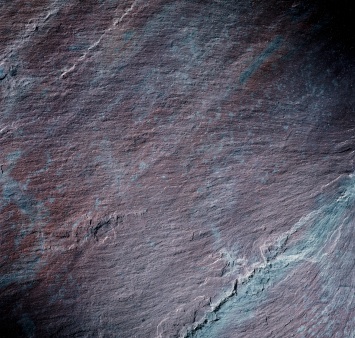 Slate slabs and tiles possess a number of properties that prove to be excellent attributes for making things—and explains why we have found uses for slate from 6000 BC to today.
It is fine-grained and can be used to draw marks.
It is flat and smooth.
It is thermally stable.
It is attractive in appearance.
It can be wiped clean.
It can insulate electricity.
It is fire resistant.
It is easy to split and shape in the quarry.
The oldest uses of slate were in our early human history; slate was used as a writing instrument around 6000BC. The tradition of using slate as a writing instrument continued into more modern times. In the 1800s, students wrote on small slabs of slate (mounted in wood frames) to practice writing and for solving arithmetic problems.
Later, classroom chalkboards were made with large pieces of slate and were even used in business, in offices and boardrooms before things like flips charts, white boards, and projectors were invented. Though real chalkboards in classrooms are more rare these days, and certainly not found in business offices today, small chalkboards made of fine slate are still seen in restaurants announcing messages and daily specials. Phrases like "clean slate", "wipe the slate clean", and "slated for today" are still prevalent in our modern lexicon because of these early uses of slate in education and business.
These are many of the reasons we love slate as a versatile stone and chose to highlight it in our Romancing the Stone series – and yet, we haven't even mentioned the most common applications of slate -the ones closest to our hearts. Slate as flooring, countertops and flagstones!
The properties of attractiveness, ease of cleaning, and durability make slate a great choice for indoor and outdoor applications. Although not all slates are suitable for freezing climates, those that are require relatively little maintenance and will last 60 to 200 years, depending on the type of slate, and the climate.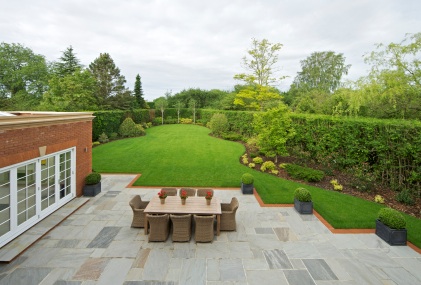 At the quarry, slate is cut to specification and is sculpted, split and trimmed until it is the right thickness for whatever application it is intended. The flexibility in sizes and thickness, as well as the range of colors and variation, make it an eye-catching stone used to create texture and depth when flat or layered. Slate's durability makes it suitable for both indoor as floors, countertops, and fireplace faces and outdoors as pavers, stacked for ponds and waterfall features, and for outdoor kitchen surfaces.
M S International is the largest importer and supplier of slates in the U.S., offering more than 30 unique colors and textures of slate tiles and slabs to choose from for your next project. Slates are also available as mosaics for an even greater variety or focal interest –California Gold and Multi Classic are some of the collections available. You can also visit genuinestone.com for more about the finishing techniques available for natural slate.
Please join us for our next installment in the Romancing the Stone series as we discuss the many faces of natural limestone.