Romancing The Stone: World's Most Beautiful Travertine
September 10, 2012
The World's Most Beautiful Travertine Examples
In Part 1 of our Romancing the Stone series, we showed you the historical and generational impact of granite, marble, and limestone as monuments at home and abroad. This time, we'd like to take you around the world to visit travertine, as untouched natural stone formations and in the form of man-made structures.
Travertine is a form of limestone; a sedimentary rock formed over thousands of years at the mouths of hot mineral springs or in caves. Travertine is often used as a building material, because formations can be found the world over—throughout Europe, China, the U.S., Guatemala, Iran, and many other places with varied geographies and climates, making it an abundant natural resource that boasts unique veins and striations, ensuring no piece of travertine is exactly the same as another. It is a difficult task to name all of the beautiful examples of travertine in the world when it is so plentiful and is often punctuated by gorgeous surroundings like springs and waterfalls, so here are just a few:
Hierapolis-Pamukkale (Turkey): In the middle of the countryside are the travertine terraces and pools of Pamukkale in southwestern Turkey. "Brilliant, snow-white calcium basins line the cliff face, eccentrically stacked one on top of the other, an extensive white ridge, a petrified pseudo-North Pole… The travertine was created as a result of a shifting fault in the Menderes River, causing hot springs to spurt out from the rift. High in minerals, the springs, over time, began to calcify and harden into a vast network of snow-white moulded pools."1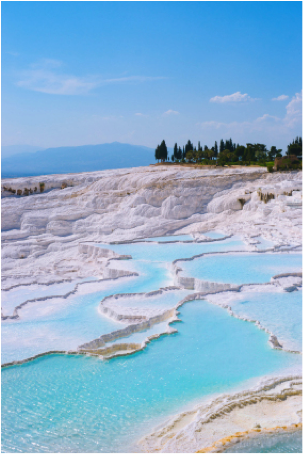 The ancient Byzantine city, Hierapolis, was assembled here, and for thousands of years, people have come to commune and bathe in its pools, its "Roman Baths", fed by the 17 natural hot springs in the area. In more recent times, the pristine beauty was compromised by tourism, as hotels and roads were carved into the site, and millions of visitors were allowed to bathe unrestricted in the pools. However, recent efforts have been made to return the area to its roots by removing the roads and buildings and inserting man-made pools in damaged areas for the pleasure of tourists. The untouched mountains of travertine in the city of Pamukkale, the newer pools added to the Hierapolis site, and the Hierapolis Archaeology Museum founded in the 1980s, continue to be prosperous attractions.
Turkey itself is a meaningful locale for MSI – Much of our travertine, which later becomes exceptional tiles and slabs, comes from this region.
Hanging Lake (Colorado): A little closer to home, geographically, is Glenwood Springs, CO. If you are an experienced hiker, the grueling vertical trek to this national natural landmark is worth the effort. The lake was formed by melting glaciers and is suspended at the very edge of the canyon 1,000 ft. up from the base of the trail. Breathtaking waterfalls descend into a travertine lake of crystal clear water full of trout. At Spouting Rock, just a short hike from the lake, you can skim your hand along layers of travertine and see the waterfall spouting directly from the face of the cliff, which is actually part of the spring that helped to create this picturesque travertine destination.2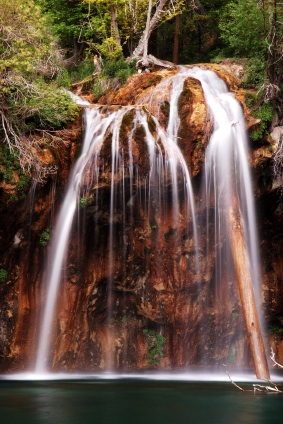 The designation as a national landmark "recognizes the iconic lake, reached via a steep, mile-long trail, as an 'outstanding example' of a lake formed by the deposition of travertine. The lake's travertine rim has built up over time from dissolved limestone settling out where the clear, turquoise waters spill over the edge." According to U.S. Interior Secretary Ken Salazar, "By designating [as a natural landmark]…we help establish and pass down to future generations those awe-inspiring places that make America truly beautiful."3
Hanging Lake showcases a vibrant display of travertine colors, not just the beiges and tans you might expect but those enhanced by other minerals in the springs. MSI actually offers over 30 colors of travertine – to see the myriad possibilities, check out our selection of travertine tiles and slabs. Now picture them wet and surrounded by waterfalls. That might give you a small taste of what Hanging Lake looks like!
The Colosseum (Rome): The Romans loved their travertine of all shades too, and many of the buildings in the Roman Empire were built with this whitish, yellowish, or reddish natural stone. The greatest example is the world's largest building of mostly travertine – the Colosseum, where travertine was used for the walls, floor, and main pillars. Interestingly, though the Colosseum wasn't built on a natural hot spring (as it would have originated), it was built on water. A salute to travertine's natural roots? Not really. The lake was actually a man-made addition fashioned specifically to showcase water battles, and The Colosseum would indeed be flooded for just that purpose. On a typical day, though, it would be drained of water and filled with sand on which gladiators (often men but sometimes even women) would compete for the entertainment of the emperor, patricians, and plebeians alike.4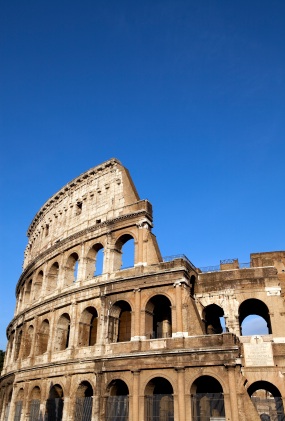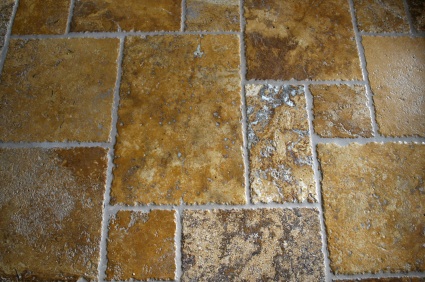 Today, Italian designers continue to honor their travertine tradition and utilize it for buildings, statues, and monuments. Their tastes translate around the world and influence design – in fact, your own home or business may even sample Italian architecture with travertine flooring or pavers to create a Mediterranean feel the patricians would have envied.
The City of Austin (Texas): Austin doesn't have gladiators, but it is ranked as one of the fittest cities in the country, and that's due in large part to the abundance of natural resources in and around the city – water activities, hiking trails, and scenic viewpoints have become part of the city's personality. A lesser known fact is that Austin's very foundations and the surrounding "Hill Country" is carved out of travertine. Gorman Falls within Colorado Bend State Park offers trails and rivers through a canyon of travertine, as well hundreds of colorful travertine caves for exploring. The Hamilton Pool nature preserve is a creek flowing over limestone and travertine to a 50 foot waterfall. "A unique natural area surrounds this pool, collapsed grotto and canyon, formed by thousands of years of water erosion."5. Krause Springs is another nearby attraction with 32 springs over 115 acres –at the mouths of many of those hot springs, travertine has layered over time.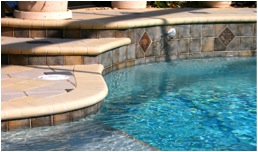 The city of Austin may be surrounded by natural stone, but that does not mean their design aesthetic does not indulge in more travertine. In fact, grottos and canyons like those found at Hamilton Pool inspire Austinians' backyard swimming pools, complete with travertine waterfalls and pavers, and patios as well.
Mammoth Hot Springs (Wyoming): Natural exhibits of travertine deposits can be found at Yellowstone National Park, where travertine is nature's building material, forming mountains and terraces throughout. The most stunning instances are the terraces at the Mammoth Hot Springs:
"At Mammoth Hot Springs, a rarer kind of spring is born when the hot water ascends through the ancient limestone deposits of the area instead of the silica-rich lava flows of the hot springs common elsewhere in the park. The results are strikingly different and unique. They invoke a landscape that resembles a cave turned inside out, with its delicate features exposed for all to see. The flowing waters spill across the surface to sculpt magnificent travertine limestone terraces. As one early visitor described them, 'No human architect ever designed such intricate fountains as these. The water trickles over the edges from one to another, blending them together with the effect of a frozen waterfall.'"6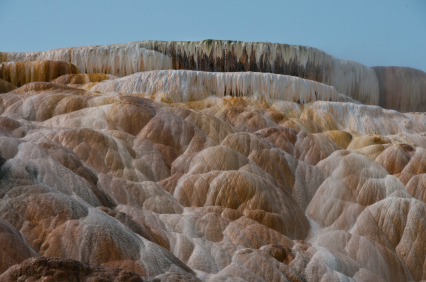 Travertine is usually characterized by a pitted surface, which means that much of the water in Yellowstone is beneath the surface where we cannot see it, absorbed back through the troughs where water once flowed out, creating hidden reservoirs. As a contemporary flooring material, travertine is often filled with cement before polishing to make it less absorbent. However, travertine unfilled is a distinctive choice, especially for exterior walls.
Willis Tower (formerly known as The Sears Tower, Chicago): 1,450 feet and 110 stories high, Willis Tower is the tallest building in the western hemisphere. Aside from its stature, the Willis Tower is known as one of the premier buildings for luxurious appointments in the world – and it also happens to showcase a world-class natural stone: travertine. It's walls are comprised of travertine, and walking into the lobby (completely renovated in 2000), one is struck by the polished granite floors and impressive natural stone walls. It's possible travertine was utilized by designers for its unrivaled beauty; however, it could also have been selected to reference Italian craftsmanship like that of the Colosseum in order to elevate itself in history, as Willis Tower has fought for years to be recognized as the world's tallest building, even adding an antenna that made it the tallest, from base to antenna tip, until the Burj Dubai topped it again in 2009. 7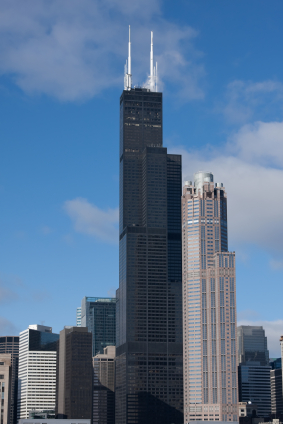 Willis Tower's travertine is of the filled variety, highly polished to a shiny finish. When choosing travertine, you'll see we offer it in filled and unfilled, natural, honed or polished. To achieve the rich look of Willis Tower, consider vibrant colors like Tuscany Gold or English Walnut.
Plitvice Lakes National Park (Croatia):
"The lakes are renowned for their distinctive colors, ranging from azure to green, grey or blue. The colors change constantly depending on the quantity of minerals or organisms in the water and the angle of sunlight. The sixteen lakes which are formed by natural dams of travertine are separated into upper and lower lakes."8
The dams of travertine are indeed a site to see. A remarkable example of un-harvested travertine, the Plitvice Lakes National Park in Croatia has been a living national monument for more than 60 years. It's features, of course, have been around much longer. The travertine dams here built up by sedimentation to create cascading waterfalls through the entire system of lakes, and in places, showcase the beauty of travertine polished by nature and time.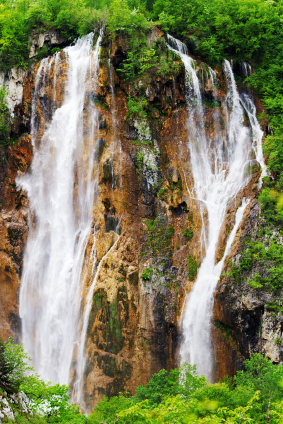 We hope you enjoyed "traversing" travertine and now understand why it deserves special recognition in this series about natural stones that we love. For centuries, travertine has exemplified the uniqueness of natural stone and offered us breathtaking achievements, whether untouched in its native environment or realized as man-made structures.
If you are thinking about travertine for your next project, consider also that it is one of the most popular natural stones for interior and exterior wall cladding, interior floor and exterior paving, statuary, and curbing. "Travertine can be cut in a 'vein cut' to expose the linear patterns of the natural bedding planes. It can also be cut in a 'fleuri cut' or 'cross cut,' which exposes a more random and subtle flowery pattern." It is colorful and distinctive, perfect for a naturally-inspired setting or for a myriad of geographical motifs (from European villa to mountainous American retreat.)
To learn more about beautifying your home with travertine or other natural stones, download our brochure here.
1 Quote obtained fromhttp://www.europeupclose.com/article/pamukkale-the-great-white-travertine-and-city-of-hieropolis/#.UDue5qDzjQY
2 Some source material derived fromhttp://www.visitglenwood.com/hanging-lake
3 Quoted material fromhttp://www.postindependent.com/article/20110615/VALLEYNEWS/110619921
4 Some source material fromhttp://www.rome.info/colosseum/
5 Source material and quote fromhttps://parks.traviscountytx.gov/find-a-park/hamilton-pool
6 Quoted material fromhttp://www.nps.gov/yell/naturescience/mamterr.htm
7 Some source material derived fromhttp://www.willistower.com/propertyprofile.html
8 Source material and quote fromhttp://www.np-plitvicka-jezera.hr/en/