MSI Material Selector Gets A Fresh New Look
July 12, 2012
You have been dreaming about your next home or landscape project and are now finding yourself able to begin actualizing it. But with the seemingly infinite choices available in the Natural Stone industry, the process of choosing the perfect color, material, size, and finish can be daunting. A successful outcome is the result of first knowing your budget, carefully evaluating your wants and needs and then marrying them with a superior product that you can fully trust to perform.
As the leading distributor of natural stone in North America, M S International, Inc. realizes that today's intelligent consumer increasingly prefers to gain from the convenience in researching and planning natural stone material selections online. With its user-friendly format, MSI's newly designed Material Selector allows you to enjoy a highly productive selections process across the spectrum MSI product categories.
From anywhere or anytime, this valuable tool puts you in touch with a world of possibilities while simplifying your decision making experience. With a few clicks of a mouse, your field of choices can be narrowed down into something more manageable, leaving you with more time to focus on other important aspects of your project.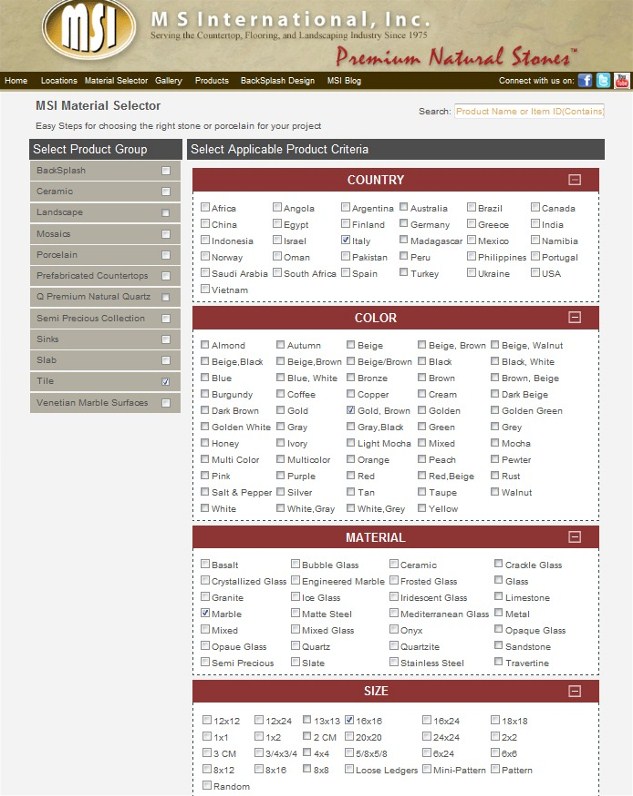 Selecting a Product Group – The Big Picture
The first step in using the Selector to get closer to realizing your goal is to select a Product Group from a list of 12 possibilities. Are you interested in products for backsplashes or landscape? Mosaics or Venetian Marble… sinks or ceramics…a combination of a few? Simply check the boxes that apply and then move to the next step, selecting Product Criteria.
Product Criteria – Narrowing the Scope
Here, the Design Selector gives an opportunity to hone your options by allowing you to get more specific about what you want for your unique project while at the same time, ruling out what you don't want. This section asks about your preference of country, color, material, size, finish, and variation. The end result will be a more concise list of products that will help to give you what you need in order for you to eliminate much of the guesswork and get started right out of the gate.
Country - Natural stone is discovered and mined all over the world. Here, the Selector gives you an option to choose your preference according to the country of origin for a particular stone. All centralized in one place, there are 31 countries and products represented from Australian granite to marble from Vietnam.
Color – The myriad of colors found within just one type of stone is nothing short of magical, however it can also be overwhelming. The Material Selector can help to ensure you do not let the vast amount of options to hinder you in your quest to find the perfect color(s) palette to compliment your project. If you are drawn to a shade of walnut for instance, simply click and you will be quickly met with photos of beautiful variations of it among the different types of stones that are available.
Material – Here is where it gets really fun. MSI offers 28 different types of materials you can use to construct and embellish your vision. Select from granite to semi-precious stones to bubble glass. It is all here! Just choose a material and you will be provided with all of the options that showcase it.
Size – In this particular category there are so many to select from. Suffice to say that MSI has no problem meeting your specific criteria for the size and shape you need for your application.
Finish – There are roughly 47 specialized finishes, edges and textures that you can choose from to customize your pieces and round out and polish off your home or landscape project. From honed, flamed or tumbled to antique, glazed or hand cut, there is a finish ready to meet your specifications. You may find the perfect one you never knew existed!
Variation – Because no two things in nature are exactly alike, within each individual and group of stones you will undoubtedly find a certain level of difference in color and pattern. Here you can choose from a high, medium and low incidence of variation in the product you are leaning toward.
As you browse through and select, you will see that MSI has gone to great lengths to ensure that their on-line Material Selector leaves nothing to chance. It is thoughtfully designed and is at the ready to equip you as you move with confidence from what you dream - to what you can make happen. In short, MSI Material Selector will guide you through an enjoyable and efficient material selections process.