Landscape Stones: Installing Mesh Mounted Flagstone
June 20, 2012
Flagstone is a rock that forms in layers which can be flaked apart to make pavers, tiles, and roofing slates. It can be used for a myriad of different indoor and outdoor applications due to its superior durability, low maintenance, and ability to combine gracefully with the elements to weather into a beautiful, natural patina. For your design you can choose to purchase and lay individual
landscape stones
one by one.
However, the simplest and most efficient way to install an area of flagstone is by utilizing the option of a mesh mounted grouping of pavers. Each of these larger units contain up to two dozen different
natural stone
tiles in various sizes and shapes that are attached to a mesh backing and combine with other groupings to provide a more efficient installation.
Preparing the Surface
Meshed Flagstone does best when it is installed over a sub-base. It is not designed for sand set installation. The surface must be clean, level and free of sealants, grease and oily compounds. Before setting the stone, find the center point of the area to be covered and measure the length and width, marking the halfway points. Set the first mesh in the center of the room and work outward from there, dry laying the sections so as to determine where the cuts will need to be made at the outer edges.

Setting the Flagstone
Using a masonry 1/2" square notch trowel, spread an even layer of mortar – approximately ½ inch thick - across an area that is slightly larger than the size of one piece of Mesh Flagstone. Take one piece and press it firmly into the mortar bed, taking care to ensure that the mesh backing is completely penetrated into the mortar. Use a level or straight edge to ensure a flat and consistent surface from one piece to another. If necessary you can use a rubber mallet to tap down any high points. Keeping a sponge and bucket of water handy to wipe off excess thin set and keep stones clean as you go, will make clean up easier.

Making the Cuts
Cuts are inevitable. Using a large piece of cardboard or thick paper, create a template in order to show the shape of the mesh section needed to fill the gap created by walls or other borders. You can do this by placing the straight edge of your template along the wall and drawing the outline of the area to be filled with flagstone. Transfer the template onto the section of mesh that must be cut. Spread a layer of mortar as indicated above and set the cut section in place, again making sure it is completely level.

Grout
Prepare sanded grout according to the preparation guide on the package and follow instructions for application. Fill the spaces between travertine tiles making sure to clean as you go, leaving no grout behind on the surface of the stone.

To Seal or Not to Seal
To protect your stone from stains and spills, sealing the stone and grout is recommended. However some prefer to leave it alone to naturally come in to its own and blend with the surroundings.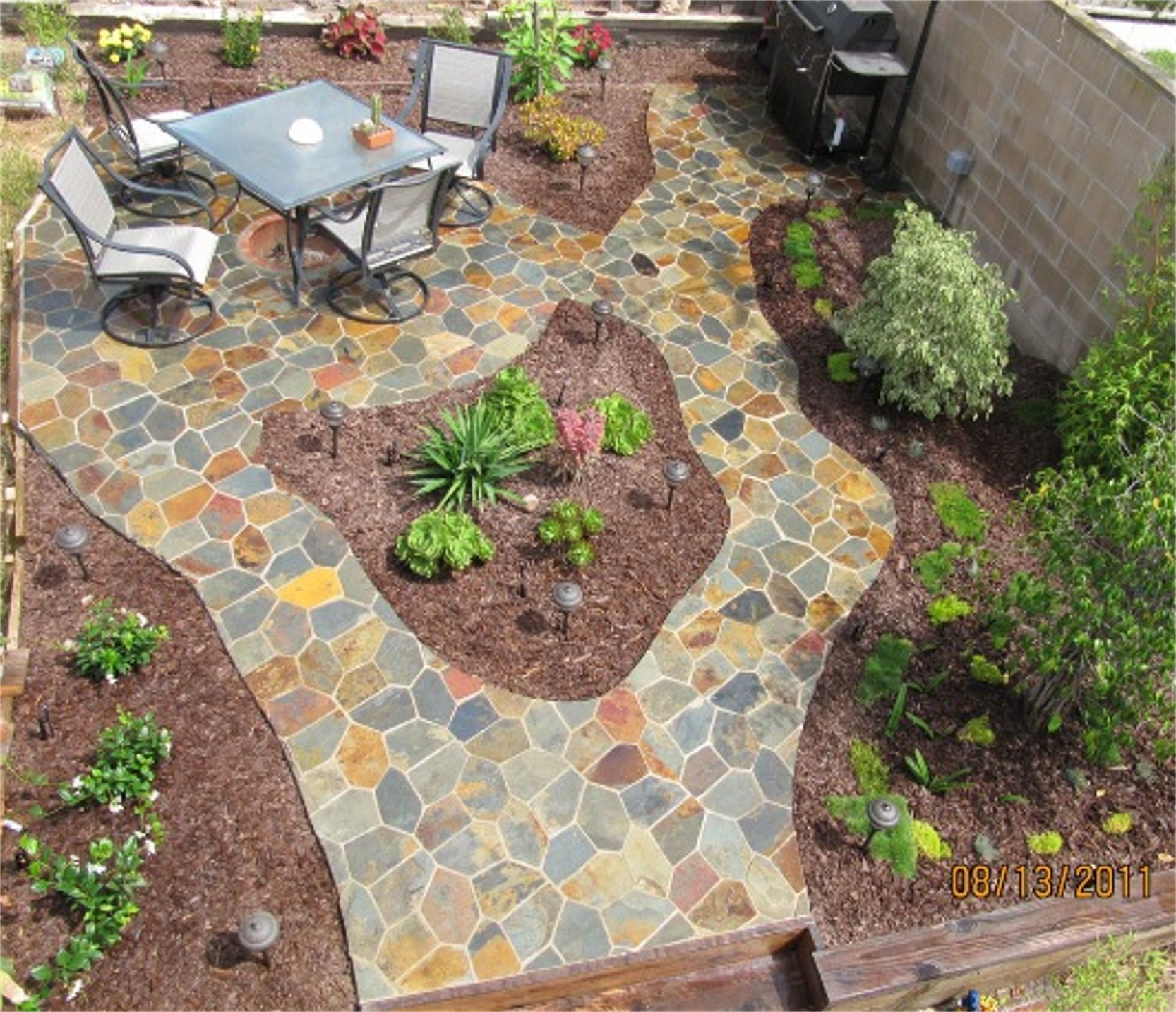 The final step in installing your mesh mounted flagstone is to sit back and admire the end product of your efforts, knowing that you created a stunning result and a sound investment that will last for decades.