Caring For Your Natural Stone
March 21, 2012
Your natural stone has evolved for thousands of years in order to become the beautiful piece you fell in love with. Proper care will enhance its appeal and can even help it to continue improving with age. Because it adds significant value to your home, a little maintenance is well worth the effort and will go a long way to ensure that your investment stays protected.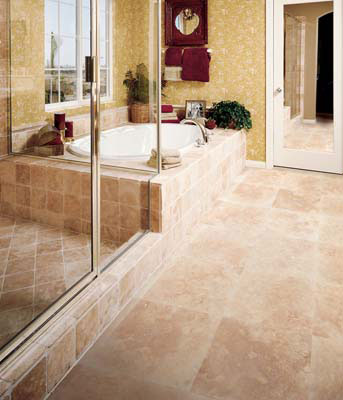 First Things First
Because surface dirt is considered to be the primary abrasive that breaks down the sealer, always begin by removing any loose dirt, dust or debris from the surface with a dry, chemical-free dust mop, kitchen sponge or soft towel. Avoid using a vacuum cleaner, especially models featuring plastic attachments as they can damage the tile and leave behind small pitting and scratches. Although natural stone may initially be thought of as being a hard substance, it is often a very porous material, so care must be taken to coordinate your cleaning regimen with the type of stone you have chosen.
A Few of the Players
Marble – This surface can sometimes wear more easily than other types but it is one that can also be easily restored with light polishing. Use a soft cloth and warm water to clean and then use another cloth such as a shammy to buff and dry. Marble is very prone to water spots, so it is a good idea to never let it air dry. For cleaning marble floors, dust-mopping with a microfiber mop or soft cloth should be sufficient on a day-to-day basis, or use plain hot water if you need to get rid of any stubborn marks. Remember to avoid vinegar and other acidic cleaners.

Limestone - Is highly porous and reactive to acids, so acidic cleaners like those that contain citrus can easily etch or interact in ways that damage it. Scrub your tiles with a pH-neutral stone cleanser that is specifically approved for limestone. Never wash with household soap and water because soap and hard water will build up and make the surface look cloudy.
Slate - Remarkably nonporous, this stone is ideal for floors and outdoor use. Wash slate with plain warm water to get the longest life from your slate surfaces. Using cleaners with high acid or alkaline pH levels will cause slate to become brittle. Use a pH neutral cleaner when warm water just won't cut it. Because these cleaners are as gentle as water, they can be used on any surface that isn't harmed by water.

Granite - The benefits of granite lie in its ability to withstand slightly stronger cleansers. It is also one of the hardest stones making it extremely durable. Wipe down granite daily and as needed using water. Once a week, wipe down with a damp cloth and a stone cleaner formulated with a neutral pH. Never use harsh chemicals or abrasive cleaners. They can scratch, pit, and etch the surface.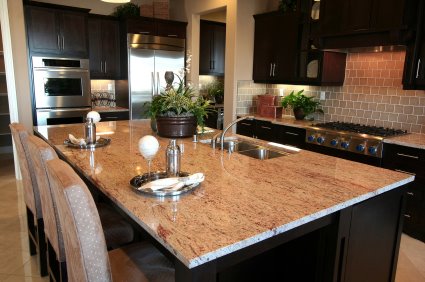 Do:
· Place coasters or trivets under hot, cold or acidic items to protect your stone surface from deterioration and discoloration.
· Apply an appropriate sealer for more porous rock such as Granite. For less porous material, a slightly tougher agent can be used to add shine and luster.
· Use specialized cleaners made with gentle ingredients that add a protective coating to your stone. Most have a lower ph level and will naturally remove foreign material without harsh abrasives.


Don't:
· Use ammonia, bleach, or acid based products.
· Apply abrasive cleaners that may wear the sealer or scratch your stone.
· Wait to clean up spills as they may become absorbed and be more difficult to fully remove.
By taking the time to ensure the proper care of your valuable investment, your natural stone tile will continue to reward you with beauty and performance that will endure and delight for generations to come.