Backsplash Design Guide Part 2: Endless Color Possibilities
March 12, 2012
Color plays a dramatic role in setting the mood of a room. When designing, it is best when choosing something as significant as color, to consider the entire space. Think of your project in terms of what you ultimately envision it to be as a whole. How do you want the room to feel to your family and guests? Will the backsplash be seen as the focal point or will it blend seamlessly with its surroundings? As a general rule, cool colors tend to make a room feel more spacious and formal, while warm colors lend a more cozy feeling. Designers suggest if you are having a hard time choosing a palette that you begin by finding what is called an "inspiration piece" - a single object you can build a whole color scheme around.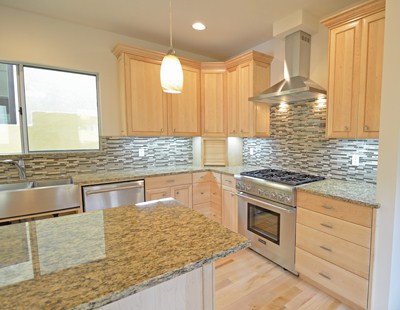 Natural stone emerges from the earth in an infinite variety of colors, shades, tones, textures and veining patterns. And even though mined on the same day and in the same location, no two blocks of stone are ever identical in appearance. Even the smallest piece will likely contain a myriad of hues. It can be a nice idea to draw the colors from the palette represented in the stone. It can virtually become the focal point and can serve as the harmonizing factor in the room.
Each stone is unique, and some types of stone display more variation between the pieces than others. Granites show little variation in color, but may have differing patterns and grain density. Slates tend to show a wide variation in color, even within the same pallet of stone. So when considering your project, keep in mind that the marble tile you hold may have a larger concentration of dark browns, while the tile in the box beneath it is almost entirely light. Take a few samples from different boxes to get a feel for the whole color palette. You can also hand-choose tiles to better blend with your overall scheme.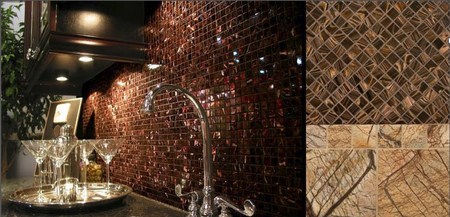 It is important to consider not only the color of the stone and corresponding paint but also the light which enters the room. If it is a north-facing room, it will tend to feel "cooler" simply because of the softer light, as will rooms which face east. South-and west-facing rooms will be brighter and feel warmer. Choosing a color of tile within the same color family will help the room blend into itself, and the resulting uniformity will give it a comfortable feel. This is called monochromatic color theory, and it tends to create an atmosphere of coziness and quiet elegance.
Choosing colors adjacent to the stone's color on the color wheel is called analogous color theory, and is similar to monochromatic theory. It produces a subtle feeling, as long as one color, on the walls for example, is chosen as the dominant color, and the rest of the room and accent pieces are allowed to enrich the dominant color.
Choosing a complimentary color scheme - or those opposite each other on the color wheel - will give the room a sense of motion and contrast. It looks best when the dominant color such as on the walls and floor is cool, and the accents are warm. Cool accents, such as a backsplash, in a warm room tend to look awkward.
A triadic color scheme uses three colors spaced evenly apart on the color wheel. This scheme tends to make a room look harmonious, logical, and balanced.The variety of color found in natural stone is vast and the resulting design options are only limited by your imagination.
Download your copy of the Mosaic Tile Backsplash Design Guide. with a full range of color options and grout selector for proper pairing. Next, we will be discussing the various materials which can be used to create a backsplash that will dramatically enhance your kitchen or bath…
Stay Tuned!
READ MORE ABOUT MSI BACKSPLASH TILE
A DYI Dream Come True: Peel And Stick Backsplashes
A Nod to Mother Nature: Recycled Backsplash Tile
Awaken Your Walls with Marble Geometric Pattern Backsplash Tile
Backsplash Design Guide Part 1: Backsplash Tile Basics
Backsplash Design Guide Part 3: It's All Material