Pool, Fountain And Outdoor Shower Tiles That Make A Big Splash
March 07, 2012
Spring is coming, reminding us that we will soon be headed outside to spend more of our time in the sunshine with family and friends. In anticipation of summer, we can begin to think about how to create or enhance our outdoor surroundings to ensure maximum enjoyment of the warmer months ahead. For many of us, that means installing or updating a swimming pool, fountain, or an outdoor shower to enhance our backyard surroundings.
Pool tile is taking the lead as the design element that can help to integrate the pool into the landscape, resulting in a cohesive and tranquil outdoor setting. This popularity has generated a need for greater options of a more artistic nature with higher quality finishing materials.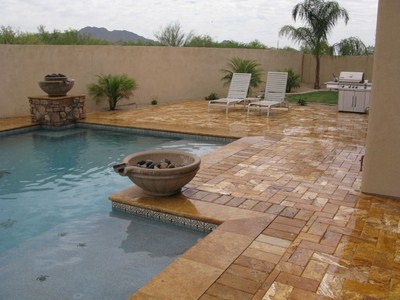 One of the most dramatic statements you can make when designing or revamping an outdoor space is by the unique and creative use of tile. MSI carries a complete collection of pool tiles: including 6x6
Porcelain Pool tiles
and
natural stone
pool tiles, glass and natural stone
mosaics
meshed pebbles, ledger panels, pool coping, travertine tumbled pavers, travertine chiseled edge pavers, mesh products and flagstone. No longer does beauty and elegance need take a backseat to function. Given the thousands of successful applications on commercial and residential properties, the plethora of colors and textures of these products are sure to inspire your own unique project.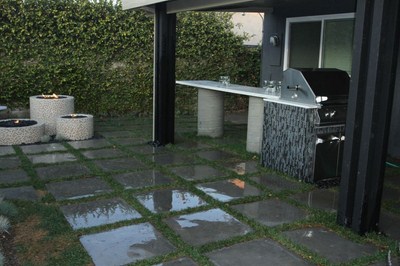 Designs can be simple as a bold border that runs underneath the inner edge at the top of the pool, or they can be as detailed as the laying of an intricate stone or glass tile mosaic at the bottom of your pool or fountain that stands out like a piece of artwork on an outdoor canvas. Ordinary concrete can be a thing of the past when replaced with an extraordinary lining of natural pebbles or glass. Tiles are also commonly incorporated on pool steps as an attractive safety measure to make changes in depth more noticeable and stunning backdrops can be created for water features that pour into the pool or fountain. Smooth, natural, polished stone flooring can provide tired feet with an outdoor shower experience like no other.
Your own outdoor haven is only limited by your imagination. Browse the MSI Pool Collection for inspiration and to see the vast number of color and material options available. With thoughtful decisions made and careful planning executed, you will soon be ready to relax under the warmth of the sun in your beautiful backyard oasis.
Download your copy of MS International's Landscape Collection Brochure today.