Spring Trends In Landscaping With Natural Stone
March 05, 2012
Warmer months are approaching and with them come the opportunity to create and enjoy a bit of paradise in your own backyard. Whether your goal is to design an outdoor dining room, a refreshing fountain to enjoy during a lunch break, or a simple path that beckons one to follow its lazy course, natural landscaping stones are a perfect way to help create a beautiful retreat. Natural stone comes from the earth and is free of synthetic materials and chemicals, allowing them to blend in safely and effortlessly with any outdoor environment.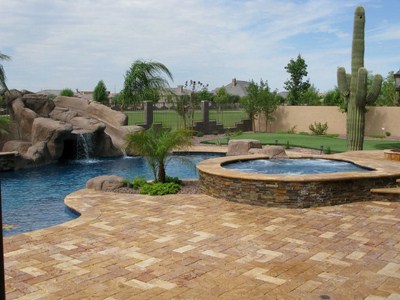 More and more home owners are designing outdoor entertaining spaces that provide a comfortable place to relax with family and friends. In addition, increasing numbers of corporations are recognizing the many benefits of creating a place just outside of the workplace where employees can go and enjoy short breaks in their day. A simple bench in front of a soothing water feature can invoke a sense of calm and increase productivity.
There are some environmentally-conscious landscaping trends that designers, home and business owners and builders are incorporating into their outdoor designs. We will address a few of them here.
Water Wise:
The move toward water conservation is inspiring home and business owners to design their outdoor landscapes to include various water-wise gardening options. Tucking various succulents among a rock garden or planting moss or grass in between large pavers for an eye-calming "soft patio" effect, are ways to add beauty to a space while requiring much less water than a traditional lawn.
The Path Well-Traveled:
Designers know that a great path, whether long or short, includes an intriguing destination. Have one in mind, such as a bench, fountain or pond. Stagger landscape pavers or landscape cobbles along the path or add Irish moss between cobblestones to slow the journey and encourage meandering. Pebbles are too smooth and round to make a suitable paving if left free to roll around. But when set in concrete with their flattest side up, they create a navigable path with an interesting texture. Gravel's earthiness, crunchy sound, and give underfoot are the reasons why this oldest of hardscapes will always be perceived as a classic paving material. Be sure to line any path with complimentary color and foliage to create interest and soften the edges.
Fire Pits and Places:
Even on a cool summer evening, there is something comforting about a fire. Warm up by roasting marshmallows over a fire pit made of rich flagstone or enjoy a glass of wine in front of a beautiful outdoor, rock fireplace complete with stone benches and waterproof cushions for all-weather seating.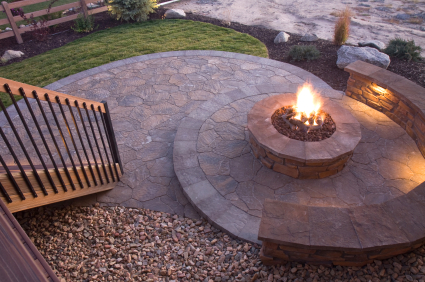 April Showers:
Outdoor showers are no longer just a place to rinse off after a dip in the pool. Enthusiasts will tell you that there is nothing quite like taking a warm shower under a blue sky with the sounds of birds singing in the trees overhead. There are a myriad of natural stone wall and enclosure choices and the feel of raised, polished pebbles under bare feet can take it to a spa-like level.
These are just some of the ideas that are currently being incorporated into various landscape designs. Natural stones can be used to achieve a beautiful effect and offer year round enjoyment for generations to come.
For more inspiration, browse MSI's leading collection of natural stone and travertine pavers found anywhere in the United States.